Dark Spots on Legs: Your Prescription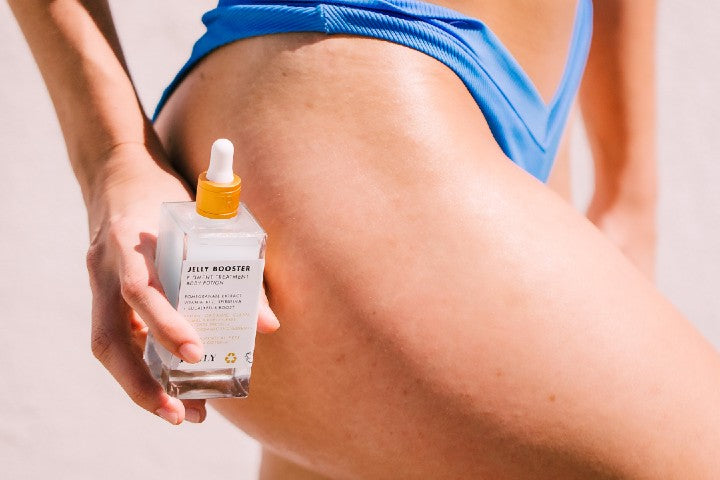 Are you dealing with dark spots on your legs? There are many options out there, but where do you even start?
To begin with, it's worth knowing what's actually causing those brown spots on your legs. Something called melanin – the thing that gives your skin its color – is responsible. When a patch of skin produces or contains more melanin than the rest of your skin, that's when dark spots appear. But dark spots don't only crop up on your legs. You can get them on your arms, neck, and face too.
Here's what you need to know about dark spots and how to get rid of them.
WHAT CAUSES DARK SPOTS?
Treating dark spots on your skin starts with understanding the cause behind them. Two experts share their wisdom.
"Brown spots on legs tends to occur when the skin produces or contains more melanin than the surrounding skin," Medical Director of Cosmedics UK Dr Ross Perry explains.  "Melanin is what gives your skin it's colour, meaning the more melanin you have the darker your skin. Freckles and dark spots mean those areas have more melanin. Getting too much sun is a common cause of brown spots and there's a chance it's due to sun damage."
According to plastic surgeon Melissa Doft, MD, hormones could also be triggering an inflation of melanin.
"Hormones—both estrogen and progesterone—can increase the level of melanin—why pregnant women see dark spots that often lighten following birth; the sun can increase the level of melanin—why we have more dark spots after the summer; and age can increase the size of the melanocytes—why we see dark age spots in older patients."
But there are other factors to consider, like skin irritation, waxing, and harsh scrubs, which can all cause dark spots too.
HOW TO TREAT DARK SPOTS ON LEGS
Slather on the Sunscreen
Something you should be applying daily – at least on your face anyway if the rest of your body isn't exposed. When your legs are exposed, be sure to slather on the sunscreen. Wearing sunscreen daily won't lighten dark spots on your legs, but it will prevent them from getting darker. Besides that, sunscreen can prevent new spots from appearing.
"Daily sunscreen is the absolute best way to prevent hyperpigmentation," Dr Joshua Zeichner, MD, points out. "Even low levels of UV light exposure add up over a lifetime and can cause dark spots."
Opt for a broad-spectrum sunscreen with an SPF of 30, minimum and re-apply every two hours for optimum protection.
Brighten Up with Vitamin C
Vitamin C is an excellent topical antioxidant that can treat dark spots in three different ways. First, it blocks free radicals from damaging the skin, which can lead to fine lines, wrinkles, dullness, and dark spots.
Second, "It also inhibits enzymatic processes that produce melanin in the skin, as such it can help to reduce dark coloration of the skin," says Sumayah Jamal, M.D., of Schweiger Dermatology Group.
And third, it can lighten pigmentation areas without affecting the rest of your skin.
Morning and night, apply Truly's Vegan Collagen Body Cream to your skin, paying close attention to the affected areas. With vegan collagen and a vitamin C boost, this body cream brightens and resurfaces for smooth, spot-free skin.
Aloe Vera Shows Potential, Too
One study found that the active ingredient in aloe vera known as aloin has potential to lighten dark spots. There's not a whole lot of evidence regarding aloe vera as a dark spots' treatment, but more studies are on their way. All you can do is try.
Invest in aloe vera gels and lotions or apply the gel of an aloe vera plant leaf directly to your skin.
Try a Pigment Serum
It's definitely worth investing in a serum designed to target dark spots and other pigmentation. If you can, look for a product that's especially targeted for the body instead of the face. The skin on your body requires different treatment to your face so don't settle for a face serum.
Consider introducing Truly's Jelly Booster Pigment Treatment Body Potion into your daily skincare regimen. Spiked with everything from pomegranate extract to vitamin B12, this formula helps fade scars and discoloration, while speeding cell turnover to increase healing.
Load Up on Antioxidants
"Plants have potent photoprotective properties such as skin tea polyphenols, soy isoflavones and silymarin. Topical antioxidants protect skin against oxidative stress," says Naana Boakye, MD.
Besides vitamin C, topical antioxidants include vitamin A and E, niacinamide, glutathione, and ubiquinol, to name a few.
So instead of just looking at the fancy marketing label that promises "flawless, blemish-free skin", look for the ingredients to make an informed choice as a consumer.
You'll find tons of antioxidants listed on Truly's bottle of Blueberry Kush Hemp Body Oil.Made with CBD and blueberry seed oil, these powerful natural antioxidants fight against free radicals, support the skin's barrier function, and together tackle dryness, wrinkles, and blemishes.
Let Laser Therapy Help You Out
It's expensive, but it's by far the most effective treatment for dark spots on your legs or anywhere else on your body for that matter.
"These use a focused beam of light that has a specific target or chromophore [pigment] to break up and eliminate the pigment particles in the skin," explains dermatologist Dr. Fran E. Cook-Bolden, MD.
But it seems this treatment works better on lighter skin with dark spots.
 "IPL [intense pulsed light] can treat unwanted pigmentation," Bolden continues. "However, it delivers less focused light and may have an unwanted effect on the surrounding skin, especially in darker or tanned skin."
If you're unsure whether you're a good candidate for laser therapy, book an appointment with your dermatologist for advice.
Dark spots on your legs are usually harmless, but that doesn't make them less annoying. You can prevent further darkening and lighten existing spots by following the tips listed above. By the time summer comes, you'll be desperate to show those spot-free legs off.
Share
---