Hot Or Not: I Bought Skincare Applicators. (And It Changed My Skincare Routine)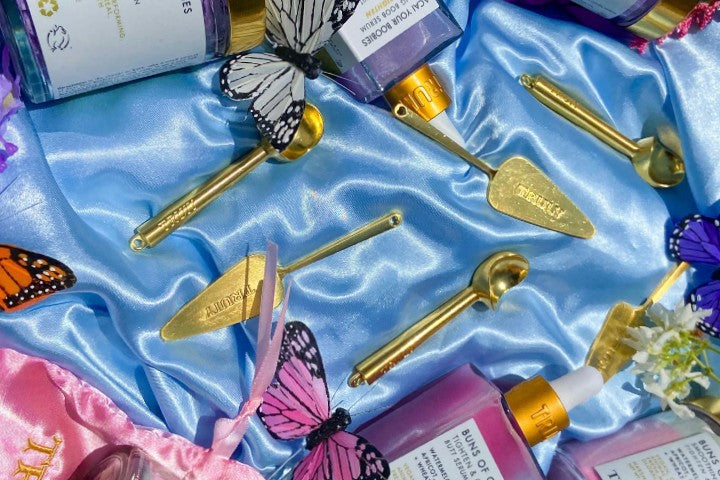 If you've ever enjoyed a professional facial, you might have noticed your dermatologist or esthetician applying skincare products like serums, moisturizers, and face masks with spatulas or brushes. Kind of like the ones you use to apply makeup.
Well, it could be a technique worth replicating in your own skincare routine. 
Applying beauty products with applicators comes with a slew of benefits and may just save you from the dangers of contaminated skincare.
THE PROS OF SKINCARE APPLICATORS
They're Way More Hygienic
You've got the okay to apply cleansers, toners, exfoliants, makeup remover, and sunscreen with your fingers - or a cotton pad. These products usually come in packaging that avoids finger to product contact. But when it comes to products like serums, lotions, eye creams, and face masks, where you're required to dip your finger in to acquire product, you may want to consider switching to skincare applicators instead.
"The upside of using brushes to apply skin care is that it's more in line with a no-touch application, which is really necessary during the pandemic," says MAC Cosmetics senior national makeup artist Fatima Thomas. The less you touch your products, the less risk there is of spreading bacteria. 
Think about it. If you're using your fingers to apply contaminated product, you'll transfer that bacteria onto your face. Doing this could easily cause a skin or eye infection. 
However, there is a catch. You'll need to regularly clean your brushes and sponges with an antiseptic to ensure they're not spreading bacteria, either. Applying products with dirty applicators is just as bad as applying them with grubby fingers.
They're Handy for those Hard to Reach Areas
...like your back.
Unfortunately, it's an area of the body many people overlook, but it requires just as much cleansing and hydration as the rest of your body. Reaching that area can be tough, but not with the right skincare tools.
"As we mature and the levels of ceramides and natural moisturizing factors drop, dry skin and itching become a more frequent problem," explains Dr. Y. Claire Chang, a board-certified cosmetic dermatologist at Union Square Laser Dermatology in New York City. "So if you have to practice your stretching skills or invest in applicators to help you out, do it."
To tackle dryness on your back, opt for applicator with a long handle to easily apply lotion in that area. This'll help keep the area hydrated.
Are you acne-prone? You can also use one of these applicators to apply your acne treatments on your back and balance those natural oils. By effectively reaching your back and applying product all over the affected area, you can slough away dead skin cells, balance oily skin, and banish breakouts.
Once again, make sure you keep your tools super clean to prevent bacteria from forming and causing more blemishes. 
They Can Be Refrigerated for a Cooling, Anti-Redness Treatment
Applying skincare with a refrigerated skincare applicator can help quell swelling, redness, and inflammation. This makes it ideal for people with sensitive skin who are prone to redness and irritation.
Simply place your brushes, spatulas, or sponges in the fridge. Leave them to sit for several minutes. Then use them to apply your skincare products. Besides feeling ultra invigorating, you'll notice an improvement in your skin tone and that your skin feels much more tranquil.
If you're prone to pimples, you can also benefit from this, as it helps minimize the pores and prevents excessive sebum production.
Got sunburn? The next time you apply your SPF, do it with a chilled sponge or spatula for a soothing effect.
They Just Feel...Nice
There's no denying it: the process of brushing on products feels soooo relaxing. Considering the stress we've all been under lately, we could all do with a bit of that! It's a great way to enjoy some self-care while you apply your anti-aging retinol serums, antioxidant packed creams, and spot treatments. 
Whether you're looking to fade fine lines, treat dark spots, or simply hydrate your skin, using these applicators can make your skin look and feel amazing - minus any worries over bacteria transfer! 
OUR FAVORITE SKINCARE APPLICATORS
Here are some of our top picks for skincare tools and applicators.
Truly's Gold Ice Cream Scoop
Scoop up the right amount of product without transferring any germs into your skincare pot. This adorable gold ice cream scoop lets you serve our Truly swirls in style in the most hygienic way possible. Use it to scoop your daily collagen-boosting lotion, oil-free body butter, or revitalizing exfoliating products. 
Get your Gold Ice Cream Scoop.
Truly's Gold Cake Server
Level up your self care time with this cute little cake server. It's a convenient tool to lather on your products while avoiding the transfer of germs. You can use it to apply pretty much anything in your beauty cabinet, but it's especially effective for applying serums, face creams, and masks. 
Besides being hygienic, it'll also make your skincare routine so much more enjoyable and relaxing. Set the mood with candles, calming music, and start lathering on those vitamin C serums and hyaluronic acid lotions.
Get your Gold Cake Server.
Truly's "Pour le Visage" Face Towel
A face towel is a great way to apply and remove skincare products. It's especially good for deep cleansing, as it provides gentle exfoliation, removing dirt and dead skin cells. The result? Clearer, brighter, smoother skin.
This cotton face towel is gentle on skin, yet powerful enough to clear blackheads, whiteheads, dirt, oil, leftover makeup, and any product residue. 
Soak it in warm water before use and drape it over the face to open up the pores. Then apply your products using the towel to exfoliate. 
While it's suitable for all skin types, those with sensitive skin should be extra gentle when using it to prevent irritation.
Get your Pour le Visage Face Towel.
Skincare applicators really can transform your skincare regimen. Provided that you keep them clean and use them correctly, your skin can benefit a lot from using these tools.
Whether you're using hydrating moisturizers, brightening serums, or eye creams that address dark circles, these applicators allow you to apply these products seamlessly and hygienically. 
In addition to our applicators and tools, you'll find brushes and sponges at your local drugstore. You can use these to apply makeup too, like foundation and concealer. 
Hot or not? Definitely hot!
Share
---