How Quarantine Got Me Into The Business Of Self Care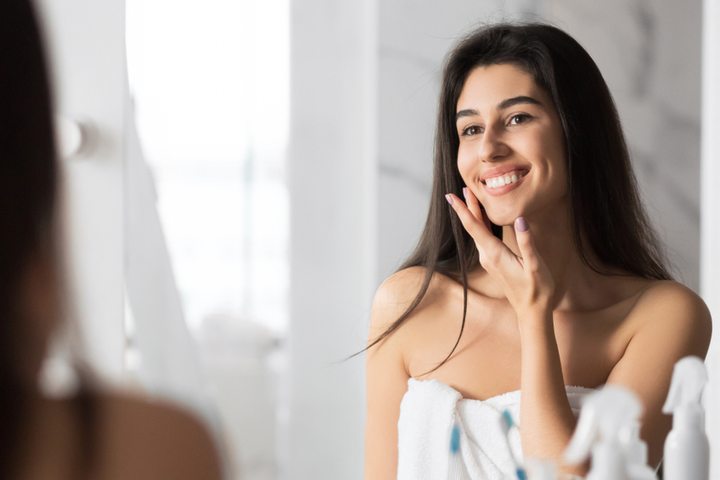 When the coronavirus pandemic began, self care became a key factor in keeping our mental health in check. Unsure what to do with themselves, people spent their social distancing hours baking banana bread, taking fitness online classes, and of course - watching hours of Netflix.
There are plenty of self care ideas you can try to nurture your mental wellbeing during these uncertain times. Just because things have progressed a little since last March and lockdowns are easing, there's still a pandemic going on. 
Self-care is still as important now for your mental health as it was when the coronavirus began. That's why we highly recommend taking some time to make it a part of your daily routine. 
To help, we've came up with a few self-care ideas (that involve skincare!), to keep both your mental and physical health thriving. So make wellness a part of your lifestyle and enjoy the huge return on investment. 
WHY YOU SHOULD PRACTICE SELF-CARE
According to the World Health Organization, self care is something you do to take care of your health, including eating a healthy diet, exercising regularly, participating in hobbies, and seeking healthcare services if and when needed. 
"Self-care is not selfish," says Dr. Christine Carter, PhD,  a sociologist and senior fellow at the Greater Good Science Center at the University of California in Berkeley. "This is a time of incredible anxiety and stress. Focusing on what makes us feel nourished, on what gives us meaning, is part of easing those feelings and giving us a more solid foundation."
We couldn't agree more! To help you check in with yourself, we've got some self-care tips involving beauty and skincare to make sure you feel your best - in spite of the circumstances.
QUARANTINE SELF-CARE TIPS
Establish a Skincare Routine 
The benefits of following a daily skincare regimen are twofold: first, you get to spend time with yourself and enjoy a routine to make your mind verrry happy, and second, you can enjoy the after effects of beautiful, glowing skin.
In the am, start with a hydrating cleanser, followed by a serum, and sunscreen. In the pm, wash away the day's dirt with a nourishing cleanser, address skin concerns with a serum, and seal in all the goodness with a moisturizer. 
Do this every day and you'll notice your wellbeing levels skyrocketing! Plus, get ready for a gorge complexion! Feel free to add in the occasional face mask just to unwind while tackling dryness simultaneously. 
Product pick: Truly's CBD Jelly Bundle.
Give Your Tresses Some TLC 
By all means, take up a new hobby or start journaling - it's good for your mind and soul. But also pay attention to your mane! 
Now's your chance to revive those dull, damaged tresses. You can do this by giving them a little more of your time and pampering them with revitalizing products.
The next time you're in the shower, really feel the sensation of the shampoo as you massage it into your scalp. Inhale the aroma of the conditioner as you rub it into the ends of your hair. This is your moment of mindfulness. And mindfulness means paying attention to the five senses.
Treat yourself to a weekly hair mask, too. Just giving yourself that time and truly being in the present moment - it works wonders for your mental wellness. On top of that, your hair will be extra happy!
Product pick: Truly's Super Plant Bundle Shampoo and Conditioner + Coco Rose Milk Hair Mask.
Chill Out in a Bubble Bath
Who doesn't love sliding into a hot, bubbly bath after a long, hard day? You can literally feel those stresses and strains just melting away. 
Run yourself a bath, drop a few essential oils in there (think lavender, orange, etc!) and bring a good book with you for company. Not much of a reader? Download some meditation apps instead to help you really enjoy the moment. Alternatively, lie back as you listen to your favorite playlist or a new, motivational podcast.
Avoid scrolling your social media homepages - this is your moment to be within your own headspace. No negativity or stressful influences necessary!
Product pick: Truly's Space Candy Bath Rocks.
Enjoy an Aromatherapy Session
Another great way to practice mindfulness is with an aromatherapy session. Diffuse your fave essential oils, sit in a calm and relaxing place, and just let your mind unwind as you breathe in the scent of the oils and enjoy the present moment.
Besides chilling out your mind, frequent aromatherapy sessions can boost the immune system - it's one of those healthy habits we can't recommend enough whether or not you're in self-quarantine.
Product pick: Truly's Moon Bath Essentials Set 
Embrace Time With Your Loved Ones
Invite friends or family members over and enjoy some self-care time together! Spending time with your loved ones is so vital right now. If there's something good to come out of this pandemic, it's the higher focus we've all placed on appreciating family and friends. 
Enjoy an at-home spa session together, catch up on Netflix episodes together, or try cooking a new recipe together. There are so many ways you can re-connect during these uncertain times. Besides boosting your relationships, it's also beneficial for your health. 
And if you don't have the fortune of meeting up in person, catch up with them on Facetime or Zoom. We're sure they'll be over the moon to hear from you!
If there's something we've learned from the pandemic, it's that self-care matters - like, really matters. Giving yourself that undivided attention and being in the present moment just feels so good. And it works wonders for your mental wellbeing!
You don't have to follow all the tips above, but we recommend giving at least a couple of them a try. Your mind, heart, and soul will thank you big time! And even when the pandemic's over...keep it up! Self-care should be ingrained in your lifestyle. 
Share
---