I tried a Skincare Routine To Lighten My Dark Underarms For 30 Days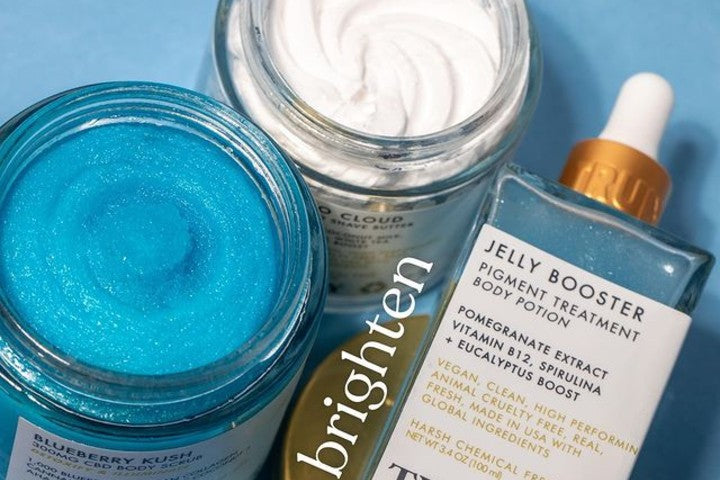 When it comes to underarm care, there's not a one-size-fits-all. Some people choose to shave their underarms daily and spray on an antiperspirant or deodorant stick. Others prefer to embrace their natural armpit hairs and swear by natural deodorant.
Similarly, people also approach hyperpigmentation and dark underarms differently. It's up to you which method you choose.
However, if you're looking to lighten your dark spots, there are a few natural ingredients you can use to do it. And you'll find those skincare ingredients in our brand new Bright Pitties Bundle. A bundle we live by for brightening our underarms.
Sound good? Keep reading to find out more!
FIRST, WHAT CAUSES DARK UNDERARMS?
You're probably wondering what's causing your underarm discoloration in the first place, right?
According to the derms, darkened underarm skin is very common and can happen for a myriad of reasons. 
"Many people develop darkened pigmentation under their armpits similar to the darker skin on the knees, elbows, groin, neck, or underbelly," says dermatologist Sheel Desai Solomon, MD.
Darker pigmentation on the armpits may be genetic, but it could also be down to health issues. 
"Studies have shown that people with diabetes have a higher propensity to be affected, as insulin can interfere with pigmentation in the skin," Dr. Solomon points out. 
This can also affect people with polycystic ovary syndrome (PCOS), a disorder that affects the hormones and can cause discoloration. 
Besides genetics and underlying health conditions, external factors also play a role. Deodorants and antiperspirants contain ingredients that can irritate and inflame the skin, leading to dark patches on the skin. 
For instance, many antiperspirants use aluminum which clogs up the sweat ducts and thus, irritates the skin. Fragrance and alcohol may also be responsible, as can shaving dry skin or using a dull blade.
So, is there a skincare routine you can follow to keep your armpits bright and light? There sure is...
TRY TRULY'S BRIGHT PITTIES BUNDLE
This Bright Pitties Kit features all the skincare products you need to achieve soft, hydrated, and hyperpigmentation-free pits! Use this bundle for the next 30 days and you are guaranteed new skin softness, less irritation when shaving, and fewer ingrowns. Plus, you'll enjoy prolonged results!
Here's how to use each product in the kit (and why!). 
Blueberry Kush CBD Body Scrub
This gentle, clarifying sugar based scrub is designed to remove impurities and slough away dead skin cells without irritating the skin. It exfoliates the skin, making way for fresh skin cells and evens out skin tone simultaneously.
Formulated with anti-inflammatory, breakout-banishing blue tansy and 300mg of hemp to moisturize and soothe skin, it's a great exfoliating product suitable for all skin types - even sensitive skin. 
It owes its skin lightening properties to vitamin C - an antioxidant often used in beauty products to help fade dark spots and acne scars. 
How to use:
Scoop a handful of body scrub out of the container and onto the skin. Massage in circular motions. Let sit for a couple of minutes, then rinse.
Jelly Booster Pigment Treatment Body Potion
This pimple scar-fading serum is made with a calming blend of pomegranate extract, spirulina, vitamin B2, aloe juice, and witch hazel water to fix uneven skin tone, lighten hyperpigmentation, and offer hydrating benefits.
Thanks to its antioxidant and antimicrobial properties, pomegranate extract fights free radicals while keeping fine lines and wrinkles at bay. Meanwhile, vitamin B2 directly aids skin conditions like acne and eczema. Aloe vera is a well-known home remedy for soothing inflamed skin. As for witch hazel water, this ingredient contains tannins, a natural antioxidant-rich plant compound that functions as a shield against inflammation-causing substances.
While you might try all sorts of DIY treatments for your breakouts or discoloration, like turmeric, baking soda, or lemon juice, avoid these at all costs. They're way too harsh for the skin. Opt for soothing ingredients instead.
How to use:
After bathing or showering, apply 4-5 drops of the pigment treatment to affected areas. Massage it in until fully absorbed. 
Coco Cloud Whipped Luxury Shave Butter
This super-smoothing shave cream promises a silky, pain-free shave without any unpleasant side effects (like ingrowns!). Formulated with a moisturizing blend of coconut milk, argan oil, and shea butter, it's packed with antioxidants and anti-inflammatory properties to combat irritation and improve skin barrier. Consider it your ultimate shaving companion.
It also contains mango seed butter, an ingredient rich in vitamin E and essential fatty acids to maintain and seal in hydration, while brightening the overall complexion. 
With its fluffy, easy-to-apply texture, you'll have fun using this lotion-like shaving product. Did we mention it also smells oh so heavenly? Think tropical beach vibes! 
How to use:
For best results and to prevent ingrowns, shave while or after showering or bathing. Create a lather with warm water and the shaving cream. Apply to the skin, then shave with the grain, following the growth direction of your hairs. For an ultra close shave, repeat the process, shaving lightly against the grain. Follow up with a nourishing moisturizer. 
BOOST THE BENEFITS OF THESE PRODUCTS BY...
Avoiding Over-Exfoliation
Exfoliating your skin can help significantly - in small doses. Overdoing it, however, will only further irritate the area, leading to more thickening when done excessively. Feel free to exfoliate, but aim to do it no more than twice a week. 
Your underarms also face UV exposure. So apply SPF there every day - or at least, every time you leave the house. 
Investing in a Quality Razor
Dull razors could be causing tugging at the follicle. This in turn causes irritation and inflammation, which can lead to redness and dark patches. Use a good quality razor to keep your pits in perfect shape.
Using our Bright Pitties Bundle will certainly help you achieve smoother, softer, brighter underarms, but if you're not combing your routine with healthy skin habits, you may as well as stop using it altogether. Healthy skincare habits are essential for maintaining silky smooth, even toned pits. 
Share
---