Lift Your Mood With Summer's Best Scents in Skincare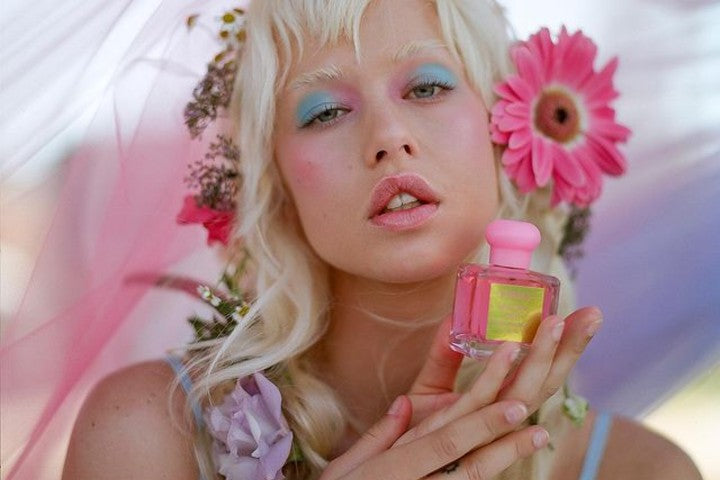 Want to know a quick mood-boosting trick?
Spritz yourself with an uplifting fragrance.
"Scents have the ability to alter our emotions and moods more than any other sensory experience," says neuroscientist Dr. Rachel Herz. "This is because of the unique connection in the brain where scent, emotion, memories and associations are processed."
In other words, choose a fragrance composed of notes designed to target those emotions. 
Some good options include sandalwood and rose to elicit soothing, calming feelings; grapefruit and other citrus scents to energize; bergamot as an am pick me up; and white musk to inspire positive thoughts.
At Truly, we have some great, mood-boosting summer scents and skincare products for you to choose from. Take your pick from some of our favorites...
Unicorn Fruit Eau de Parfum
Hints of: Acai Berries, Matcha, and Rose
It's the highly-requested fragrance version of Truly's bestselling Unicorn Fruit skincare line -- it's Unicorn Fruit Eau de Parfum.
Featuring fruity notes of acai berries, matcha, and rose, this summer perfume delivers a sweet, signature scent that soothes, de-stresses, and uplifts.
According to Perfumer and Aromatherapy Consultant Julie Nelson, it may even ease anxiety.
"Floral fragrances, like rose and jasmine, are sensual and exotic, and can bring a sense of calm and be very soothing. They make great bedtime fragrances to help relax and unwind," she explains. 
Consider it a self-care product to boost your overall wellbeing (while making you smell divine). 
GLOAT Luscious Lip Butter
Hints of: Peppermint
In addition to plumping up your pout, peppermint may also boost your brain. A study from Wheeling Jesuit University found that inhaling peppermint could be linked to greater cognitive stamina and overall performance. It's also known for invigorating the mind and helping students perform better when taking exams.
Research also shows that the menthol scent in peppermint can trick your brain into believing it alleviates blocked nasal passages. So if you're feeling a little under the weather, this ingredient should help perk you up.
Truly's GLOAT Luscious Lip Butter promises to plump and hydrate the lips thanks to its nourishing infusion of peppermint, hyaluronic acid, shea butter, coconut oil, and almond oil. These hydrating butters and essential oils can simultaneously ease dry skin while enhancing brain function and mood.
Dab it on your lips, behind your ears, or on your wrists -- it's sure to keep your brain buzzing for hours. 
Blueberry Kush CBD Body Oil
Hints of: Blueberry
Blueberry necta is this beauty product's primary ingredient. A powerful antioxidant, blueberry works as a natural shield against blue light -- the light emitted from your electrical devices. It's also loaded with fatty acids, offering intense hydration to dehydrated skin and strengthening the skin's barrier function.
Besides its skincare benefits, this body oil also smells incredible. With its gentle berry notes, this moisturizing oil can instantly lift your mood and quell your troubles.
Apply it all over your body to reap both the skincare and mood-boosting benefits. You can wear it anytime of year. It'll feel like summer even when it's winter! 
Buns of Glowry Butt Serum
Hints of: Watermelon and Citrus 
Watermelon is just one of those scents that conjures up memories of hot, summer days. It's a calming, soothing scent that can truly turn around a bad day and make you feel more zen inside.
Inside this formula, you'll also find bitter orange and as we mentioned previously, citrus is an excellent pick me-up, effective for reducing stress.
"Citrus scents are great all rounder's, as they tend to make us happy and remind us of warm sunny days. I love to use them first thing in the morning for an energizing effect," says Nelson. 
Truly's Buns of Glowry Butt Serum is a fabulous, sweet-scented body moisturizer proven to hydrate, tighten, and even out skin tone.
Apply it like you would your daily lotion, or simply dab it on the areas you want a fragrance, i.e. your neck and wrists.
Coco Cloud Luxury Shave Butter
Hints of: Vanilla and Coconut
Vanilla is traditionally seen as an aphrodisiac. You'll find this fragrance in everything from cologne to body wash, eau de toilette to haircare products. It's a key ingredient for perfumers and one that's extremely popular -- particularly in the summer when you want a lightweight, airy fragrance that doesn't smell too overpowering.
"It's a really precious raw material," says Maxime Garcia-Janin, founder of Sillages Paris, "often described as 'black gold' by perfumers. The scent itself is round, warm and sweet—it helps you relax as it can give a feeling of a warm hug."
As for coconut, that's just one of those scents that instantly takes you to an exotic beach, pina colada in hand. Yup, it's definitely got the chill out factor.
Truly's Coco Cloud Luxury Shave Butter delivers a silky smooth shave -- plus a mood, libido, and wellness boost!
Lemonade Mist
Hints of: Lemon
Citrus scents like orange, lemon, and lime are superstars when it comes to elevating your mood.
"Extracted from the fresh fruit rind and usually pressed, citrus essential oils contain up to 97 percent of d-limonene, and studies suggest this component supports the part of the nervous system that's responsible for relaxation. In other words, it can decrease stress," says certified aromatherapist Caroline Schroeder.
She adds that "Lemon is cool and joyful."
A recent study from the University of Sussex also discovered that the scent of a lemon can help boost your body image and self-confidence.
To get your daily dose of lemons, try spritzing your skin in Truly's NEW Lemon Face & Body Mist. It smooths, hydrates, and brightens while simultaneously amplifying your mood and confidence.
Scent is a powerful thing. Lucky for you, you have plenty to choose from. Besides the ones mentioned above, other great fragrances include frankincense, magnolia, geranium, orange blossom, neroli, and ylang-ylang. 
Whether you find it in a perfume, skincare products, or haircare products, all that matters is that you're exposing yourself to that mood-boosting scent. 
Share
---