Our Favorite Skincare Products, July 2021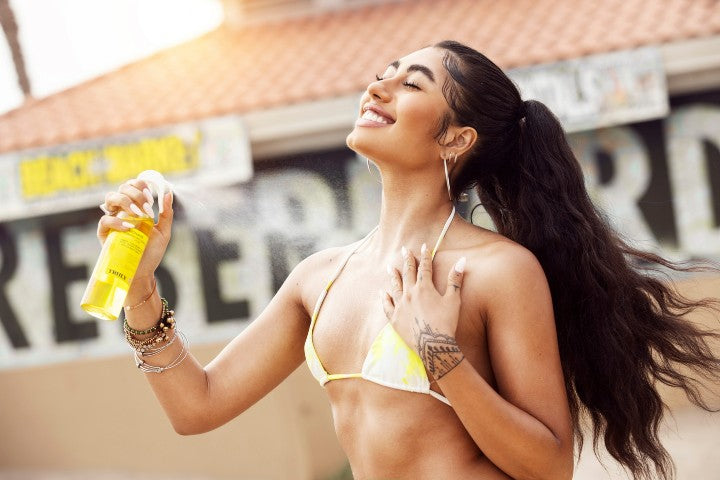 Looking for skincare products to help you beat the heat this summer?
Thanks to a heatwave, sweaty hair, oily skin, summer breakouts, and melting makeup have become a real issue this month. 
Fortunately, beauty brands are already on top of this, bringing in cooling cleansers and soothing moisturizers left, right, and center. 
We're one of those brands. 
At Truly, we've just dropped some brand new beauty products that'll keep you cool and comfortable this summer. They're the perfect products to add to your summer skincare routine.
Keep scrolling for a mix of our bestsellers and latest launches worth trying in August 2021.
BEST BEAUTY PRODUCTS THIS SUMMER
Truly's Hydration Station Body Kit 
Summer dryness happens when your skin isn't getting enough moisture. As a result, you'll experience dry skin, rough patches, peeling, and flaking. Ugh...
This hydrating body kit compiles our most deeply nourishing and bestselling body care products to drive out dryness for good: Coco Rose Fudge, Unicorn Fruit Body Polish, and Acai Your Boobies Serum.
These products utilize vitamin-loaded, hyper-hydrating ingredients like shea butter, coconut oil, and vegan collagen for moisturizing, anti-aging, and redness-relieving benefits.
Moisturizing, smoothing, and tightening, it's your go-to full-body dewiness kit. Take it everywhere!
Truly's Unicorn Fruit Eau de Parfum
Perfume can feel a bit heavy in the summer. Body sprays and mists? They're not really there for the long-haul.
The solution? Truly's new lightweight fragrance inspired by our bestselling Unicorn Fruit skincare line. Featuring fruity notes of rose, acai berries, and matcha, spritz this on any time you need a fruity fragrance boost.
Plus, you don't need to worry about it fading away an hour in. This candy-like fragrance lasts all day long to help mask those mid-day odors. It smells so good you'll want to drink it!
Truly's Oily Skin Kit 
After a day at the beach or hanging out with friends in the summer heat, when you feel like your skin's a little on the icky and shiny side, reach for this 4-step oily skin kit. 
Inside you'll find an anti-blemish facial cleanser, brightening face serum, invigorating scrub, and zit-draining stickers. 
These products use salicylic acid and glycerin to pull excess moisture from the pores and keep acne at bay so you're left fresh-faced.
They also use active ingredients such as retinol to speed cell turnover and break down sebum for a matte-like complexion.
Your skin will feel clean and fresh afterward, not uncomfortably irritated. 
Truly's Bacne Routine Bundle
You're more prone to body acne in the summer months when heat and humidity leave your skin vulnerable to acne-causing bacteria build up. 
If you're noticing pimples popping up on your back and shoulders, try this CBD infused bacne bundle. 
Featuring a body cleanser, toner, body mask, and acne patches, these four products harness all the soothing, blemish-banishing, hydrating TLC of CBD! There's also soothing aloe vera and tea tree oil in there for additional complexion-calming, redness-reducing effects. 
Usually, acne-fighting products attack the skin's natural oils so aggressively, you end up with tight, itchy, parched skin. 
Our CBD bacne bundle targets problem areas while sealing in the skin's natural hydration.
Truly's Cooka Oil
If you shave, make sure you keep those areas smooth and free of ingrowns with our brand-new Cooka Oil especially designed for your pubic hair and skin. It's packed with jojoba oil and primrose to hydrate and lavender and tea tree to soothe. 
Its nourishing blend of plant-based ingredients work together to soothe irritation, unclog pores, and combat ingrowns for an ultra-smooth bikini line. Any skin type (even sensitive skin!) can benefit from this formula.
Truly's After Sun Kit
Spent too long in the sun?
First, we recommend always wearing sunscreen with SPF 30 whenever you go outdoors. Reapply it every couple of hours for maximum protection.
If it's too late, reach for our After Sun Kit. It aids in soothing and restoring sunburned skin while extending the lifespan of your natural tan.
What's included: a soothing body mask, glowy skin serum, and moisturizing body lotion all loaded with antioxidants and nourishing ingredients to restore and repair post-UV skin.
Aloe vera is one of the primary ingredients which offers anti-inflammatory and antibacterial properties to prevent peeling and redness. 
Hemp oil is an antioxidant rich in fatty acids to hydrate and rejuvenate the skin without clogging pores.
Pineapple contains bromelain, a powerful enzyme that provides gentle exfoliation to the skin. In addition to dissolving dead skin cells and decongesting pores, it removes superficial cells to allow moisturizers and serums to penetrate more deeply.
Truly's Hotter in Person Bronzing Cream
Summer beauty is all about healthy, glowing skin with a kiss of color. This Bronze & Blur Cream offers all that without the sun damage that accompanies a summer dewy glow. 
This silky body cream is formulated with hydrating argan oil, brightening strawberry, soothing aloe vera, and anti-inflammatory green tea to deliver a buildable natural tan that looks good on all skin tones. 
It's the body bronzer you need for that gorgeous summer glow!
Truly's Flawless Skincare Bundle
A face cream, serum, and eye cream...
This trio is like a tall drink of water for your face. 
The secret? Hyaluronic acid. 
This humectant holds onto moisture in the upper layers of your skin to deliver long-lasting moisture. 
Combined with vitamin e and sea kelp, these ingredients work in harmony to deliver moisturizing, firming, and de-puffing effects - all issues you'll face during the summer months.
They'll diminish dryness, fade fine lines, revive tired eyes, and create the perfect base for makeup products like foundation, highlighter, eyeshadow, and mascara.
WHAT ELSE CAN YOU DO TO STAY LOOKING COOL IN JULY?
Besides trying out our new beauty launches and bestselling skincare products, invest in a hydrating lip balm, some anti-frizz hair care products, and as many wellness products as you like.
If your usual go-to brands include Fenty Beauty, Drunk Elephant, or basically any brand you pick up on Sephora or Nordstrom, why not try something different this time? Try Truly's summer skincare essentials instead!
Share
---