Thinking of Dry Brushing Your Face? Read this First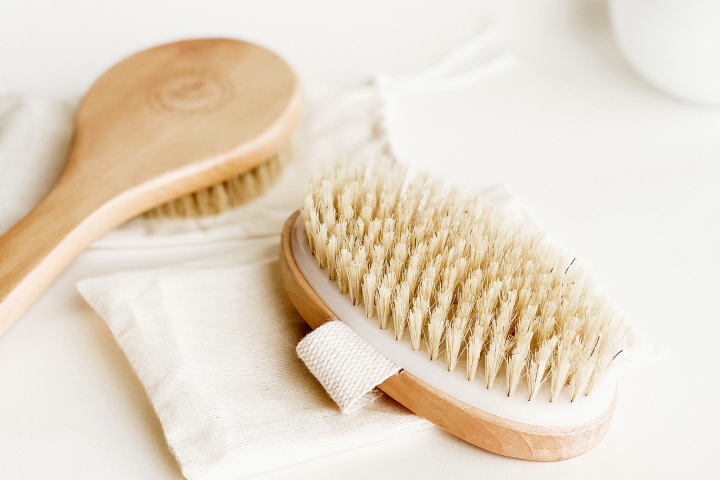 So you've heard all the buzz around facial dry brushing? According to wellness enthusiasts, dry brushing your face may just be the secret to achieving a model-worthy jawline. But what do dermatologists think about this new skincare trend?
Since so many people have seen such great results from body brushing, you'd think dry brushing your face would yield similar results.
Scroll on to hear all about the trend, and why you probably shouldn't dry brush your face.
What is Facial Dry Brushing?
Dry brushing your face involves using an instrument with fine bristles in it to help to stimulate blood circulation, physically exfoliate dead skin cells, and fire up a sluggish lymphatic system.
By stimulating blood flow, you support lymphatic drainage, which can help with brightening, de-puffing, and firming skin.
Compared to the bristle brushes used for your body, those used for the face have much finer and softer hairs. Even so, many dermatologists say skin brushing can cause irritation and infections, especially if you have sensitive skin.
Benefits of Dry Brushing Face
According to dermatologists, the main benefits of face dry brushing is exfoliation (removing dead skin cells) and increasing blood flow. These functions help with brightening your skin, chiselling your features (temporarily, that is), and reducing puffiness.
If you are going to dry brush your face, start with a face brush with extra gentle natural bristles. Then massage using circular motions and upward strokes to get your circulation fired up. Follow up with a gentle cleanser and moisturizer.
Most derms agree that you'll benefit more from dry brushing your body, as the skin on your body is thicker and less likely to get irritated. Plus, dry brushing has been proven to help improve the appearance of cellulite while energizing the body, detoxing, and even boosting the immune system.
The Downsides of Dry Brushing Your Face
'"Personally, I wouldn't recommend dry brushing your face as this can be a harsh exfoliating technique that can damage the skin barrier on your face, lead to uneven exfoliation and also cause micro tears in the skin leading to infections," says dermatologist Dr. Ramya Garlapati. She adds that those with sensitive skin or skin conditions like eczema or rosacea should definitely steer clear.
While dry brushing your face can provide benefits like exfoliation and improved circulation, those with dry skin and sensitive skin won't be able to enjoy those benefits anyway, because their skin will be too irritated from the aggressive act.
The face dry brushing procedure can certainly feel invigorating, but most derms agree that there's nothing you can get from a dry brush than you can't get from your regular exfoliant.
Don't Dry Brush Your Face. Instead...
Exfoliate
You don't need a dry brush to get exfoliating benefits. You can buff away the buildup of dead skin cells with a face scrub or chemical exfoliant. If you have dry or sensitive skin, we recommend the latter as it's generally gentler on the skin. Besides lifting dirt and dead cells to reveal fresh skin underneath, exfoliation brings with it a massaging action that can help with circulation. Plus, exfoliating skin enables other skincare products to penetrate and perform better.
Exfoliate with: Truly's 24k Gold Black Soap Impurity Cleanser, an exfoliating formula of charcoal, African black soap, and salicylic acid to buff away buildup, unclog pores, and zap away zits. Skin feels and looks fresher after the very first use!
Give Yourself a Face Massage
Get your daily self-care fix by giving yourself a face massage. It won't just feel good! It'll make you look good, too! The massaging act encourages the drainage of lymph nodes, providing your face with complete detoxification. It also gets the blood flowing, giving your face a more lifted appearance. Besides giving you a natural face lift and flush, facial massages feel great! They're the perfect way to show yourself a little self-care.
Massage with: Truly's Blueberry Kush CBD Face Oil. A deeply nourishing daily serum of antioxidant-rich blueberries and hydrating CBD to fight fine line formation, combat inflammation, and illuminate your complexion.
Apply a Tightening Serum
If you're looking for a gentler way to sculpt your jawline and make your cheekbones look more prominent, opt for a serum with tightening properties. Some of the best ingredients for skin tightening include retinol, antioxidants, and collagen. While you will find these in all kinds of products ranging from cleansers to lotions, choose a serum since these actives will be in high concentrations — delivering their best benefits.
Tighten with: Truly's Vegan Collagen Booster Facial Serum. A revolutionary formula that combines retinol, vitamin C, and plant collagen booster to plump out wrinkles, brighten skin, and improve firmness. Suitable for all skin types! Make it part of your daily skincare routine to see a noticeable improvement over time.
Pat on a De-Puffing Treatment
To beat the bloat, look out for a de-puffing treatment enriched with calming, nourishing ingredients like hyaluronic acid, sea kelp, and aloe vera. In addition to promoting healthy skin, these ingredients help fight dark circles, dryness, and puffiness.
De-puff with: Truly's Eye Candy Anti-Puff Eye Cream. It's made with hydrating hyaluronic acid and inflammation-quelling sea kelp to combat puffiness. Rich in antioxidants and minerals, sea kelp takes credit for most of this formula's de-puffing effects. Skin looks calmer, brighter, and less puffy straight after using!
Dry brushing your face might sound like a good idea. After all, the derms have long praised the practice of dry brushing your body. However, when it comes to the delicate skin on the face, most derms advise against using bristly brushes on your skin, pointing out that it can irritate skin and even cause infections.
Luckily, you can enjoy most of the same benefits of facial dry brushing with the above skincare products. Not only are they far gentler on the skin, they also contain powerhouse active ingredients that are clinically proven to lift, firm, and combat puffiness.
Have you tried dry brushing your face? We'd love to hear what your take is on the new trend!
Share
---