Truly's New Signature Collection Seduces, Surprises, and Satisfies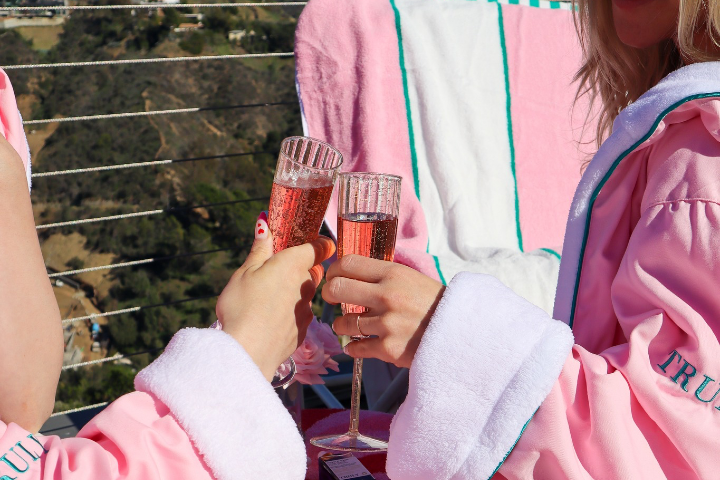 Ooh la la...our NEW Signature Collection Page has arrived, featuring Truly's most-loved luxurious accessories. From our pink cushy bathrobe to our vegan leather travel trunk, our signatures are here to seduce, surprise, and 100% satisfy.
You've gotta admit. Pandemic stress has hit you hard, and you've barely had time to check in with yourself, let alone your loved ones. Well, our philosophy is to focus on yourself first, indulge in some well-deserved self-care, and then carve out some time to reconnect with your family and friends.
Ahead, all the Truly Signatures to treat yourself to — or gift as a special treat to your bestie.
Signature Luxury Duffle
Our signature Pink Duffle is made from 100% vegan leather and features a zippered main compartment and detachable shoulder strap to stow your skincare collections in style. Take it with you on trips, to the gym, or accessorize with it for special occasions.
Signature Luxury Bathrobe
A full length bathrobe that's the perfect fit for anyone. Featuring a hood, pockets, and a tie waist, with an emerald Truly logo on the sleeve, wear your love for Truly with pride while looking ultra chic doing your skincare routine. It's also machine washable, so you won't have to worry about Unicorn Fruit smears or Dulce de Leches drops.
Signature Premium Blanket
Take it to the beach or add an extra layer of warmth to your bed sheets, this universal blanket is made from a super soft blend of cashmere, polyester, and acrylic fiber to secure the sweetest chillout sesh. You can even use it as a throw to add a lovely touch to your home. Some great locations for it would include the couch or bed.
Signature Vanity Case
Our Skincare Travel Pouch keeps all your beauty essentials perfectly organized. And there's plenty of space for extras like your concealer and eyeliner. Made from water resistant vegan leather, and featuring a double zipper enclosure, it's a stylish and practical way of keeping things organized.
Amalfi Luxury Travel Trunk
Heading to New York, Colorado, the United Kingdom, or somewhere even more exotic? Pack up all your Truly favorites in our lilac sleepaway trunk that's made for heftier skincare regimens. Spacious enough to store 12+ products, the Amalfi Travel Trunk means you never have to be without your favorite formulas. Made of 100% vegan leather, the trunk features an inside snap-button clasped pocket and adjustable straps for maximum space, comfort, and style!
St. Tropez Luxury Travel Trunk
First time travelling? Not sure how many skincare supplies to pack? St. Tropez Luxury Travel Trunk offers plenty of space for all your favorite beauty products. Before you checkout, be sure to stock up on some of our Minis so you can get more out of your routine. If any of our bags deserved an Oscar, it would be this one! It's truly dazzling!
Signature Terry Face Towel
A sensitive skin-friendly face towel to gently cleanse away dirt, oil, and dead skin cells. Simply soak it in hot water, squeeze it out, and use it to buff away buildup. Embroidered with the Truly logo, you can cleanse your face while staying on brand. Plus, it'll help cut the excess waste of harsh makeup wipes out of your routine. Re-use it a thousand times or more! It couldn't be more eco-friendly.
Signature Terry Oversized Towel
Our very first full length, ultra soft, and extra chic bath towel. Embroidered with an emerald Truly logo, wick away moisture with ease while staying true to our brand. Keep it at home, pack it on your travels, and feel free to take it with you on hotel stays too. Just because the friendly staff change your towels every day doesn't mean you can't take your own favorite.
SpongeBob Floral Vanity Case
Our 100% vegan leather, SpongeBob inspired cosmetics bag. Stash all your skincare in this cute and colorful vanity case featuring an all-over flower cloud print and a double zipper enclosure. It might look small on pics, but this beauty bag is roomy enough for your essentials. It also makes the perfect gift for fellow fans!
What are your favorite Truly signatures? Is it our luxury full-length Pink Bathrobe, St. Tropez Travel Trunk, or our SpongeBob Case? We'd love to hear your thoughts! And remember to keep your eyes peeled for newbies. We'll occasionally be adding a new Signature Truly accessory to the page, so be sure to come back from time to time.
Besides satisfying you, these Truly Signature's make perfect presents — guaranteed to please. You can see the above accessories being used IRL on our TikTok page.
Share
---