1 Ingredient Face Masks To Revive Your Skin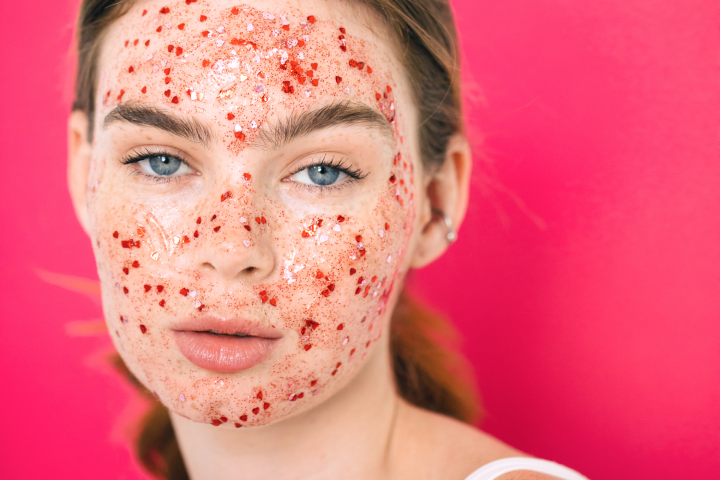 Your refrigerator can stock some rather impressive skincare recipes. If you feel like you're in need of some well-deserved skin therapy, you'll definitely want to try what your fridge has in store for you. What with the nourishing vitamins and minerals found in fruits and veggies, slathering them on top of your skin can work wonders for your complexion.
Ahead, our fave one ingredient DIY face mask recipes to brighten, hydrate, and clarify your skin. Enjoy! 
Avocado Face Mask
Inject hydration into dry skin with this moisturizing avocado mask. 
Thanks to the natural oils found in avocados, this fruit can deeply penetrate the skin to hydrate and soften while boosting skin's immunity against stress and environmental aggressors. It may even help reduce fine lines and wrinkles. 
Loaded with antioxidants such as vitamins E and vitamin C, avocado helps protect skin cells from free radical damage, making it an effective anti-aging mask. Avocado also contains lutein, a carotenoid that enhances skin elasticity, while chlorophyll helps to reduce redness and irritation.
All in all, it's a soothing, hydrating homemade face mask that'll nourish dry, irritated skin. 
To make: Simply mash down a ripe avocado, apply it to clean skin, leave it on for 10-15 minutes, then rinse with warm water. 
Honey Face Mask
Honey brightens, tightens, and soothes. In fact, it's an all-round excellent ingredient for your skin that can treat a slew of skin concerns.
For starters, it's great for acne-prone skin. Naturally antibacterial, honey removes dirt, excess oil, and debris to clear pores and prevent breakouts. It also boasts anti-fungal properties which can help prevent certain types of blemishes. 
Since honey is a natural humectant (draws moisture into skin from air), it's an excellent natural ingredient for hydrating the skin. What's more, it functions as an exfoliator helping to dissolve dead skin cells and promote smooth, glowing skin.
Overall, this honey mask is perfect for anyone wanting to diminish dull skin, acne, or dryness. 
To make: Using circular motions, apply 2-3 tablespoons of honey to the skin. Let it sit for 20 minutes, then rinse. For best results, always opt for raw honey.
Banana Face Mask
The best face masks contain banana. 
"Bananas are packed with vitamin A, which promotes skin-cell turnover and helps pores stay clean," says Joshua Zeichner, the director of cosmetic and clinical research at Mount Sinai Hospital in New York City. Alongside this, bananas boast antibacterial properties, which suggests they can be effective for acne-prone skin types. 
Besides clearing whiteheads and blackheads, bananas are a great source of alpha hydroxy acids that can be used for skin brightening. They're also helpful for those who have uneven skin tone, redness, or fine lines and wrinkles. 
According to dermatologists, bananas are safe for all skin types -- from sensitive skin to oily skin. Anyone can benefit from using banana-based face masks, or any skincare products for that matter!
To make: mash down a ripe banana, slather it all over your face and neck, leave on for 10 minutes, then rinse. 
Apple Cider Vinegar Face Mask
Sensitive skin types can benefit a lot from adding this apple cider face mask into their skincare routine -- thanks to its anti-inflammatory properties. But that's not all ACV does.
"Apple cider vinegar contains malic acid, which is similar to alpha hydroxy acid," says dermatologist Michele Green. "Malic acid works well on acne-prone skin as it gently exfoliates to unclog the pores2 and eliminate bacteria."
She adds that the malic acid in apple cider vinegar may also be helpful for clearing up discoloration alike acne marks and dark spots.
To make: apply a few drops of apple cider vinegar onto a cotton pad or ball, then sweep over face and neck. Use it as you would a toner. 
Truly's Top Face Masks
In case you'd like a pre-made face mask, here are Truly's bestsellers...
Vegan Collagen Face Mask
Made with retinol, coconut oil, and vegetable collagen, this anti-aging mask helps reduce the appearance of fine lines and wrinkles while improving overall skin texture and smoothness.
Hemp Jelly Anti-Blemish Mask
A quality formula that utilizes the zit-zapping powers of hemp, pore-minimizing powers of vitamin A, and aloe vera's skin-soothing effects. It's everything you need for clear, smooth, soothed skin.
Starface Jelly Sleep Mask
An AHA-powered face mask designed to delete dullness and reveal skin that's plumped and renewed. While glycolic and lactic acid exfoliate away dead skin, retinol speeds cell turnover. The end result? Younger, brighter skin!
Golden Leaf Resurface & Brighten Face Mask
Using a mix of AHA/BHA, green tea, hemp, olive oil, and 24k gold, this mask gently clears away zits and discoloration while bringing moisture to the skin. This formula resurfaces and brightens your skin for a healthier-looking radiant skin.
Dew You Love Me Jelly Face Mask
Glittery and gorgeous, this collagen-boosting mask is perfect for people who want to restore youthful, glowing skin. It's formulated with retinol, vitamin C, and antioxidants which promote collagen production and speed cell turnover, creating brighter, younger-looking skin.
Mary Jane Glow Mask
Get the glow factor every time with Mary Jane Glow Mask. Infused with hemp to reduce redness, caffeine to help tighten and brighten, and Vitamin A to boost cell turnover rate. This exfoliating face mask delivers powerful antioxidants to firm, perk up, and brighten the skin while replenishing essential hydration.
These one-ingredient face mask recipes are so easy to make. Best of all, you've probably got all these ingredients hiding in your refrigerator and cupboards. You can also try making other 1-ingredient face masks using other skin-friendly ingredients, such as turmeric powder, plain yogurt, papaya, and aloe vera gel. 
If you have a skin condition like eczema, speak to your dermatologist before attempting any of these DIY face masks. While they can be effective for most skin types, those with skin conditions or severe sensitivity may experience unpleasant side effects such as redness, flaking, and itching.
Share
---