3 Steps to Flawless Skin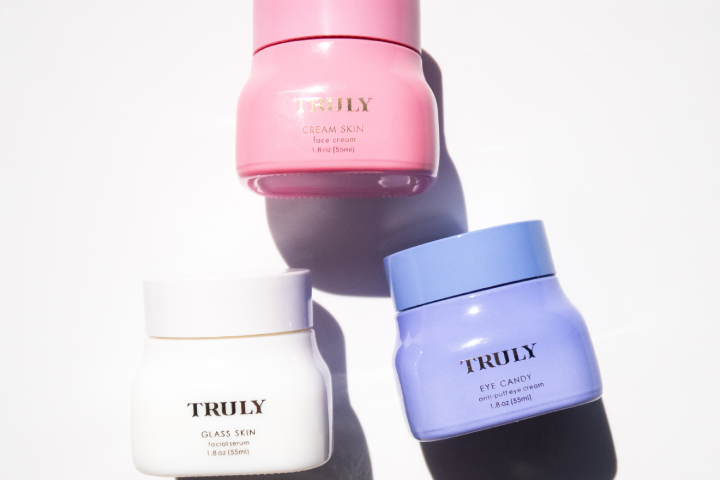 If you could make a beauty wish, what would it be? 
Fewer wrinkles? Less acne? No more dark circles and puffy eyes? Or perhaps, just simply, flawless skin? Your wish is our command...
With the right skincare products and a few gold-tier ingredients, you can indeed achieve clear, radiant skin. However, you will need to stay consistent with your skincare routine if you want to see a visible improvement in your complexion.
Here, your 3 steps to flawless skin. 
Step #1: Glass Skin Brightening Facial Serum
After cleansing your face using a gentle facial cleanser/face wash formulated for your skin type, apply a thin layer of Glass Skin Facial Serum to damp skin. Brightening, hydrating, and fragrance-free, this serum delivers a fresh, dewy complexion with no visible pores. It's suitable for dry skin, oily skin, and even acne-prone skin thanks to its blend of clarifying willow bark and moisture retaining sea kelp. It's also soothing enough to be tolerated by sensitive skin types.
Why it Works
According to dermatologists, willow bark extract is commonly used in cleansers and toners to soothe irritated skin and banish breakouts. It contains salicin -- from which salicylic acid is derived -- making it both anti-inflammatory and antibacterial. This means it may be able to clear the pores and alleviate acne and skin irritation. It's also said to reduce the appearance of pores and even out skin tone. Since willow bark is a natural exfoliant, it buffs away dead skin cells to decongest clogged pores and reveal a more radiant, clear complexion.  
"Willow bark extract has been shown to produce similar results to synthetic salicylic acid, except without some of the drawbacks," explains David Petrillo, a cosmetic chemist and founder of Perfect Image. "Even in small concentrations of 0.5% to 1%, salicylic acid may cause irritation, redness, flaking, and dryness." Willow bark is a gentler alternative.
Sea Kelp Extract is Glass Skin's second primary ingredient. Mineral and antioxidant rich, sea kelp is known to reduce inflammation, soften skin, and remove impurities. What's more, it can help your skin retain moisture, keeping it hydrated for a longer period of time.  
How to Use
Apply a small amount of serum to cleansed and toned skin. For best results, use daily -- both day and night.
Step #2: Cream Skin Face Moisturizer
Next, apply a thin layer of Cream Skin Face Moisturizer to the face and neck. Moisturizing, plumping, and rejuvenating, this face cream delivers hydrated, plumped, and glowing skin after every application. Formulated with a nourishing blend of hyaluronic acid and sea kelp, this lotion can help fade fine lines, delete dryness, fade dark spots, and leave skin extra glowy. It's a lightweight daily essential for skin hydration. 
Why it Works
According to dermatologist Dr. Ava Shamban, hyaluronic acid's main use is keeping skin moist. "It is a superstar at alleviating dry skin," she says. "Hyaluronic acid is a moisture binder, which means that it will attach itself to the water in the cells making them 'plump.'"
In addition to keeping skin hydrated and plump, HA can serve as an anti-aging elixir, reducing the appearance of fine lines and wrinkles. While it won't actively treat issues like blackheads and pimples, it will make skin look more even, dewy, and clearer. 
Meanwhile, sea kelp offers its firming, healing, exfoliating, and strengthening abilities. 
How to Use
Massage a small amount onto clean skin. Leave it to absorb before applying another product or makeup. For best results, use twice a day, morning and night. If you're applying in the morning, make sure you follow up with sunscreen with an SPF of at least 30 to protect skin from UV rays and pollution. 
Step #3: Eye Candy Anti-Puff Eye Cream
Finally, the last step in your flawless skin routine: eye cream. Whether you've had a night out with the girls or binge watched your fave Netflix series till 3am, there is a solution for those pesky dark bags under your peepers! Eye Candy Anti-Puff Eye Cream contains a perfectly crafted blend of ingredients to reduce the appearance of dark circles, puffiness, and revive tired eyes. Like Cream Skin, hyaluronic acid and sea kelp are its two key ingredients. 
Why it Works
Hyaluronic acid hydrates and plumps up skin, while giving it a youthful and radiant glow. Since it is able to brighten the skin, that means it may be able to mask darkness under the eyes. Plus, it helps pull moisture into the epidermis from the air and dermis. 
As for sea kelp, that's widely known as an anti-aging ingredient as well as a natural hydrator. Packed with minerals and antioxidants, it can also reduce blemishes, helping to maintain clear skin.
How to Use
Using your ring finger, gently apply a small amount of cream around the eye area. You can wear it alone or under makeup. For best results, make it part of your daily beauty routine.
Why These Three Steps Work
You're no doubt wondering, do these steps actually work? If you incorporate them into your daily skincare routine, will you eventually attain that flawless complexion you've been dreaming of? 
When it comes to skincare, the success you achieve from it depends on the product, how often you're using it, and of course, your skin. Everyone is different. However, we can say that in addition to a gentle cleanser: serum, moisturizer, and eye cream are staples in one's daily skincare regimen. If you're on a mission to achieve flawless skin, you will indeed need these products to help get you there.
The most important thing of all is to be consistent. If you're only using these products every now and then, you're definitely not going to see the kind of results you're seeking. You need to be using them daily and layering them properly in order to see the most success from them. 
Your wish might not come true today. Or tomorrow. Or even next week. But your wish for youthful, glowing skin will come true very soon -- provided you're consistent!
Share
---