7 Derm-Approved Ways to Make Pigmentation Go Away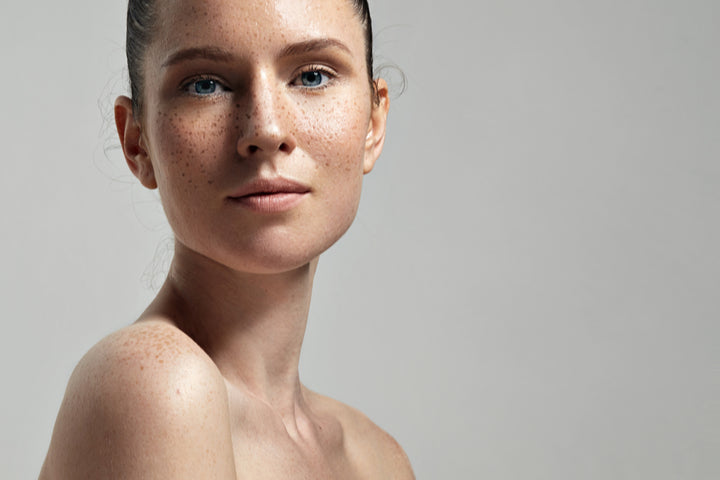 Uneven skin tone happens to all of us – it's just as common as acne. If you have it, you've probably spent a fortune on different concealers in a bid to hide the pigmentation. Yet no amount of concealer will ever truly hide your uneven skin tone. Only healthy skincare habits can.
After doing some digging, we've found some interesting expert-approved treatments for uneven skin tone so that you can get your dream complexion, without relying on makeup.
WHAT EXACTLY IS UNEVEN SKIN TONE?
Skin tone is essentially the amount of pigment produced in your skin. When certain parts of your face start producing more melanin, your skin can become darker than the rest of your face. This is what's known as uneven skin tone. 
What causes it? There are numerous culprits. 
"The most common one is due to sun exposure," says Dr. Laura Scott, Miami-based board-certified dermatologist. "Our melanocyte cells (the cells that give the skin its color) are activated by sunlight and make more color in response to that. A tan is usually the immediate result of this while sunspots develop over the years because of prolonged unprotected sun exposure." 
Other culprits include hormone imbalances, aging, excessive oil production, and the wrong skincare products.  
Luckily, you don't have to put up with it forever.
WAYS TO IMPROVE YOUR SKIN TONE
To acquire and maintain an even skin tone, you'll need to follow a skincare routine that focuses on evening out the texture of your skin and treating hyperpigmentation. Try these seven derm-approved tips for improving your skin texture and tone. With the right products and routine, you can tackle those dark patches once and for all.
Exfoliate Regularly
Because the top layer of your skin is comprised mostly of dead skin cells, it's important to exfoliate 1-2 times a week to speed up the process of sloughing away those dead cells to reveal smoother, dewier, even-toned skin. Not only that, frequent exfoliation decongests pores, reduces dirt and oil, and removes impurities. 
When choosing an exfoliator, don't pick anything too harsh as this can actually worsen the appearance of your skin. Truly's Matcha Scrub is a gentle yet invigorating scrub made with dead sea salt, green tea, and matcha to clear blemishes, reduce redness, and even out skin tone.
Protect Your Skin
Slather on sunscreen any time you plan on leaving the house. Keeping your skin protected will stop spots from darkening and prevent new ones from forming. If you're prone to melasma, it's even more crucial to minimize UV exposure if you want a flawless, spot-free complexion. 
"Even small amounts of unprotected sun exposure can make pigmentation worse," says dermatologist Jennifer Linder, MD. So if you want to keep uneven skin at bay, always slather on an SPF 30 sunscreen before stepping outside – even if it's grey out there. 
Wear a Retinol-Formulated Serum
Every night, wear either a retinol or an AHA moisturizer or serum. Retinol is highly effective for pigmentation as it slows the breakdown of collagen, while promoting rapid skin cell turnover at the same time. As a result, it fades existing dark spots, while decreasing the production of melanin which causes pigmentation.
Try Truly's Hemp Oil Serum. It's formulated with hemp seed oil, ginseng, and retinol to boost collagen production, speed cell turnover, and even out discoloration. Always apply retinol at night, as retinol gets broken down in sunlight, making it less effective in the day time.
Consider a Peel
Dermatologists highly recommend monthly in-office peels to improve skin tone. However, at-home glycolic peels can be just as effective.
"You need long-term exposure to an active ingredient to reap the benefit; a short period of time is not going to be effective," says Dr. Dennis Gross, MD.
So perhaps investing in a high-quality peel which you can use regularly would be an even better idea. But how do you know what to look for?
"Glycolic acid is an alpha hydroxy acid (AHA) that boosts collagen production and helps break the proteins which act as a 'glue' that binds the dead skin cells together," explains Dr. Scott. "It's incredible for treating acne, fading dark spots and superficial scars, even early fine lines."
For a gentle at-home peel, choose Truly's Golden Leaf Resurface & Brighten Face Mask. Using a blend of CBD, AHA/BHA, and glycolic acid, this mask clears away discoloration and brightens a dull complexion. 
Don't Pick
Picking your skin is never good.
"Please try your hardest to avoid picking at your skin and squeezing any pimples," says Dr. Sandra Lee aka Dr. Pimple Popper. "Remember, the more you inflame your skin, the longer you'll struggle with hyperpigmentation."
Picking your skin also leaves it exposed to the dirt, grime, and oil from your fingers. If you want clear, beautiful skin, try to keep your hands away from your face as much as possible. 
Eat Your Vitamins
Poor diet can spike hormonal balances which can lead to skin discoloration. Steer clear of refined sugars, animal products, caffeine, and processed foods if you want to maintain clear, even skin.
A nutritious plant-based diet packed with fresh fruits, vegetables, and healthy fats is the way to go. Remember to drink plenty of water too to flush out the toxins and keep your skin glowing.
Get a Laser Treatment
According to Gross, zapping your skin with a Q-switched YAG laser can erase marks and discoloration. 
"Its light wave is absorbed by the brown color without affecting surrounding skin," says Gross. 
Melasma patients, however, should steer clear.
"Studies have found melasma to be unresponsive to or exacerbated by laser and intense pulsed-light treatments," adds Linder. "The heat and inflammation can trigger new pigment production."
Give these approaches a try and see how effective they are for evening out your skin tone. If you don't see any improvement within a few months, book an appointment with your dermatologist to get to the root of the problem. Your dermatologist may be able to recommend certain medications or in-office treatments to improve discoloration. 
Share
---