7 Skincare Travel Kits to Bring On Your Adventures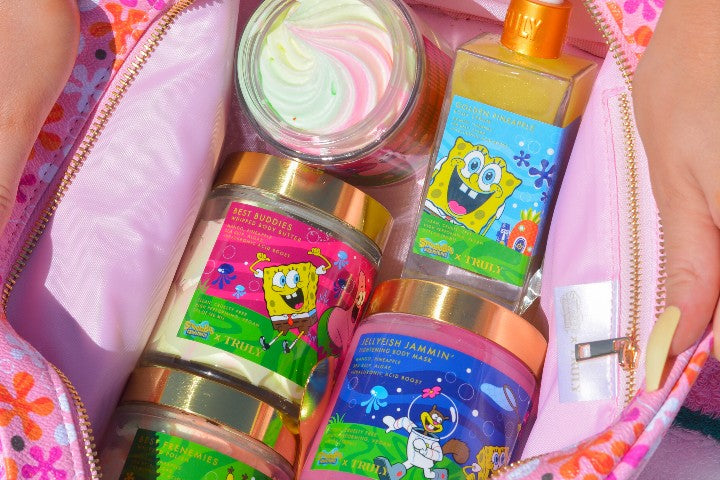 Traveling is great and all, but how do you keep up with your skincare routine when you're so limited with space? Whether you're jetsetting to an exotic location or taking a road trip with friends, it's definitely possible to keep your skin healthy and happy with the right skincare travel kit.
Ahead, the best travel skincare kits to bring on your hols for a glow — wherever you go!
#1: Dry Skin Kit
Best for dry and sensitive skin types, this 4-step routine features a hydrating facial mist, plumping facial serum, lightweight moisturizer, and volumizing lip balm. In other words: everything you need to stay looking smooth, supple, and extra dewy on your vacation!
Formulated with moisture-sealing ingredients like hyaluronic acid, shea butter, and coconut oil, these formulas deeply condition the skin, improving tone and texture for a visibly smoother complexion. Thanks to a burst of vitamin C from the Rosewater Mist, it also offers brightening benefits!
If packing light is a serious challenge for you, Dry Skin Kit can help minimize the bulk — while maximizing your skin's glow!
#2: Anti-Blemish Facial Kit
Are you looking for a travel skincare kit that can help take control of your acne? Whether you've got oily skin or acne-prone skin, you'll love all the green goodness found inside our Anti-Blemish Facial Kit.
It comes with four products: a facial cleanser, facial serum, face mask, and toner all infused with acne-fighting ingredients like salicylic acid, vitamin A, and tea tree oil to treat and prevent breakouts on your travels. Got body acne too? Use the cleanser as a body wash, and all the rest of the products on your body to deal with breakouts on the go — the minimalist's way.
Since they're all full-sized products, you won't be able to pack them in your carry-on bag. But they'll fit perfectly in your suitcase — next to your sunscreen, deodorant, and toothbrush.
#3: Glowing Skin Bundle
Make your skin super happy on your hols with our Glowing Skin Bundle. Since you'll obviously be taking TONS of selfies, you've gotta get that holiday glow, right?!?
The three products in this skincare travel kit include a facial mist, serum, and moisturizer. Some of the key ingredients include retinol, vitamin C, hyaluronic acid, and glycolic acid, all of which can reinvigorate your skin's appearance. Whether you're dealing with dullness, dryness, dark spots, or blemishes, this bundle's got your back!
And if you're super stuck for space, you can also keep your body care essentials at home and use these three treats instead! Just don't forget your SPF!
#4: Hydrating Summer Set
This is one of those skincare travel kits that provides full body pampering. The Best Frenemies Whipped Polish removes impurities and dead skin cells while the Golden Pineapple Body Serum keeps your skin glowy and hydrated. You also get a moisturizing bod lotion, skin healing body mask, a skincare applicator, and a vegan leather toiletry bag.
Enriched with tropical ingredients like pineapple and mango, plus marine-derived specials like algae and sea kelp, all four formulas work together to protect skin from UV rays, banish blemishes, and boost your summer glow.
#5: Unicorn Party Kit
A fun, whimsical, and TSA-approved skincare set you can pack in your travel bag!
This set of four comes with a body polish, lip balm, body butter, and perfume to keep your skin feeling its smoothest and smelling its sweetest on your travels. With all products being 60ml or below, they're perfect for bringing on board — just in case you fancy some mid-flight TCL!
Especially if you're heading somewhere hot, this is the perfect travel-friendly skincare kit to keep your skin moisturized, soothed, and floral-fragranced. Thanks to nourishing ingredients like shea butter, coconut, and matcha, all four beauty products will leave you looking and feeling your best on your hols.
#6: Ultimate Body Bundle
Want to use your weekend away as an excuse to catch up on some skincare R&R? Don't go light on packing! Fill your tote with the six travel-size boob and butt treatments found in our Ultimate Body Bundle.
With this fruity skin care kit, you'll be able to exfoliate, treat, and hydrate your skin so you can look even more fantastic in your swimsuit!
Powered by retinol, wheat protein, and acai, these active ingredients help to accelerate collagen production and restore elasticity, firming, lifting and smoothing your butt and boobs. You can also use these products on other areas of your body craving more of your love!
#7: After Sun Kit
If your vacation involves spending a lot of time on the beach — and finding hydration in margaritas and pina coladas — you should definitely add After Sun Kit to your packing list.
Whether bronzed, burnt, or dried out, After Sun Kit aids in soothing and repairing red, sun-irritated skin. Inside this skincare travel kit, you'll find a body mask, serum, and balm all enriched with ultra-nourishing ingredients like jojoba oil, pineapple, aloe, and vitamin E to nurture your skin back to full health.
Plus, we're sure you can find space for this skin-soothing trio in your suitcase or travel bag. Just make sure you pack SPF 30 too to prevent your skin from burning in the first place!
You probably pack the obvious when preparing for a trip — toothbrush, toothpaste, bandaids, phone charger, credit cards, and valuables. And obviously your skirts, dresses, leggings, and t-shirts. But don't forget to bring your skincare routine with you too!
If you want to maintain clear, glowing skin while on vacay, be sure to choose one of the above skincare travel kits. They contain travel essentials to keep your skin looking its best — wherever you are.
You can also shop Truly on Amazon, Ulta, Sephora EU, and Target.
Share
---