A Simple, No-Excuses Everyday Skincare Routine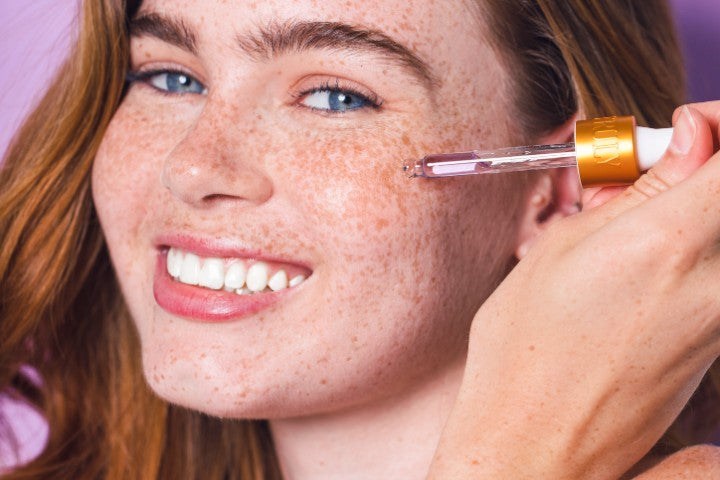 Great skin might be hereditary, but there are other factors to bear in mind – like what you eat, drink, and put on your face. But with so much noise in the beauty industry, simply entering your local drugstore can feel overwhelming. So where do you start? And do you really need a 10-step routine to get beautiful skin?
In this article, we're going to help you build an easy, everyday skincare routine that works for you. Because actually, a good routine doesn't need to be complicated at all.
WHY A SKINCARE ROUTINE MATTERS
While some might be blessed with DNA that lets them get away with a water-only skincare routine, others need something more substantial. That doesn't mean you need a dozen products to keep your skin clear and healthy, but it does mean sticking to a daily regimen of high-performing products.
"A skin care routine should really be tailored based on each person's individual skin type and what their goals are," says dermatologist Shilpi Khetarpal, MD. "For younger people, it's about protecting the skin from the sun and pollution. For someone who's acne-prone, it's about addressing that. For someone who has more mature skin, it might be about preventing fine lines, discoloration and other signs of aging."
Now let's get started in building a skincare routine.
WHEN YOU WAKE UP...
A morning skincare routine focused on protection. There are three main products you'll need in the a.m.:
Cleanser
Wash your face with a gentle cleanser every morning to remove dirt, grime, and bacteria, and prevent clogged pores. 
Always choose a formula that cleanses without stripping the skin of essential oils, as this can lead to excessive dryness which can cause breakouts when oil production goes into overdrive. 
Serum
Ideally, you want something that contains vitamins and antioxidants to keep your skin looking fresh and bright, like vitamin C, ginseng, blueberries, or vitamin A. 
"Even if you don't have any specific issues, everyone still needs a general antioxidant serum in the morning to protect from daily aggressors," says New York City aesthetician Jordana Mattioli says.
Also, look for something moisturizing to keep your skin hydrated throughout the day, like this vegan hemp serum.
Sunscreen
Always wear SPF 30 – every day. It will protect your skin from UV radiation and prevent premature aging. If you plan on spending a lot of time outdoors, remember to reapply sunscreen every 1-2 hours for ultimate protection.
"Daily and consistent sunscreen use helps to prevent the development of fine lines and wrinkles, textural imperfections, and changes in the appearance of pores over time," says New York City dermatologist Dr. Carlos Charles. "More importantly, daily sunscreen use can help to prevent the formation of certain skin cancers."
If you're prone to breakouts, select a dry touch sunscreen – an ultra-light, non-greasy alternative for acne-prone skin types. 
BEFORE YOU GO TO SLEEP...
A nighttime routine is all about repairing the skin. Here are three products you'll need in the p.m.:
Cleanser
You can use the same cleanser you use in the morning if you're looking to keep things simple. Or, use a cleanser that's more targeted toward your skin type. For instance, acne-prone skin might need a cleanser that contains salicylic acid. Mature skin, conversely, should opt for a product containing glycolic acid to resurface and brighten the skin.
It's also important to use a cleanser to remove makeup. If you're wearing heavy makeup, we recommend starting with a makeup remover like wipes or balms prior to using your normal cleanser.
Retinol Serum
Help your skin build new collagen as you sleep by applying a vitamin-A based serum at night. After the age of 21, your skin starts losing collagen each year – the protein responsible for keeping the skin young. Make a habit of applying a small amount of retinol serum every night to boost collagen production, speed cell turnover and prevent and reduce fine lines.
Night Cream
As the final step of your nighttime skincare routine, slather on a moisturizer that contains hyaluronic acid. This will counteract any dryness caused by the serum and keep your skin hydrated as you sleep. 
Hyaluronic acid delivers moisture to the skin, adding volume to the area and plumping out fine lines and wrinkles. It also helps support natural collagen production.
WHAT ABOUT FACE MASKS?
Face masks have become really popular lately – but just because they're all the rage, doesn't mean they're essential in your daily skincare routine. In other words, they're not necessary but beneficial.
Experts recommend using a concentrated treatment once a week to address specific issues, like acne, dullness, aging, and roughness. 
Choose a sheet mask if you're looking for hydration. Sheet masks saturate your skin with active ingredients, preventing air from getting in, and promoting a higher absorption. 
Overnight masks are better for mature skin types, as they have a thicker texture and help trap in ingredients. 
Clay or mud masks are best suited for oily and acne-prone skin types, as they absorb oil and offer a gentle exfoliating effect. If you have combination skin, you can also just apply this mask on your t-zone to prevent drying out the rest of your skin. 
DO YOU NEED SKINCARE TOOLS?
A washcloth is more than enough. It's the easiest tool you can use to cleanse the skin and enjoy a smoother complexion. Choose a soft cotton towel to prevent irritating your skin. Just make sure you wash it regularly to prevent bacteria build up. Other than that, you don't need tools. 
However, there are some effective skincare gadgets out there that can make your beauty routine a whole lot easier, like a sonic cleansing brush, LED light therapy mask, and facial toning device. Still, these are not necessary for clear and healthy skin.
WHAT ELSE MATTERS
What you put on your face matters, but your skin isn't going to look glowing and fabulous if you don't take care of it from the inside too. That means getting plenty of rest, eating a healthy diet, and managing your stress levels. 
Share
---