Amp up Your Self-Care Skincare Game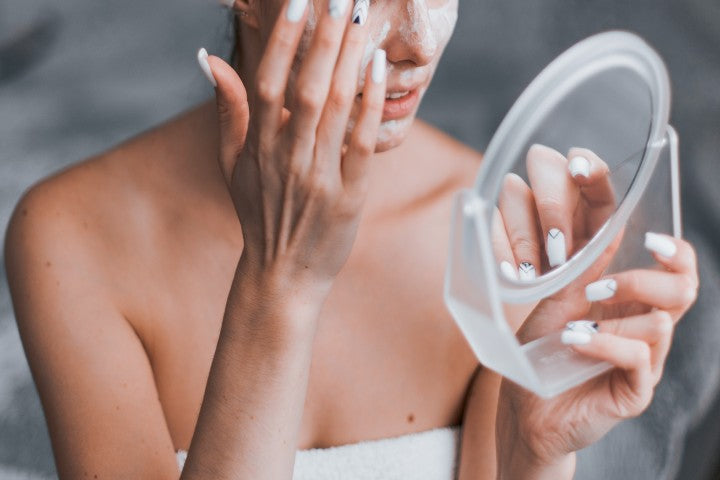 New data reveals that the global beauty industry has lost revenues up to 30 percent this year. As for the sales in self-care and at-home skincare products – they've skyrocketed. Now that people are confined to their home (or at least they should be if they want to stay safe), it's triggered an interest in practicing good skincare habits from home.
"What people are looking out for today are core basics essential to their daily skincare routine," says Dr. D.H. Cho, CEO of Green Alley. "Additionally, we have seen a rise in sales in self-care and at-home treatment categories for specific skin concerns, especially in acne, blemishes, and eczema related products."
Instead of slathering their skin with heavy makeup, people are now focused on products that can ensure their wellness, like clean skincare products. Of course, natural beauty was already a big hit before the pandemic struck, but now it's even more popular than ever. 
Scroll down to learn more about clean skincare tips and how you can incorporate them into your own self-care skincare routine.
QUARANTINE SKINCARE TIPS
Indulge in a bath
In your typical in-office 9-5 job, you always opt for a shower over a bath. It's faster and more convenient. Now that you're working from home, make time to enjoy a warm, relaxing bath. It'll soothe your muscles, chill your mind, and leave you feeling fully revitalized. Grab Truly's vegan Space R&R Bath Rocks, light a few candles, and grab a book. Now is your time to relax and enjoy the moment. In fact, you'll wonder why you never carved out more time for this indulgence. 
Hydrate your Skin
After taking a bath, you need to replenish your skin with lost moisture as water can be devastatingly drying. Try to apply moisturizer as soon as you step out of the bath to lock in water and keep your body hydrated for the next 24 hours or more. Truly's vegan Unicorn Whipped Body Butter is an acai-packed, chia seed-infused wonder for moisturizing the skin and leaving it feeling silky smooth. 
Try a Face Mask
Now that you've got a little extra time on your hands, why not enjoy a little me-time in a face mask. Not only will it help your skin, you'll also feel fabulous letting yourself indulge in pure relaxation. We recommend Truly's vegan Dew You Love Me Jelly Face Mask. Packed with retinol and vitamin C, expect to see a brighter, younger complexion once you've rinsed this baby off.
Use a Facial Serum
Skincare is a lot like fitness. Skip it and you won't see many changes in your complexion. Maintain a daily regimen and you'll notice a huge difference. Once you've enjoyed your face mask session, it's time to slather on several drops of Truly's vegan Purple Rain Facial Oil. Massage it into the skin for 1-2 minutes and really enjoy the sensation of your self-massage. Plus, your skin will look extra dewy afterwards.
Don't Forget a Lip Mask too!
Your lips are also skin and they need just as much as attention as the rest of your face. To keep your pout looking smooth and juicy, smother your lips with Truly's vegan Heartbreaker Lip Plumping Mask. Formulated with aloe, ceramides, and vitamin E, this lip mask will leave your pout super soft and kissable. 
Dab on Some Eye Cream
Watching Netflix until 2 or 3am is not uncommon. Are you guilty too? Then you're going to need to show your under-eyes some extra attention to keep them looking alert. Truly's vegan Anti-Puff Eye Cream will reduce the appearance of dark circles in just one use. Plus, wearing eye cream daily will help prevent wrinkles around the eyes. It's really a win-win for your skin. 
Keep Acne Patches Close By
Are you prone to breakouts? Do you also have a habit of popping and squeezing new pimples? Then you're going to need acne patches ASAP. If you're a picker, always keep acne patches within reach. It'll stop the urge of picking, while addressing the pimple at hand through zit-blasting ingredients. Truly's vegan #Heart Your Imperfections Blemish Treatment Acne Patches are the perfect choice. Pink, hydrocolloid-infused, and utterly adorable, you'll love wearing these sweet heart-shaped stickers.
Fall Asleep in a Lifting Night Mask 
From the age of 21, your collagen production declines each year. That's why it's never too early to embark on an anti-aging skincare routine. Even if you don't want to commit to a full-on anti-aging regimen, you can introduce wrinkle-banishing, collagen-boosting products into the equation. Like Truly's vegan Goodnight Moon Chest/Neck Sleep Mask. A lot of people neglect the décolletage, but you need to show it just as much attention to keep it looking tight and youthful. 
Stick to Sunscreen
You might not be leaving the house all that much these days, but that doesn't mean you still shouldn't slather your face and body in sunscreen spf 50. Besides keeping you protected if you do go outside, it'll also shield your skin against the damaging effects of blue light – the light that beams from our digital screens. Believe it or not, blue light can be just as debilitating for the skin as UV rays. So stick to your sunscreen habits, if you want to keep your skin healthy and happy.
While makeup sales may be down, people are still keen on investing in skincare. Especially self-care, at-home skincare. Fortunately, you don't have to miss out. These quarantine skincare tips should give you some inspiration on how you can enjoy some self-pampering at home, while giving your skin a boost. 
We've also only recommended skincare products that are clean, vegan, and cruelty-free. So you can find some great recommendations above to introduce into your clean skincare regimen. 
Just because you're still working from home, doesn't mean you shouldn't enjoy your flexible work schedule and use it as a time to practice self-care. You'll notice a huge difference in your mental wellbeing, your skin, and your overall mood.
Share
---