Ariana Grande's 3-Step Skincare Routine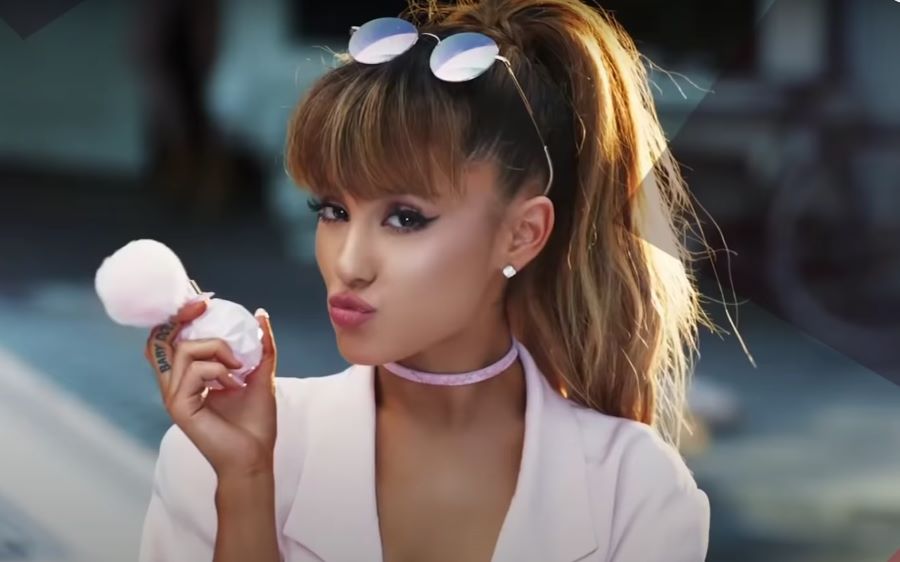 Discover the complete Ariana Grande skincare routine and achieve her plump, dewy skin at home. There's no denying that the singer has incredible skin. Fresh, clear, and glowing–it's no wonder she channeled her skincare wisdom into her own cosmetics brand, R.E.M. Beauty. What skincare does Ariana Grande use to get her glistening complexion? Ahead, we share the star's full routine.
Ariana Grande Skincare Routine
The singer rarely speaks about her skincare regimen. However, it's clear from interviews over the years that she has a pretty streamlined routine. Ahead, Ariana's 3-step skincare routine.
Step 1: Wash and Scrub
Cleansing is the first step in Ariana's routine. And it's a key step to keeping skin fresh and blemish-free. 
"I know it's hard because we get tired, but scrubbing your face, washing your face — taking a towel in the shower and actually scrubbing your face — and then moisturizing [is so important]," the singer told PopSugar.
By "scrub," she means exfoliation. Whether it's with a face scrub, chemical exfoliant, or face towel, exfoliation is an effective way to keep skin smooth and clear. It removes the buildup of dead skin cells and impurities to unclog pores, allow new cells to surface, and reveal soft, glowing skin.
Scrub away dead cells and decongest pores for instantly clearer, brighter skin with Truly's 24K Gold Black Soap Luxury Impurity Cleanser.
Step 2: Mix Moisturizer with SPF
The next step in the Ariana Grande skincare routine is moisturizing. Hydration is essential after cleansing since it can strip the skin of its natural oils, leaving skin dry. To replenish lost moisture, Ariana follows up with La Mer's moisturizer, which contains marine extracts that renew and protect the skin. She often mixes it with SPF to ensure her skin gets optimum protection against UV rays which contribute to premature signs of aging.
As for what Ariana Grande does when she gets a breakout: lotion. She says putting a drying solution on your pimples may dry them up, but the best thing you can do for your skin is moisturize since "oil breaks down oil."
Look for a face cream or serum that contains humectants and emollients such as hyaluronic acid, glycerin, shea butter, and plant-based oils. These will help to draw and seal in moisture for hours worth of dewiness.
Take your skin from dry to luminous in seconds with Truly's Glazed Donut Facial Glow Cream. It's lightweight, non-greasy, and melts into skin for day-long hydration.
Step 3: Slather on the Coconut Oil
Instead of turning to fancy creams and lotions when her skin is dry, Ariana reaches for coconut oil. 
"You know what I actually use on my face as well as my body? I feel like people would think it would make you break out, but it doesn't make you break out: coconut oil!" she told Byrdie. She revealed, "I put it everywhere—in my hair, on my body. It's the answer."
While coconut oil is comedogenic (meaning it can clog pores), it's also an excellent moisturizer packed full of nutrients that work wonders for your skin. While dermatologists don't recommend it if you have oily skin, it can be a great option for people with dry skin.
Indulge in luxurious hydration and delicate aromas of feminine florals with Truly's Coco Rose Fudge Whipped Body Butter.
Get the Ariana Grande Look
We've rounded up our top face and body care picks for getting Ariana's glow at home. If dewy, silky smooth skin is what you're after, look no further…
Get Ariana's Dewy Glow with
Truly's Ultimate Glazed Donut Skin Set
Ariana's fave ingredient for soft, luminous skin is coconut oil, and there's plenty of it in this glow-enhancing set. You get: a facial serum, face cream, and body oil all infused with coconut oil, passion fruit, and vitamin E to unlock unparalleled levels of glow.
Get Ariana's Plump Pout and Luscious Locks with
Truly's Deluxe Unicorn Set
Plump lips, dreamy long locks, and satin-smooth skin are all yours with this 6-step Unicorn Fruit Set. You get: a plumping lip balm, repairing hair mask, bath bar, body polish, body butter, and deodorant. All with a delicious cotton candy scent. 
Get Ariana's Silky Smooth skin with
Truly's The Smooth Legend Complete Collection 
Treat your entire body to the ultimate glow up! This full body shaving routine features everything you need to get silky smooth and glossy all over–without razor burn and ingrowns. From whipped shave butters to bikini line serums, our award-winning razor and so much more, hair removal doesn't get any more luxurious than this.
Ariana Grande Skincare Tips
The Ariana Grande skincare routine could not be simpler. While her morning regimen usually only consists of three steps, she does like to add in the occasional extra product to get her skin even glowier. Here are some of Ariana Grande's favorite skincare products.
Face Wipes
After sharing a morning selfie on Instagram Stories of herself wearing smudged, slept-in eye makeup, she assured her followers that she "still exfoliated and did a La Mer mask." Fans immediately responded by asking questions about her skin. Ari's answer? Neutrogena face wipes and Burt's Bees face wipes. She uses them alongside coconut oil to remove stubborn eye makeup–and lash glue. 
Obviously fans were expecting something fancier. But as you can see from the Ariana Grande skin care routine, she's one to keep things simple and streamlined. It just goes to show that you don't always need the most expensive products to get amazing skin.
Retinol Eye Patches
When you're as busy a babe as Ariana, it pays to show your peepers a little TLC. The singer keeps her under eyes bright and fresh with the help of retinol eye patches. These serum-doused patches work to fade fine lines and fade dark circles. 
Before applying them, Grande slathers on an eye balm from her brand, R.E.M. Beauty. Then, she applies the patches over her under eye area. After four hours, she peels them off to reveal fresh, bright eyes. 
Avocado Face Oil
Another essential in the Ariana Grande skincare routine is avocado face oil. It's a product she can't live without. So if you want to know another way she keeps her skin looking so luminous, it's by slathering on avocado face oil. Her go-to formula contains virgin, cold-pressed oil that boosts skin's plumpness and elasticity, leaving skin smooth, supple, and luminous.
Water–and Lots of It
While the products she uses play a role in the Grande glow, the singer has another secret for maintaining her radiant complexion (and tackling skin problems): water. The star says she drinks lots of water and that it really helps keep her skin in check. You've heard it many times before but drinking plenty of water really can make your skin appear plumper, smoother, and glowier.
Believe it or not, the Ariana skincare routine couldn't get any easier with just three simple steps. Of course, the star does like to add in eye masks and serums too, but she swears by those three steps for keeping her skin fresh and healthy. 
Photos by TheThings Celebrity, YouTube
Share
---