Forever Young: Your Guide to Preventative Aging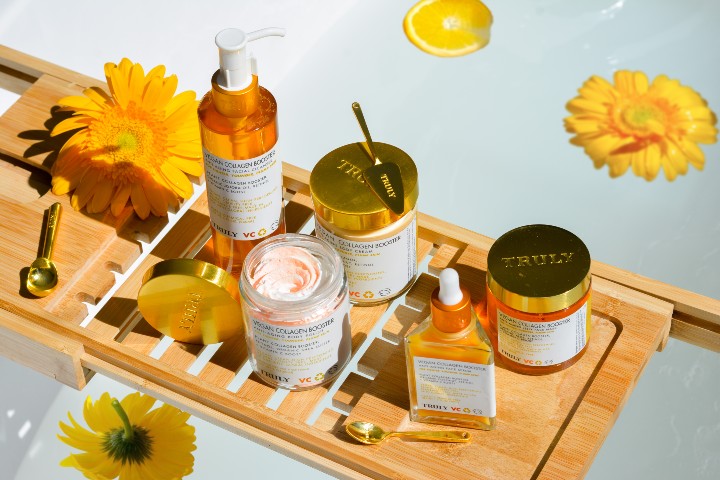 It's never too early to get ahead of aging. According to dermatologists, the aging process begins in your twenties, when collagen production starts to decline. While skin usually doesn't show signs of aging until your 30s or 40s, you can prevent fine lines, crow's feet, and sagging skin from forming in those decades by starting an anti-aging routine right now.
In your twenties, your skincare routine should be focused on prevention. After all, it's easier (and far cheaper) to prevent than correct.
Here's your guide to preventative aging — including the best products to include in your regimen to stay looking forever young.
#1: Get Serious About Sunscreen
In order to slow down the aging process, start slathering on sunscreen every single day, regardless of whether it's sunny or cloudy outside. Research shows that 90% of the signs of aging come from unprotected UV exposure. The main problem is that while many people layer it on thick during the summer months, they skip it in winter unaware that UV rays are still present — and still able to penetrate the skin.
"It's essential to protect ourselves at all times because incidental sun exposure is always present, regardless of the season, and contributes to premature skin aging," says clinical associate professor of dermatology at NYU Langone Medical Center Elizabeth Hale. "This is why the key to any healthy skin regimen is using a daily SPF product year-round."
Besides protecting your skin against sun damage (and ultimately fine lines, wrinkles, and discoloration), wearing SPF every day can lower your risk of skin cancer.
#2: Harness the Power of Anti-Aging Products
You might not see expression lines or hyperpigmentation just yet. But you can still prevent these skin concerns from arising by using anti-aging skincare products. Some of the best anti-aging ingredients to look out for include retinol, vitamin C, and collagen.
Both retinol (vitamin A) and collagen support the skin's natural collagen production while restoring elasticity for improved firmness and less visible creasing. Vitamin C's powerful antioxidant effects makes it helpful in fending off free radicals, protecting skin against external aggressors and lightening discoloration.
You'll find all three of these actives in our newly relaunched Vegan Collagen Booster Bundle. It features a facial cleanser, serum, mask, body polish, and cream. Powered by retinol, vitamin C, and our plant collagen booster, these innovative formulas work to tighten, hydrate, and resurface for smoother, firmer skin all over. From fine lines and wrinkles to age spots and sagging, these topical treatments even help to prevent acne.
#3: Keep Skin Hydrated
Moisturizing your skin seals in water, plumping out lines and giving skin a more youthful appearance. Regardless of your skin type, everyone should be hydrating their skin on a daily basis whether via a face cream, serum, or oil. Besides preventing fine line formation, keeping your skin hydrated reinforces the skin barrier, protecting skin against environmental aggressors while calming inflammation. It's also an instant fix for rough skin texture.
Rely on our Vegan Collagen Booster Facial Serum + Body Cream to give your skin the hydration it needs to thrive. Try including these in your daily preventative anti-aging routine to keep skin looking smooth, healthy, and youthful.
If you've got dry skin, try looking for creams or serums formulated with hyaluronic acid, shea butter, jojoba oil, and ceramides, which attract and seal in moisture. They'll keep your skin silky soft for hours.
#4: Go Beyond Your Face + Neck
Your face isn't the only place to show signs of aging. Sure, it's most susceptible to fine lines and wrinkles since it's frequently exposed to UV rays. That said, other areas of your body like your neck, chest, and hands are also commonly exposed to UV rays, leaving them prone to sun-related premature aging.
Start showing the rest of your body some love. From exfoliation to hydration and targeted treatments, most of the products used on your face can be used on your body, too.
Our Vegan Collagen Booster Bundle is a complete anti-aging routine designed to treat and prevent fine lines, wrinkles, and discoloration both on your face and body. It features two products developed for the body — a body polish and cream. They work in tandem to slough away dead skin cells and deeply hydrate for brighter, smoother looking skin.
#5: Slide On Some Sunglasses
The perfect excuse to slide on your Ray-Bans: they'll keep you looking ageless. Wearing sunglasses prevents the formation of lines around the eyes caused by squinting. Even during the fall and winter, there are bound to be days where the sun's shining. Keep them with on you at all times, and slide them on when you feel yourself squinting — or even better, beforehand!
On particularly sunny days, try popping on a wide-brimmed hat, too, for extra protection. These are all little steps that make a huge difference.
#6: Try a Chemical Peel
Chemical peels are an in-office treatment performed by dermatologists to break down the top layer of skin and improve the appearance of your skin. Peels enhance the effects of skincare products containing glycolic acid and spur epidermal renewal, resulting in improved skin texture.
All skin types can benefit from chemical peels. While sensitive skin types may want to limit sessions, their skin can still reap the benefits if they're dealing with other skin concerns like fine lines, discoloration, and acne.
#7: Up Your Skin's Intake of Antioxidants
Antioxidants are essential in an anti-aging routine. They help to fight off free radicals, preserving skin's youthful appearance. Some of the best antioxidants to look out for in products include vitamin A, vitamin C, and vitamin E. You can also take these antioxidants as supplements to glow up your skin from the inside! Just remember to consult your doctor beforehand.
Preventative aging isn't that complicated, but it's highly effective for maintaining skin's integrity and warding off fine lines, wrinkles, sagging, and hyperpigmentation. Try to stay consistent with your preventative aging routine to keep your face and body smooth, strong, and perky — even after your twenties!
Share
---