How I Stopped Facial Swelling With Skincare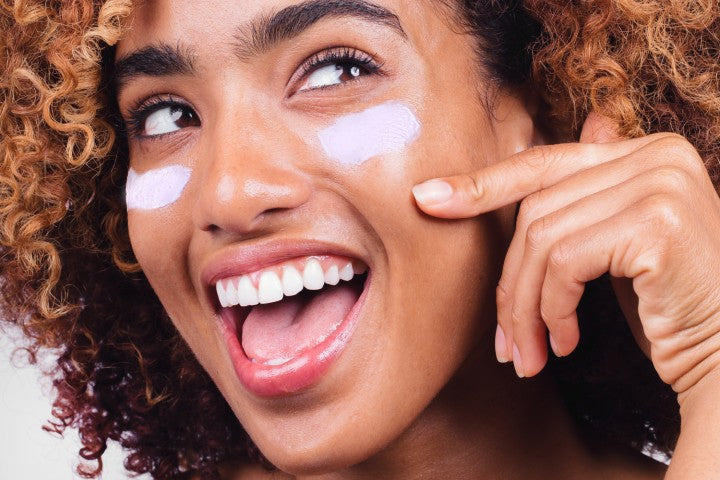 Facial swelling is a bummer. And it's not like you can just cover it up with concealer like you would your breakouts - you'd still visibly see the swelling.
Luckily, there are some things you can do to bring down the bloat. With the right techniques and a few calming beauty products, your face should return to its pre-bloat state. 
Here are some ways to de-puff your face.
FIRST, WHAT CAUSES FACIAL SWELLING?
Good question.
"Facial puffiness is essentially caused by water retention, which can occur as a result of things ranging from hormones to diet to stress," explains Marie Hayag, MD, board-certified dermatologist in New York City.
Dehydration can also be a leading cause. Even if you think you're drinking plenty of water, remember that alcohol and caffeine are both extremely dehydrating. 
Your puffy face could also be the result of lack of sleep, allergic reactions, and even the weather.
The good news is, you can lessen the puff by incorporating a few techniques and products into your daily skincare routine.
SOME EFFECTIVE TECHNIQUES FOR TREATING FACIAL SWELLING AND PUFFINESS
Gua Sha Lymphatic Drainage Massage
According to the derms, gliding a Gua Sha tool across your skin is a quick and effective way to quell your swell. That's because it functions as a lymphatic drainage massage.
Let us give you a bit of background info...
Your lymphatic system relies on muscle movement to circulate lymph fluid from one area of the body to be filtered. But as you get older, this filtration system can become weaker by factors like hormonal changes, lack of sleep, and skin issues like acne and eczema, leaving your skin looking a little puffy.
"Gua Sha is particularly helpful for lymphatic drainage in our face because we don't move the muscles in our face all that much," explains Alder New York's co-founder, Nina Zilka. "The intentional movements of a facial massage will help move the lymph through the system and result in a more toned and sculpted appearance."
Using a jade roller or Gua Sha stone, start by massaging your skin in gentle circles, starting at the top of your face working down towards the jaw. Make sure you focus on the cheeks and neck, too.
Ice Globes
Ice globes are basically a form of DIY cryotherapy treatment and it's highly effective at reducing swelling and puffiness.
Cryotherapy is a technique that involves exposing the face or body to extremely cold temperatures for a certain amount of time. It instantly sculpts, tightens pores, and reduces blood vessels, promoting a tighter, less puffy complexion. It's a great way to wake up your face.
"They are great to reduce fluid retention and contour the face, prolonging that just-back-from-a-hike look," explains OLIVIEREWILSON founder and Cryo Ice Sticks creator Catherine Wilson. "More blood flow with oxygen means that more nutrients are delivered, leaving the complexion looking healthy and plump."
Cold Water
You don't need fancy tools to get the same benefits. You can enjoy just as much de-puffing by washing your face with cold water or running an ice cube across your skin. Doing either of these methods instantly constricts the blood vessels and brings down swelling. 
Invest in a De-Puffing Eye Cream
Puffy eyes are a common complaint. That's because the skin here is incredibly thin, making puffiness look a lot more prominent. Consider using an anti-puff eye serum or cream to eliminate that puffiness.
Try Truly's Eye Candy Anti-Puff Eye Cream, which is formulated with sea kelp and hyaluronic acid to hydrate the area around your eyes, while reducing inflammation and swelling.
Using Natural Skincare Products that Quell Inflammation
Certain skincare ingredients are particularly great at reducing inflammation. While you probably think of aloe when it comes to anti-inflammatory ingredients, CBD is equally if not better at bringing down the bloat.
CBD is a natural antioxidant known for lessening inflammation. Loaded with vitamins A, D, and E, and packed with omega-3 and 6 essential fatty acids, it's your go-to ingredient if you're dealing with facial swelling.
It cleanses, exfoliates, and hydrates the skin, offering relief for dry skin. Plus, it's suitable for all skin types - especially sensitive skin.
RECOMMENDED CBD SKINCARE PRODUCTS FOR ANTI-SWELLING
CBD Jelly Facial Cleanser
Formulated with CBD and salicylic acid, this facial cleanser decongests the skin and removes dirt, debris, and oil. Besides treating breakouts, it quickly quells dryness thanks to its potent hydrating properties. And thanks to its anti-inflammatory properties, you effectively reduce puffiness and swelling with daily use of this skincare staple.
CBD Jelly Toning Solution
This CBD toner gently exfoliates the skin to enhance your complexion's clarity and texture while warding off future breakouts. It's made with glycolic acid to slough away dead skin cells and excess oil and hemp to calm inflammation and deliver an overall clear complexion. It's a soothing exfoliating product for anyone looking for smoother, clearer, less swollen skin.
CBD Jelly Facial Serum
Hydration is essential for any skin type. Made with CBD and salicylic acid, this serum brings down redness and inflammation, while treating breakouts and clogged pores. There's also retinol (vitamin A) in this formula, known for boosting cell turnover for a youthful, glowing complexion. 
It's basically a lightweight moisturizer perfect for dry skin, oily skin, and sensitive skin. Apply it if you're dealing with any inflammation which may come in the form of swelling, puffiness, and sunburn.
Facial swelling can happen to anyone. Luckily, you can treat it with a few effective techniques and over-the-counter topical skincare products. 
To prevent facial swelling and puffiness from happening again, try cutting down on caffeine and alcohol, and reduce your salt consumption. Also, make sure you're using natural, calming skincare ingredients that won't irritate your skin or cause allergies. 
Doing these few things will drastically improve your skin and significantly reduce your risks of facing facial swelling and puffiness again.
Share
---