How to Do a Vegan Facial in Your Home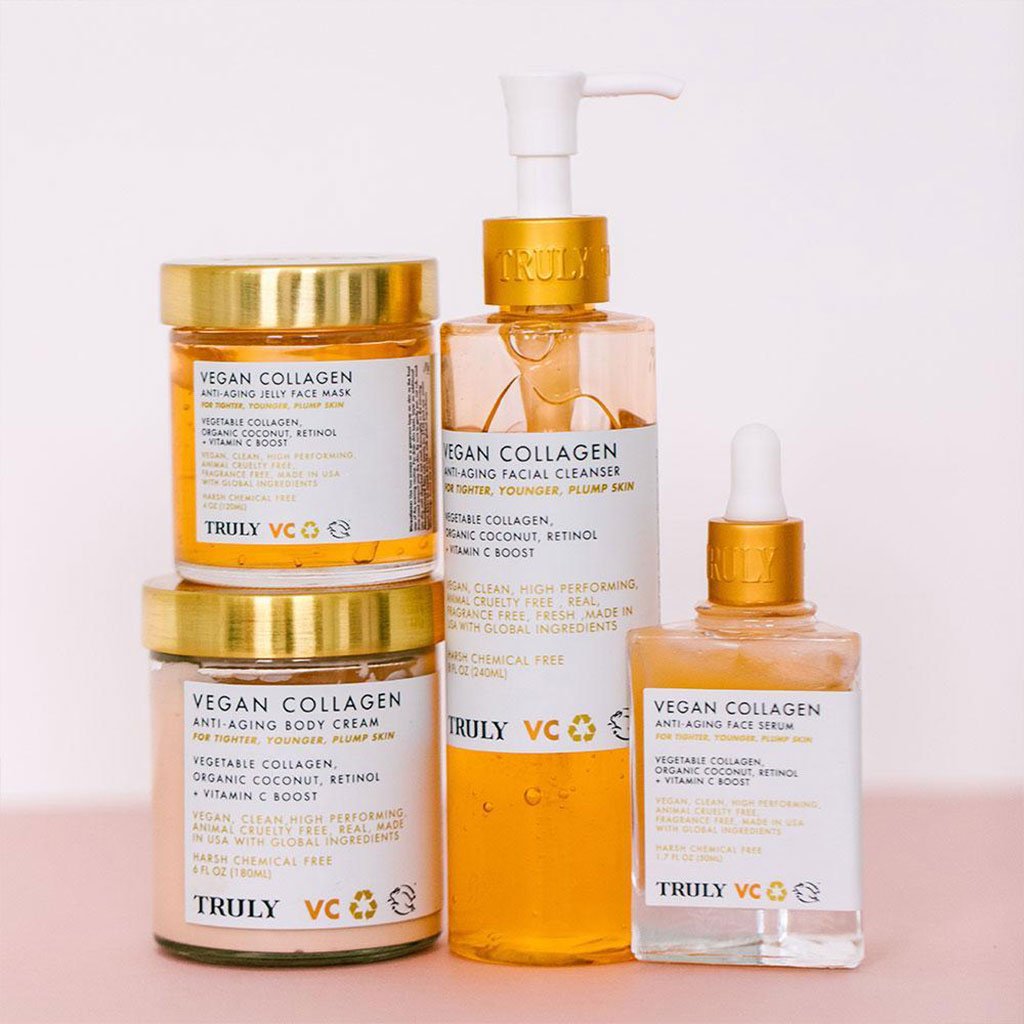 Being stuck indoors isn't an excuse to come out of self-quarantine looking like a cave woman. You can still indulge in self-care without relying on the availability of spas and salons. Sure, an esthetician can do amazing things for your complexion, but that doesn't mean you can't too. Or at least, keep your complexion looking as clear and glowing as it did the last time you paid them a visit. 
While the outside world continues to manifest feelings of fear and anxiety over the COVID pandemic, there's no better time to nurture your mental health than right now. And there's really no better way to perk up your mood and your mental well-being than with a DIY vegan facial.
Luckily, Truly's got everything you need for some serious self-pampering.
WHAT YOU'LL NEED FOR A DIY VEGAN FACIAL: A CHECKLIST
So, here's what you'll need to master the DIY facial treatment:
A Cleanser
Exfoliator
Mask
Serum or Moisturizer
And of course, the best facial always starts with a pleasant and relaxing atmosphere. To set the mood, dress up your bathroom (because that's where you'll be doing most of the work), light some scented candles, and switch on some music. You'll also want a freshly made bed ready for when you chill out in your face mask. Feel free to invite your friends over too! The more, the merrier.
Step 1: Start with a Cleanse
Every skincare routine requires a gentle and nourishing cleanser. And it's essential in this skin treatment.
With any type of facial, cleansing should always be the first step in order to prep the skin and start with a clean palette. Of course, the type of cleanser you use depends on your skin type. Generally, most aestheticians will advise you to pick either a foam- or cream-based cleanser. That's because they're gentler and more effective in cleaning pores.
Try Truly's Vegan Collagen Facial Cleanser. It's an anti aging face wash formulated with plant-based collagen, retinol and vitamin C to give your skin a thorough cleanse skin while helping to reduce fine lines and wrinkles.
Gently massage the cleanser in circular motions on damp skin. Rinse with warm water.
Step 2: Exfoliate Your Skin
Exfoliation helps slough away dead skin cells and excess oils to ensure that the next ingredients you apply penetrate the skin more effectively. While exfoliating shouldn't be done daily, 2-3 times per week will keep your skin feeling smooth and healthy, while simultaneously offering brightening effects.
A great vegan exfoliator to try is Truly's 24k Gold Black Soap. Combined with a blend of healing and hydrating properties from shea butter and chamomile, this luxury impurity cleanser tackles dryness, oiliness, and breakouts. Plus, it's gentle enough to be suitable for sensitive skin types.
Apply to wet skin and massage in an upward, circular motion for 1-2 minutes. Rinse thoroughly.
Step 3: Chill Out in a Face Mask
Now for the fun part: the face mask (IOW, your chance to chill out and relax). Every signature facial and spa treatment includes one.
You've cleansed, exfoliated, and in doing so, provided the perfect palette for a face mask. 
Choose your face mask based on any current skin concerns you are facing. For instance, if you have oily skin that's prone to breakouts, reach for a clay-based mask. If it's dry, opt for an hyaluronic acid- infused mask to replenish hydration and moisturize the skin. 
If you're looking to plump up and firm your skin, Truly's Vegan Collagen Face Mask is an excellent choice. An anti aging face mask made with vegan collagen, retinol, and vitamin c, it will help diminish fine lines and wrinkles while improving overall texture.
Apply a generous layer on clean skin. Lay down, get comfortable, and let the mask stay on for 10 minutes. Rinse with cool water. You can also leave in on overnight to enhance its benefits. 
Step 4: Serum Time
Finally - the facial massage you've been waiting for. Okay, so you're going to have to settle with a DIY massage, but hey, it's a chance to build on those skills for the future. Plus, it will help loosen up those facial muscles that have been feeling extra tight lately. A quick search on Google will help you find a tutorial. 
After you've washed off your face mask, you need to make sure those nutrients and that hydration gets locked in. Serum should be an essential part in any skincare regimen. 
Follow up with Truly's Vegan Collagen Serum, an anti aging serum infused with vegan collagen and coconut to help fade fine lines and wrinkles and promote a plumper, youthful-looking complexion. 
Apply 1-2 drops onto clean skin and massage in well. During the day, follow with sunscreen.
GET THE VEGAN COLLAGEN BUNDLE
Instead of buying all the products separately, why not buy the bundle instead? 
Truly's new revolutionary first of its kind vegan collagen line contains the following skin-beautifying products that you can use for your DIY facial or basically any self-pampering session.
Vegan Collagen Facial Cleanser
Vegan Collagen Serum
Vegan Collagen Body Cream
Vegan Collagen Face Mask
Get the bundle here for only $117.13!
THE FUTURE OF DIY FACIALS
There are some things you simply can't pull off at home when it comes to skincare.
Microdermabrasion, chemical peels, hydrafacials, light therapy, microcurrent treatments ... these are all better off left to a professional. Not only because they're an expert in the field of skincare, but because they have high quality products that just work way better than the ones you buy for home (think Neutrogena led light mask etc.). 
However, for the basics, you're perfectly capable of doing them yourself. Cleansing, exfoliating, masking and applying serum - these are all simple steps to achieving a glowing and revitalized complexion. Even if it is your first time doing it.
So, if you want to save yourself some cash now and in the future, try making DIY vegan facials a part of your skincare routine. Then leave the special treatments like microdermabrasion to the experts.
Share
---