How to Prep for The Longest Lasting Fall Lip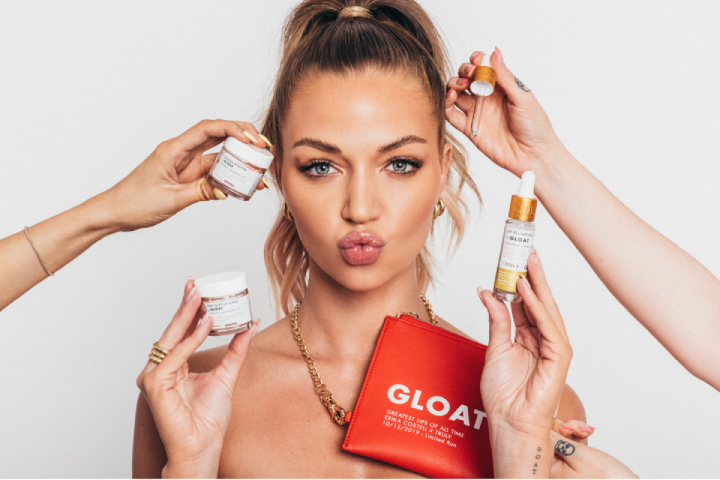 From berry and burgundy to browns and nudes, fall lipstick shades really are some of the prettiest. But, as any serial lipstick wearer knows, a perfect fall lip cannot be achieved without prepping your canvas first.
From the most nourishing treatment oil to our softening lip scrub, here are the steps and beauty products you need for securing stunning, long-wearing lipstick this fall.
#1: Exfoliate 
Whether you're going for matte or liquid lipstick, all lip prep begins with exfoliation. 
You can use either a lip scrub or a soft toothbrush to get rid of any dry skin. In addition to allowing your lipstick to glide on smoothly and evenly, exfoliation makes your lips feel extra soft and silky. Plus, it helps remove flaking and peeling for a seamless liquid or matte finish. 
You can use our GLOAT Sexy Soft Lip Scrub on your lips. It's made with hydrating hyaluronic acid, plumping peppermint, and skin-softening sugar to create the perfect surface for lip balms, serums, and lip colors. 
Simply apply a small scoop onto clean, dry lips and gently massage in circular motions. For best results, use twice a week paired with our GLOAT butter, serum, and oil! It guarantees luscious lips (and lipstick!) -- every time.
Want to try the toothbrush trick? Using a small amount of Vaseline, rub the toothbrush in a circular motion across your lips. It's a really easy DIY trick for exfoliating your lips and prepping them for lipstick.
#2: Plump
Volumize your lips so that they look their very best before applying your liquid or matte lipstick. Look for a formula made with hydrating, circulation-stimulating ingredients like our GLOAT Lip Plumping Serum.
Coconut oil, hyaluronic acid, and peppermint join forces to replenish your lips' moisture levels while stimulating circulation under the lips for a swelling effect. The end result? Softer, smoother, fuller-looking lips!
Apply 1-2 drops onto clean, dry lips, and massage in as you would with a lip balm. Once you feel the tingling, you'll know the plumping process is beginning!
#3: Moisturize
Next, apply a lightweight moisturizing treatment to your lips to help fill in any cracks so your lipstick goes on evenly.
Instead of using lip primer, moisturize your lips with a hydrating lip product like GLOAT Big Juicy Lip Oil. Formulated with a nourishing blend of oils and hyaluronic acid, your pout is instantly prepped and hydrated, creating the perfect base before applying lipstick.
Coat your lips in this oil for instantly softer lips. Use a generous amount before bed to wake up with super juicy, plumped up lips! You can also wear this alone as a hydrating lip gloss thanks to its glossy effect. Alternatively, dab a little over your lip stain or tint for added gloss.
#4: Seal 
Just like in skincare, you need something thick and moisturizing to seal in the benefits of the lip products applied before -- and to make the softness last all day long.
GLOAT Luscious Lip Butter blends coconut oil with hyaluronic acid to soften lip lines and lock in moisture throughout the entire day. Enriched with plumping peppermint, this irresistible butter promises pillowy soft, juiced up lips. Your lip liner and lipstick will glide on much more easily with this on your pout.
Wear this tingling balm on clean, dry lips, alone or followed up with lipstick.
#5: Apply a Thin Layer of Mineral Foundation
This hack will prep your lips and prevent your lipstick from bleeding or straying outside your lips. It's an excellent primer that you've no doubt already got lying around the house. 
Apply a small amount to slightly erase the lips and then paint on your favorite lipstick. The minerals will help stop the pigments from fading away, thus lengthening your lippy's lifeline.
#6: Line 
Now's the time to line! 
To create the illusion of a fuller-looking pout, take the lip pencil slightly over your natural lip line, but not too far to prevent ending up looking like a cartoon character. If you're opting for a matte lip, always line your pout first to ensure you have lines to color in. If you're going for liquid lip colour, you can choose either way depending on what you find easiest. 
Since matte lipstick is highly pigmented, it's difficult to redo your liner once it's on. Take your time and try to do your best work first time around.
#7: Paint
Get your lippy ready! It's time to start painting!
Whether it's straight from the tube or you're using a lip brush, aim to be as precise as you can to save yourself the hard work of re-doing everything. For best results, always choose your best lipstick for the job. Oh, and remember to choose a lip color that complements your skin tone. 
A great hack makeup artists swear by is starting from the center outwards. By focusing on the fullest part of your pout, you'll be able to control your application and prevent smudges. 
Apply a little concealer around the lip to emphasize the color. 
#8: Blot 
Blotting removes any excess color and boosts your lipstick's staying power.
Gently squeeze your lips together over a tissue or napkin, then use a translucent powder to set your lipstick. Your fall lip should last the whole day!
Now that you're all done with your lip, finish your makeup look with a dusting of eyeshadow and a swipe of mascara.
The longest lasting fall lip is indeed possible with a little lip prep, an arsenal of lip products, and of course -- your favorite lipstick! One thing all makeup artists can agree on is that the best lipstick is achieved on a well-prepped canvas. When you skip steps like exfoliating and moisturizing, you may end up with uneven, flaky lipstick. That's because product just doesn't glide on as well when lips are dry and unprepped. 
Up your lip prep game, and you will achieve the perfect fall lip that lasts all day long. Maybe even longer if you stick to the routine!
Share
---