Ingredient Deep Dive: Hydrocolloid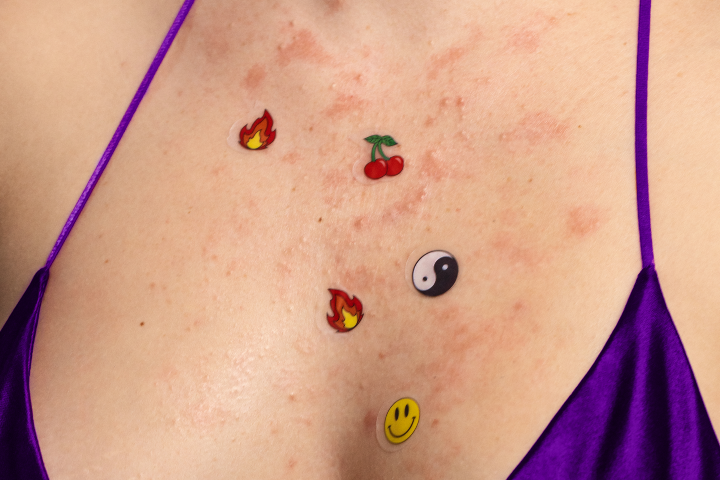 You've no doubt seen the pics and vids on social media. People patting on clear, jelly stickers to help flatten and clear up breakouts in just a few hours. Or maybe you've seen them on our TikTok page? We've got tons of them!
Hydrocolloid is the secret zit-zapping ingredient inside those acne patches. But what is hydrocolloid, and does it really work at clearing up your spots?
Here's our deep dive into hydrocolloid as a pimple-banishing skincare superstar.
What is Hydrocolloid?
"Hydrocolloids are a special type of bandages that absorb excess fluid, like oil and pus, which can speed healing time," says Joshua Zeichner, the director of cosmetic and clinical research in dermatology at Mount Sinai Hospital in New York City. 
Also known as pimple patches or acne stickers, hydrocolloid patches help skin heal from inside out while preventing you from picking, prodding, or squeezing your zits. They are effective for all skin types. 
After you pop a pimple, stick on a hydrocolloid patch, and it will gently absorb excess fluids and impurities while protecting the wound and preventing scarring. Since your zit will now heal in a sterile, moist environment, you'll be left with a flatter, less inflamed pimple in just a few hours. 
Pimple patches are often infused with other blemish-busting ingredients, like salicylic acid, benzoyl peroxide, glycolic acid, niacinamide, and tea tree oil.
Before becoming a famed skincare ingredient, hydrocolloid was mainly used in the field of medicine to heal wounds and scars. It works pretty much in the same way -- drawing out impurities and promoting healing.


How Hydrocolloid Heals Blemishes
In relation to breakouts, hydrocolloid patches work in two ways. Firstly, they block you from picking the pimple, preventing inflammation which can slow down the healing process and result in scars and hyperpigmentation. You can simply stick one on, step away, and let the formula work its magic.
Secondly, hydrocolloid boasts sponge-like properties. Pimple patches work the same way as a hydrocolloid bandage, soaking up excess oil and impurities while speeding up wound healing time.
Hydrocolloid works the best on freshly popped, oozy pimples whereas they simply do not work on cystic acne. Since cystic zits are under the skin, nothing topical will be able to penetrate deep into your pore and kill inflammation. 
"Pimple patches work because they absorb excess fluid and have a vacuum-like effect that gets out any dirt and oil that could be causing a breakout," explains New York City dermatologist Dr. Debra Jaliman. "It then converts those impurities into a gel-like substance that sticks to the patch and is sealed away from the face."


How to Use Hydrocolloid Patches
To get the most out of your hydrocolloid stickers, always apply them to clean, dry skin so they adhere to the pimple. Before applying, wash your face with a gentle cleanser followed by an exfoliator to prep your skin and allow the hydrocolloid to absorb even more effectively. Let your skin dry properly before applying the patches to prevent them from lifting.
Dermatologists recommend wearing pimple patches for several hours at a time to allow the ingredients to penetrate the spots and draw out moisture, sebum, and impurities. That's why many people apply them before bed. It gives the patch enough time to work its wonders so you can wake up the next morning with a less inflamed, less angry pimple. Then repeat the process until your spot disappears. This might take 2-3 applications.
The best time to use a pimple patch is when you have a freshly oozing pimple. Whenever you have an open spot, don't delay putting on a patch.
Best Hydrocolloid Pimple Patches 2021
Truly's shelves are loaded with adorable, zit-zapping acne patches. Take your pick from the selection below.
Super Hemp Patches
Our new non-comedogenic Super Hemp Patches make getting a juicy zit far less stressful! Formulated with glycolic acid to help banish your blemish, hemp to prevent dryness, and tea tree to help reduce inflammation and redness, this super patch formulation does it all!
If you're some with acne-prone skin, give these patches a starring role in your daily skincare routine. You might want to stock up on a few packs so you never run out -- especially in emergency situations!
Super Star Patches
Flecked with retinol, hydrocolloid, and BHA salicylic acid, this super patch isn't here to play around. While hydrocolloid drains fluid from existing zits, retinol speeds cell turnover, and salicylic acid zaps away impurities. Together, these ingredients diminish zit size and color while helping prevent scarring and hyperpigmentation.
Super Heart Patches
Our fave new product is bursting with benzoyl peroxide and AHAs to help kill acne-causing bacteria, eliminate blemishes, and bring down inflammation. While she might be cute on the outside, don't mistake this for weakness. Super Heart Patches are made with a badass blend of hydrocolloid, benzoyl peroxide, and citric acid to drain fluid and banish bacteria from existing or freshly popped zits. 
Pimple Party Pack
This pack of 24 cheeky, harsh-chemical-free 12mm patches comes in our biggest size yet for tackling larger body blemishes. Hydrocolloid is the key ingredient, working to drain and flatten active blemishes while promoting overnight healing.
Remember to apply SPF if you're using these patches in the day time to prevent hyperpigmentation, premature aging, and skin tone alterations. Always follow up with a lightweight moisturizer for hydration.
Hydrocolloid is a powerful ingredient effective at draining pimples of impurities, oils, and moisture. Using hydrocolloid patches can be extremely helpful at zapping away zits, healing them, and preventing scarring and discoloration.
Truly is a clean label brand committed creating vegan, cruelty-free products free of harsh chemicals and preservatives. We are dedicated to developing products formulated with nourishing, skin-friendly ingredients like vitamin C, vitamin E, proteins, antioxidants, and nut butters to promote skill health and wellness. 
Our clean and sustainability-conscious oils, creams, and emulsions are designed to nourish your skin cells without leaving a damaging footprint on the planet.
Share
---