Is Caffeine the Wake-Up Call Your Skin Needs?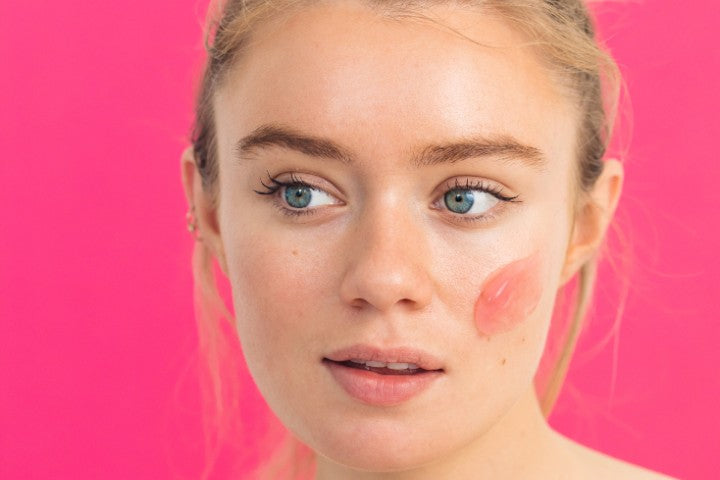 Most of us start our days with a latte or americano to give us a lift for the busy day ahead. And many of us are increasingly using caffeine in our skincare regimens hoping for the same effects on our complexions. But does caffeine actually wake up the skin? And does it really live up to the buzz?
Caffeine is a vasoconstrictor. In other words, it constricts blood vessels, reducing the appearance of inflammation that could take the form of red, puffy skin. 
An increasing number of brands are adding caffeine into their products, with the promise of delivering a bright and rejuvenated complexion. The question is, do these products truly work? Let's find out!
CAFFEINE IN SKINCARE: HOW IT WORKS 
Just like drinking a cup of Joe gives you that brief, yet enthralling buzz, in skincare it also perks up the complexion by stimulating circulation. Caffeine is likewise a powerful antioxidant, making it an excellent shield against free-radical damage. You only need a smidge of it in your moisturizer to help your skin stay protected against UV light and pollution. 
Besides its blood vessel restricting properties, caffeine is also capable of stimulating the enzymes that eliminate fat and reduce the appearance of cellulite. And we've got proof that it works! 
A 2015 study revealed that of the 15 participants who applied a caffeine-containing cellulite cream to their arms and thighs twice a day for six weeks, 12 of the participants reported an improvement in their cellulite. What's more, their thighs decreased by 0.7 cm and their arms, 0.8 cm. So clearly, this stuff works.  
WHAT ARE THE BENEFITS OF CAFFEINE IN SKINCARE?
Puffy Eyes and Dark Circles
"The studies that have been done on caffeine have been relatively mixed, [with] some showing an effect and some not," explains John G. Zampella, M.D. In studies, caffeine-containing products have proven to be effective in dark eyes caused by puffiness, but not so much by other effects. 
Because caffeine is a vasoconstrictor, it is effective at reducing the appearance of dark circles caused by puffiness, but the effect is only temporary. It's also best used in the form of eye creams that specifically target the under-eye area. On the other hand, wearing lots of caffeine in an eye cream could result in long-term dehydration, so you really need to get the balance right.
Rosacea
In the same way that caffeine diminishes dark circles, it can also help to calm redness in rosacea. It does this by constricting the blood vessels, which leads to less flushing and less inflammation. Making caffeine part of your regular skincare routine can also ward off rosacea flareups. 
That doesn't mean it should be your one and only treatment as a rosacea sufferer, but it is proven to offer some therapeutic effects. 
Cellulite
As mentioned previously, there is evidence to suggest that caffeine can smooth out cellulite. According to cosmetic dermatologist Dr Prenna Jones, "Caffeine has dehydrating properties, which means that it can reduce fluids in cellulite tissue, although this can perhaps be regarded as a temporary fix."
Coffee is also rich in antioxidants such as phenols, which help to promote a healthier, smoother skin tone and texture. 
THE CONS OF CAFFEINATED SKINCARE
There isn't necessarily anything wrong or bad about putting caffeine on your skin. However, there is mixed research regarding caffeine's effects. 
For instance, some research indicates that caffeine functions as a key protein in the skin to keep it looking healthy, youthful, and bright. But there's also limited research regarding how sufficiently caffeine can penetrate the skin when applied topically. 
You should also bear in mind that caffeine skincare products aimed at reducing redness can cause temporary rebound redness. It happens when you skip your daily (topical) caffeine dose, which causes blood vessels that are frequently constricted to go into hyperdrive.
"Let's say you drink coffee every day…then one day you forget to drink your coffee or someone switches it for a decaf, and you get a raging headache," says Dr. Suzan Obagi, M.D. "You're getting that throbbing in your head [because] those [blood] vessels have dilated even more." 
Fortunately, caffeine is not a potent vasoconstrictor – unlike many prescription versions. This means rebound redness is a lot less likely when compared to other treatments. 
HOW ABOUT DRINKING COFFEE?
Keep up the coffee habit. It's doing your skin plenty of good!
"Coffee is a great thing as it is a powerful antioxidant and stimulates our metabolism," says Dr. Prenna Jones. "It also keeps our bowels regular- very important for both body and skin. In small quantities it has positive effects, but as always too much of anything is a bad idea- I never drink coffee after midday. Also, for maximum skin benefit do not combine it with milk and sugar, so hold those skinny double lattes. To reap the most rewards, drink it in its purest form."
It's also those antioxidants in coffee that fight free radicals and lessen signs of aging, like fine lines, wrinkles, sagging, and brown spots. So if a morning espresso's your thing, don't give it up! 
MARY JANE CBD GLOW MASK
Truly's Mary Jane CBD Glow Mask, $38.00, is a skin-soothing and brightening formula made with CBD, caffeine, and Vitamin A. CBD helps to ease redness and inflammation, while caffeine works to tighten and brighten skin, and Vitamin A acts as a cell turnover stimulator. Packed with powerful antioxidants, this vegan formula firms, brightens, and replenishes for a flawless complexion.
But that's not all. Mary Jane Mask also contains glycolic acid, an ingredient known for exfoliating away blemishes and blackheads – as well as fine lines and dark spots. 
Apply a generous layer of Mary Jane CBD Glow Mask on clean, dry skin. Leave it on for 10 minutes, before rinsing with cool water. If you suffer from redness or irritation, refrigerate the product before using it. You can also leave it on overnight for an intensive skincare treatment. For best results, use three to four times a week.  
Share
---