Meet Our Dry Winter Skin Kit: Head to Toe Hydration Here!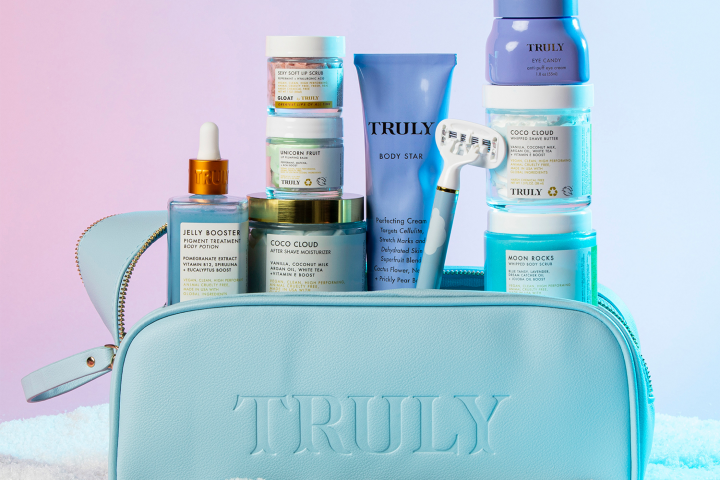 Next to the cozy crackling fires and invigorating snowy walks, winter comes with a few less pleasant side effects like dry, flaky skin. Between the cold weather, dry air, and dehydrating indoor heating, winter is the season that can really wreak havoc on your skin.
While switching to a good moisturizer can help keep dryness under control, your entire skincare routine will need an overhaul to ensure your skin's receiving optimum hydration and nourishment to keep it healthy, happy, and glowing throughout the season.
Enter Truly's NEW Dry Winter Skin Kit. This winter skincare routine offers head to toe hydration via several of our bestselling formulas. Ahead, everything you should know about this brand new bundle.
WHAT CAUSES WINTER DRY SKIN?
Between changes in humidity and colder temperatures, winter creates perfect conditions for causing dry skin. Studies show that there's less moisture in the skin during winter, which can contribute to dry, itchy skin. Since the skin barrier thrives on moisture, the winter is when this protective barrier is most compromised. When the skin barrier is compromised, it isn't as effective at preventing harmful toxins from entering the body and this can lead to skin looking dry and flaky.
During the winter months, we're all guilty of turning the indoor heating up which reduces humidity and starves skin of moisture. Alongside this, there's the cold outdoor weather and dry air which can strip the skin of its natural oils. Even taking long hot showers and baths can damage the surface of the skin, leading to dryness, itchiness, and flaking.
The best thing you can do for your skin in the winter months is to feed it with moisture, which is possible with the use of hydrating skincare products.
Enter: The Dry Winter Skin Kit
What is It?
Aka, the only skincare routine you need this winter!
Truly's Dry Winter Skin Kit is a brand new bundle featuring a bunch of our bestselling formulas that work hand in hand to intensely hydrate skin and replenish lost moisture. Inside, you'll find eight beauty products + a five-bladed razor that deliver head to toe hydration and an irritation-free shave.
Besides transforming your skin this winter, this kit can also alleviate the seasonal blues. It's the perfect excuse to take some time out for yourself and indulge in these dreamy formulas. Research shows that self-care can improve symptoms of seasonal affective disorder (SAD) and boost your mood. The Dry Winter Skin Kit provides that self-care moment you need to unwind at the end of the day or energize the start of your day.
EARLY ORDER ALERT: Early shoppers of this set will receive a FREE Mykonos Robe worth $250 (limited stock available.).
What's Inside?
Truly Blue Razor

Moon Rocks Body Scrub

Body Star Perfecting Cream

Eye Candy Anti-Puff Eye Cream

Jelly Booster Pigment Treatment 

Coco Cloud After Shave Moisturizer

Coco Cloud Shave Butter

Unicorn Lip Butter 

GLOAT Sexy Soft Lip Scrub

FREE Mykonos Robe (limited time only)

 
THE BENEFITS
Here are the benefits of our Dry Winter Skin Kit...
Unlocks Your Glow
Moon Rocks Scrub's exfoliating powers helps to lift the buildup of dead skin cells — and ultimately reveal your freshest, brightest skin. When those dead cells are shed from the skin's surface, light can better reflect the skin and leave you looking lit all over. If you're looking for a quick brightening fix, start buffing! This hydrating scrub also preps skin for a smooth shave, preventing razor bumps and ingrowns. On top of all that, it'll leave skin feeling instantly smoother and enhance product absorption for better results.
Alleviates Dry Skin
This kit provides all over hydration. From your face to your lips and body, it'll drench every inch of you in moisture, manifesting silky smooth skin. It includes an eye cream to hydrate the delicate eye area, a body lotion to soften up your skin, and a lip balm to nourish and combat chapping. There's also a super moisturizing shaving cream included to make you feel like you're shaving on clouds.
The formulas featured in the set contain the most hydrating ingredients around: hyaluronic acid, coconut milk, prickly pear, glycerin, shea butter, and coconut oil. They're extremely good for sealing in moisture for irresistibly soft skin.
Treats Chapped Lips
Featuring a lip scrub to buff away dead skin and a lip balm to seal in moisture and plump the pout, this duo will help relieve dry, chapped lips this winter and leave them looking (and feeling) luscious! GLOAT Lip Scrub is formulated with powerhouse hydrator hyaluronic acid to deeply hydrate lips while Unicorn Lip Balm contains shea butter and peppermint oil to moisturize, soothe, and plump.
Combats Fine Lines
Our Eye Candy Anti-Puff Eye Cream is a powerhouse formula of hyaluronic acid and sea kelp, which work in tandem to hydrate and soften fine lines. This moisturizing cream offers both hydration and anti-aging benefits to keep your peepers bright and smooth.
Soothes Ingrowns and Irritation
This set contains our bestselling Coco Cloud Shave Butter + Aftershave Moisturizer to prep for a smooth shave while preventing the formation of razor burns and ingrowns. Suitable for all skin types (the most sensitive skin included!), these formulas offer intense skin hydration as well as healing and soothing properties.
In the winter months, skin needs a little extra TLC than it does in the spring or summer. Invest in a gentle and hydrating cleanser, face cream, toner, serum, hand cream, lip balm, and sunscreen with SPF 30 or higher. Even oily skin still needs plenty of moisture to prevent further oiliness and breakouts.
With our antioxidant-rich, deeply hydrating formulas, you can achieve glowing, healthy skin all-year round. We also have many other fabulous winter treatments that harness the brightening and hydrating powers of vitamin C, retinol, and ceramides.
Speak to a dermatologist if you have a skin condition like eczema before using these products.
Share
---