Nighttime Skincare Routine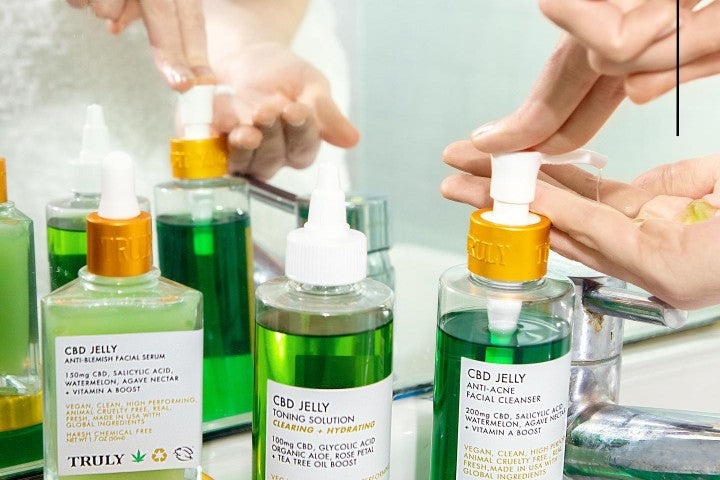 That phrase, beauty sleep? There's a lot of truth in it, you know.
During the night, your skin works twice as hard as it does in the daytime, repairing skin cells and rejuvenating it as you snooze. It even absorbs the nutrients in your products better than during the daytime.
"Additionally, there aren't environmental stressors at night (like environmental pollution and sun damage) while you sleep; products are able to better penetrate when you're not wearing makeup while you sleep and the skin can breathe," says Parvaneh Rafaeloff, MD, medical doctor at Le Jolie Medi Spa.
To sum up, your nighttime skincare routine is super important. And because your skin soaks up ingredients better through the night than it does in the day, you'll want to make sure you're using the best products available.
Read on to discover an effective night skincare routine that promises glowing, radiant skin throughout the day.
WHY YOU SHOULDN'T SKIP PM SKINCARE
According to dermatologist Sapna Palep, "Skin is affected by circadian rhythms. Stem cells in the epidermis reproduce mainly at night, creating new skin cells that replace aged cells and reduce the appearance of aging."
In other words, the skin isn't sleeping while you are. It's actually doing its best work. With the right products, you can maximize its effects.
That's why the evening is the perfect time to apply products that target specific skin issues, such as inflammation, hyperpigmentation, dryness, or UV damage. By applying them at night, your skin will absorb them more effectively and boost their benefits.
THE BEST NIGHTTIME SKINCARE ROUTINE (WITH RECOMMENDED PRODUCTS!)
Remove Your Makeup
… if you're wearing it of course!
Use a makeup remover to break down the makeup particles and eliminate dirt, dust, and pollution. Micellar water is a great product for achieving this.
Whatever you do, never go to sleep in makeup.
Cleanse Your Skin
The most important time to cleanse your skin is at night. During the day, your skin collects dirt, dust, and grime, which needs to be removed before you sleep or apply creams or serums. Otherwise, you could end up congesting your pores, which may lead to breakouts.
Choose a gentle, nourishing cleanser to get rid of dirt and oil without drying out the skin, like Truly's Super Matcha Facial Cleanser.
Use an AHA-Loaded Toner
To slough off dead skin cells and dirt that's accumulated throughout the day, follow up with an exfoliating cleanser like Truly's CBD Jelly Toning Solution.
This product contains alpha hydroxy acids (AHAs) that gently remove skin cells and boost the renewal process. AHAs are photosensitive, so it's best to use them at night to avoid any potential sun exposure that might irritate the skin.
Some great AHAs to look out for include glycolic acid, lactic acid, and citric acid. You'll find glycolic acid in our recommend product above.
Smother Your Skin With Serum
This is a step you can customize according to your skin concerns. Whether it's a serum or prescription product, now is the time to use it. For now, we're going to focus on the benefits of using serums at night. Whether you're seeking brightening, blemish-fighting or hydrating effects, there's a serum for every concern.
A great multitasking ingredient to look for in a serum is retinol. It treats everything from acne to unevenness to aging skin.
"Retinol stimulates the production of new skin cells, and because this happens mostly at night, this is the best time for its use," says New York City-based dermatologist Dr. Debra Jaliman.
Since retinol sloughs off the outermost dead layer of skin, it leaves your skin vulnerable to the sun and burns. Hence, the reason we recommend using it at night.
For acne-prone skin, try Truly's CBD Jelly Facial Serum which contains salicylic acid and retinol to clear pores and fight blemishes. To target wrinkles, try our Vegan Collagen Serum, which is formulated with retinol, vitamin C, and collagen to smooth out skin.
Seal in the Goodness with Moisturizer
To seal in all the nutrients from your previous skincare products, follow up with a hydrating moisturizer. A humectant, ideally. Hyaluronic acid is a great choice, as is glycerin and ceramides, which replenish lost moisture and lock in water for long-lasting hydration.
Opt for Truly's Cream Skin Face Moisturizer. This formula contains hyaluronic acid and sea kelp to nourish your skin as you sleep.
Choose Sleep Masks Over Night Creams
If you ever wondered if night creams are really necessary, this should answer your question…
"Night creams tend to have thicker, richer formulas with more humectants and emollients, which could be too greasy for daytime use," explains Dr. Palep.
Sleep masks are the better option if you're keen on providing your skin with intense overnight hydration. They're more potent than night creams without leaving your skin feeling greasy. By leaving them on while you sleep, these masks create a seal with humectant ingredients to lock in water in your skin and boost their penetrative abilities.
"Sleeping masks typically contain hydrating or remodeling agents such as hyaluronic acid and retinol, and their consistency is thick but non-comedogenic, meaning they let the skin breathe without clogging the pores," says Dr. Neil Sadick of Sadick Dermatology.
Overnight masks are a great way to inject your skin with nutrients while you snooze. So opt for masks that contain skin-rejuvenating ingredients like retinol, glycolic acid, or vitamin C. Truly's Starface Jelly Sleep Mask has all three.
Wake Up With Flawless Skin
Taking good care of your skin while you slumber can ensure you wake up every morning to a beautiful, radiant complexion. So if you've been neglecting your nighttime skincare routine in favor of quickly swiping a makeup remover wipe over it before heading to bed, you may want to reconsider your PM regimen.
Beauty sleep can only be beauty sleep if you apply the right products beforehand. Add in powerhouse ingredients like retinol and vegan collagen and you've got yourself a recipe for gorgeous AM skin.
Share
---