One Set, Limitless Routines: Truly's VIP Collection 3.0 Has Arrived!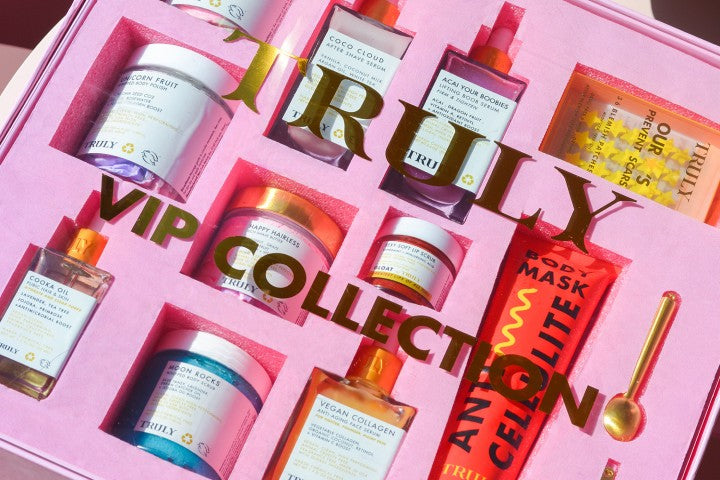 Our VIP Collection is back and even better than the last! VIP Collection 3.0 is packed full of Truly's long-loved, TikTok famous favorites that you can customize into multiple skincare routines for both the face and body. To sweeten the deal, we're giving VIP collectors a FREE gift worth $$$ with every purchase of VIP 3.0.
Here's everything you should know about VIP Collection 3.0, from what's inside to what makes it sparkle, and all the beauty routines you can create from it. Don't wanna wait that long? Grab this Truly bestseller set + FREEBIE now before it sells out.
WHAT IS VIP COLLECTION 3.0?
VIP Collection 3.0 is the latest version of our bestsellers bundle — and it's hotter than ever! We've brought together 11 full-size favorites in this ultra-chic kit to give you the full Truly experience, and a head to toe pampering sesh you'll never forget. Plus, a gold spoon + scoop to make serving up your swirls a super stylish (and hygienic) experience.
Like you, we love a streamlined routine where we can target multiple issues and areas without relying on 20 products or more. Especially if you're a frequent flyer, it's just not practical! With these 11 products, you can enjoy limitless routines, endless benefits, and the full body TLC you deserve — for on the go smoothness and GLOW!
Whether you're looking for an anti-aging routine, a better way to shave, a last-minute breakout fix, or a perkier pair of buns and boobs, VIP Collection 3.0 makes your beauty wishes...come true!
What's Inside?
Here's what's included in the VIP Collection 3.0:
Buns of Glowry Butt Polish
An exfoliating butt scrub designed to firm up your peach and reduce the appearance of stretch marks.
Unicorn Fruit Whipped Polish
Based on our iconic Unicorn Fruit Whipped Body Butter, UF Polish clears, soothes, and smooths skin while boosting skin's glow.
Happy Hairless Shave Butter
A buttery shaving cream to soften hair and skin for a seamless razor glide — without razor bumps.
A full body exfoliator that illuminates and hydrates.
An ingrown hair treatment and post-shave skin soother for speedy healing.
Vegan Collagen

Facial Serum
An anti-aging serum designed to restore youth and give skin back its bounce.
A book-firming serum that also tackles breakouts, discoloration, and dullness.
Coco Cloud After Shave Serum
A hydrating, ultra-nourishing serum to soothe post-shave inflammation and leave skin visibly smoother.
GLOAT Sexy Soft Lip Scrub
A smoothing lip formula to perk up your pout and prep lips for lipstick.
Our Stars Prevent Scars

Acne Patches
Like our famous Heart Patches, Stars Patches zap away zits — and they also heal acne scars.
A resurfacing, circulation-stimulating mask to minimize the appearance of dimply skin on the butt, thighs, or belly.
A fun and hygienic way to serve you swirls.
An adorable spoon for scooping up our formulas, without transferring germs.
WHY IT'S SPECIAL
Alongside creating multiple routines, VIP Collection 3.0 is made up of high-performing, vegan beauty products that deliver real results. Thanks to powerhouse active ingredients like retinol, vegan collagen, coconut oil, and hyaluronic acid, these formulas assist in promoting your smoothest, glowiest, most radiant skin. Suitable for all skin types (yes, even sensitive skin) and with so many perks, there's really something for everyone in this deluxe beauty bundle.
ALL THE BEAUTY ROUTINES YOU CAN CREATE FROM IT
What makes VIP Collection 3.0 so special and memorable is that with 11 products, you can create numerous beauty routines to conquer all your skin concerns and keep you looking radiant. Here are some of the routines you can try using the products in VIP 3.0.
The Best Shave Of Your Life Routine
Happy Hairless Shave Butter
Moon Rocks Body Scrub
Coco Cloud After Shave Serum
Cooka Oil
The Quick Ingrown Hair Fix
Coco Cloud After Shave Serum
Cooka Oil
The Curve-Sculpting Routine
Buns of Glowry Butt Polish

Acai Your Boobies

Serum
Anti-

Cellulite

Mask
The Clear + Hydrated Routine
Unicorn Fruit Whipped

Body Polish

Vegan Collagen

Facial Serum
Our Stars

Blemish Treatment

Acne

Patches

GLOAT Sexy Soft Lip Scrub

The Anti-Aging Routine
Vegan Collagen

Facial Serum
Buns of Glowry Butt Polish

Acai Your Boobies

Serum
This kit is packed with moisturizers, exfoliators, pimple treatments, body serums, and shaving cream to cover every part of your beauty routine. Get creative, build as many routines as you like, and watch your face + body...transform.
SHOP TRULY'S VIP COLLECTION 3.0
The last VIP bundle contained products like our 24k Gold Black Soap Impurity Cleanser, Purple Rain Face Oil, and GLOAT Luscious Lip Butter. VIP 3.0 contains completely different products, except for the Vegan Collagen Facial Serum, which appears in both. We recommend collecting each kit, and seeing which products you like best — then stock up!
VIP 3.0 also makes a fabulous gift set for beloved beauty babes in your life! On a budget? Buy one, and deliver multiple gifts for your friends and loved ones. With 13 products inside, you can create at least half a dozen presents or more!
Truly's VIP Collection 3.0 is available on our official website for a limited time only. Make sure you grab it before it's gone!
Stay updated on our latest launches and beauty tutorials by following us on our social media channels such as TikTok, Instagram, Twitter, Facebook, and LinkedIn. And before you checkout, take advantage of our coupons which are available on our site every day!
Share
---