Reap the Benefits of Honeysuckle with these 5 Serums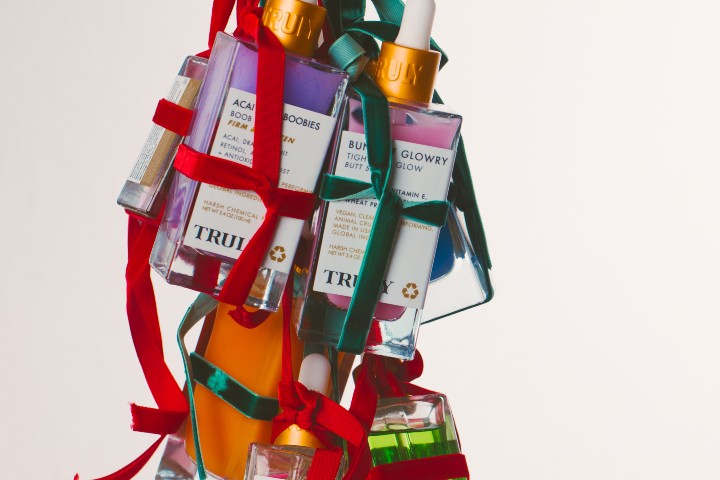 Honeysuckle extract (Lonicera Japonica) is commonly used in skincare products due to its antibacterial and anti-inflammatory properties. We use it a lot in Truly's formulas!
According to research, honeysuckle can be helpful at treating skin conditions like eczema, acne, rosacea, and skin irritation. Rich in powerful antioxidants, honeysuckle can also fight off free radicals that contribute to premature signs of aging, and improve skin tone and texture.
Unlike powerhouse ingredients like hyaluronic acid, vitamin C, peptides, retinol, and niacinamide, honeysuckle isn't a widely-known skincare ingredient. However, it can work wonders for your skin. That's why it's often infused in skincare formulas like cleansers, serums, toners, and creams.
If you're looking to reap all the skincare benefits of honeysuckle, try one or more of the below serums. All five serums ahead are enriched with honeysuckle and other nourishing ingredients to deliver your best skin this summer.
BEST HONEYSUCKLE SERUMS
Below, our top five honeysuckle serums designed for both the face and body.
#1: Mary Jane Glow Serum
A radiance-boosting serum of CBD, retinol, caffeine, and glycolic acid that work together to slough away dead skin cells, increase cell turnover, and brighten skin. Mary Jane Glow Face Serum also contains honeysuckle flower extract which floods the skin with antioxidants, preventing fine line formation.
All skin types can benefit from this exfoliating serum. It's especially useful for mature skin types looking for a daily anti-aging formula to ward off fine lines, wrinkles, and hyperpigmentation.
To prevent weakening retinol's benefits, always follow up with sunscreen after applying Mary Jane Glow Serum.
#2: CBD Jelly Facial Serum
This acne-fighting serum relies on a slew of soothing, decongesting, and clearing ingredients to treat and prevent breakouts. Its key ingredient — hemp — helps with redness and inflammation. Salicylic acid unclogs pores by sweeping away dead skin, excess sebum, and impurities. And vitamin A speeds cell turnover, keeping pores clear and skin tone even. As for honeysuckle, this super sweet ingredient lends both its anti-inflammatory and anti-bacterial properties to keep skin blemish-free.
This formulation is perfect for dry skin and sensitive skin. Featuring ultra-soothing aloe and hydrating watermelon, these natural ingredients help to support skin barrier function while keeping your complexion smooth, soothed, and dewy.
#3: Acai Your Boobies Serum
Acai Your Boobies Serum is a regenerative formula designed especially for your pair. Powered by retinol, a collagen and elasticity enhancing ingredient, this serum can firm up your boobs, fade discoloration, and reduce the appearance of wrinkles. Inside, there's also acai berry. Abundant in amino and fatty acids, acai berry promotes skin cell health while fending off free radical damage — fading fine lines and wrinkles. Deeply conditioning vitamin E locks in long lasting moisture while also reducing UV damage.
Honeysuckle also plays a role in this formula. Since it's packed with antioxidants, honeysuckle extract keeps skin smooth, soft, and springy. And its anti-bacterial properties mean it can keep your bust area blemish-free.
All skin types can benefit from Acai Serum. That said, if you have dry or sensitive skin you should start slow to avoid retinol-related irritation.
#4: Buns of Glowry Glow and Tighten Butt Serum
A deeply moisturizing serum made to smooth and perk up your peach. Bitter orange, watermelon, wheat protein, and vitamin E work together to increase circulation, plump out dimpled skin, and battle hyperpigmentation.
If you're looking to give your butt a glow up, you've gotta try this formula. Plus, it contains ultra-nourishing honeysuckle to clear away butt blemishes and brighten your booty.
Buns of Glowry Serum is easy on all skin types without any unpleasant side effects like rashes or irritation. For best results, use in your daily skincare routine.
#5: Anti-Cellulite Body Serum
This skin refining serum is a summer essential for keeping your body smooth, soft, and cellulite-free. It's made with a lineup of collagen-boosting, elasticity-restoring, and circulation-stimulating ingredients such as retinol, bitter orange, and vegan collagen. All of which help to brighten and firm skin while reducing the appearance of dimpled skin on the thighs, stomach and hips.
It's also formulated with honeysuckle to fight free radicals and aid in strengthening skin barrier function, as well as ultra-hydrating vitamin E and glycerin.
All skin types can benefit from using Anti-Cellulite Serum in their daily routine.
SEAL EVERYTHING IN WITH A HONEYSUCKLE LOTION
After applying your chosen serum, it's important to complete your skincare routine with moisturizer to help seal in all of those active ingredients. Here are some of the best honeysuckle lotions to try for day-long dewiness.
Blueberry Kush CBD Body Lotion
An antioxidant-rich daily body lotion powered by hemp, vegan collagen, blueberry seed oil, and exfoliating hydroxy acids to smooth, hydrate, and brighten your body. Honeysuckle also lends its anti-inflammatory properties to soothe irritated skin and reduce redness. Plus, it smells like blueberries!
Unicorn Fruit Whipped Body Butter
A deeply conditioning daily body moisturizer to deliver your smoothest, sweetest-smelling skin. Matcha, rose, shea butter, and collagen work together to soothe, hydrate, and plump skin to leave your body looking smooth and supple. It also contains two types of honeysuckle — common honeysuckle and Japanese honeysuckle. Both of which lend their anti-inflammatory benefits to keep skin smooth and irritation-free.
Honeysuckle really doesn't get the credit it deserves. Yet it can do so much for the skin. From soothing irritated skin to treating acne and preventing fine line formation, it's definitely worth of a place in your daily skincare routine.
When shopping honeysuckle skincare products, always try to look for paraben-free formulas that do not contain harmful preservatives, which can cancel out honeysuckle's effects. If you have sensitive skin, it's also best to avoid products that contain essential oils which can irritate skin.
Consult your dermatologist if you have a skin condition like eczema. While honeysuckle can be beneficial in easing skin conditions, it's always good to get the go ahead from your derm first!
Share
---