Skincare Routine for Sensitive Skin: Your Guide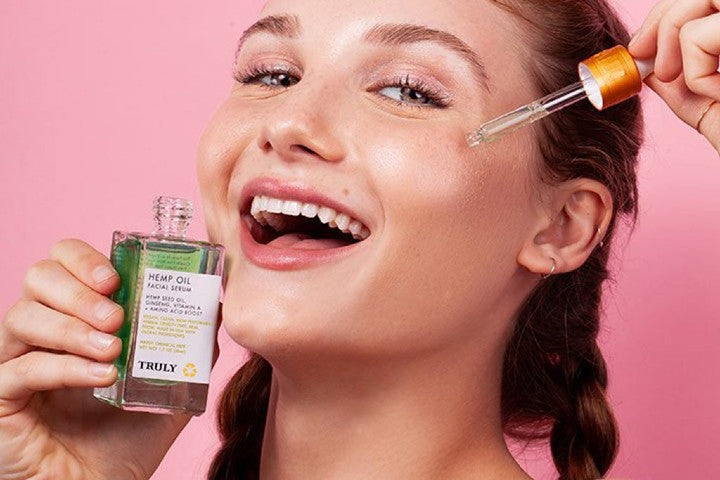 It's important to embrace your skin type, but sensitive skin is a hard one to embrace. When you have sensitive skin, it can feel like every product you use leaves you red and painful. Even the ones that claim to be suitable for your skin type aren't gentle enough.
So what can you do about it?
We understand your dilemma and we'd love to help you have a better relationship with your skin. The best way to do that is by following a skincare routine for sensitive skin, using the right products.
"A lot of people think of sensitive skin as acne-prone, but I think of it as skin that gets red and irritated easily," says esthetician Renée Rouleau. "It's more delicate skin that you can't be aggressive with."
Below, we show you an effective step-by-step skincare routine for sensitive skin types so you can enjoy flawless skin and stop dealing with breakouts, redness, itching, and dryness.
AM ROUTINE FOR SENSITIVE SKIN
Wash with a Gentle Cleanser
Look for a gentle, sulfate-free facial cleanser like Truly's Super Matcha Facial Cleanser to remove any impurities without disturbing your skin's natural barrier.
"Cleansing is an essential part of a daily skincare routine and a good cleanser is paramount," says Tanya Zahoor, cofounder of Aesthetics Lab. "However, it is so important to use a cleanser appropriate for your skin type in order to get the best from it."
Make sure you wash your skin only with lukewarm water, not ice cold or boiling hot water, as these can cause more irritation to your skin. And be gentle when you apply. Avoid rubbing your skin, which could also bring you out in redness and leave your skin feeling tight and uncomfortable.
Hydrate with a Soothing Serum
Ideally, look for ingredients in a serum that calm and soothe the skin, like hemp oil.
"This oil is particularly good for people prone to redness and skin irritations like eczema, rosacea, and psoriasis because it's high in omega-3 and -6 fatty acids that help to hydrate the skin," explains Dr. Maura Henninger, a Naturopathic Doctor in New York City. "It's also beneficial for acne-prone patients because of its antibacterial properties, thanks to those same omega acids."
After washing your face, apply several drops of Truly's Hemp Oil Facial Serum to your skin. Massage in well, and leave to sink in for 3 minutes before applying moisturizer or sunscreen.
Apply Sunscreen
No skin type should skip this step. Sunscreen is essential for keeping your skin healthy and protected from harsh UV rays, pollution, and other environmental stressors. Opt for at least SPF 15. If you're fair-skinned, go no lower than SPF 30.
"Zinc oxide sunscreens are the least likely to irritate sensitive skin," says Rouleau. "Titanium dioxide sunscreens are good, but not as compatible with medium and darker skin tones because they can leave a white cast." 
We can't emphasize enough how important this step is. Always apply sunscreen before leaving the house – no excuses!!!
PM ROUTINE FOR SENSITIVE SKIN
Wash with a Gentle Cleanser
You might have spent your waking hours indoors and makeup free, but by the end of the day, your still going to want to wash the dirt and grime that's accumulated on your skin over the hours. 
"Washing your face removes excess sebum and dead skin, which helps clear out our pores to prevent clogging," says board-certified dermatologist Morgan Rabach, MD. "Cleaning your face also gets rid of other debris from the environment, which can lead to oxidative damage or stress in the skin cells, and removes bacteria and yeast which normally colonize the skin."
As far as choosing a night time cleanser for your skin goes, you can either use the same one you used in the morning, or one that targets a skin concern. If you're acne-prone, for instance, you might want to use something that actively targets breakouts, like Truly's CBD Jelly Anti-Blemish Facial Cleanser.
Hydrate with a Calming Moisturizer
To replenish lost moisture from cleansing your skin, follow up with a hydrating moisturizer like Truly's Cream Skin Face Moisturizer.
See, sensitive skin tends to be dry. That's why it's essential to keep it hydrated.
"Having a thinner or damaged skin barrier allows moisture to escape more easily, causing more dryness and exacerbating this condition," explains Dr. Michael Kassardjian, a board-certified dermatologist in Los Angeles.
He elaborates, "Unfortunately, it's not uncommon for the skin barrier to thin as we age, and therefore some products that may have once been fine to use can later start becoming more irritating and intolerable."
Look for hydrating ingredients that will nourish sensitive skin like hyaluronic acid (found in Truly's Cream Skin), soy, and aloe vera. You want to lock in moisture to keep your skin protected and less irritated.
OTHER TIPS FOR SENSITIVE SKIN
"Touching the face is something we sometimes do unconsciously, but it results in skin irritation and breakouts on sensitive skin," says celebrity facialist Joanna Vargas. Keep your paws off!
When you have sensitive skin, you really don't need a complicated routine to keep your skin looking clear and glowing. In fact, the less the better when it comes to sensitive skin. Your skin type can't tolerate a cocktail of ingredients, so it really is better just to stick to two or three products instead of half a dozen.
Avoid fragranced products
Fragrances are the enemy of sensitive skin. They irritate the skin, causing redness, tightness, and even breakouts. Stick to natural, gentle products.
If you've tried sticking to a streamlined sensitive skincare routine and you're still suffering from irritation and inflammation, visit your dermatologist. There may be an underlying cause that needs treating.
With this sensitive skincare routine, you can look forward to a future of many clear, comfortable days and wave goodbye to redness and inflammation. All you need are the right products and the right care, as shown above.
Share
---