Stretch Marks on Boobs: The 3 Best Treatments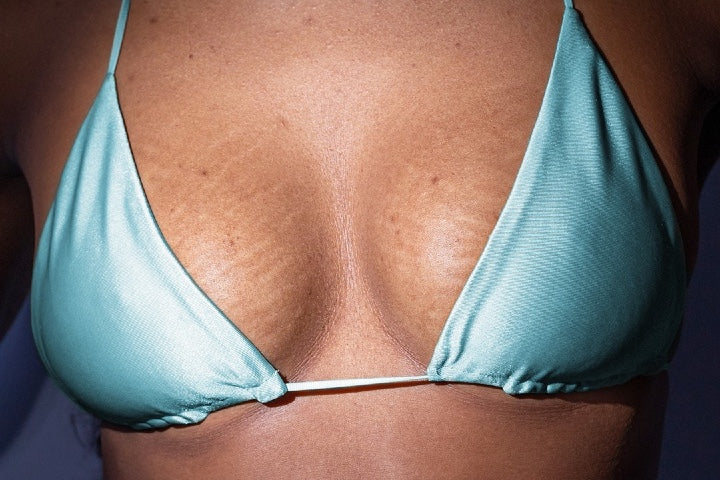 Thought you were the only one dealing with stretch marks on boobs? Nope. Turns out, boob stretch marks are way more common than you think.
Stretch marks occur with the breakdown of elasticity as the skin stretches, usually due to weight gain, pregnancy, or hormonal changes. There are plenty of topical treatments that claim to help with reducing the appearance of stretch marks. But how do you know when you've found one that ACTUALLY works?
The secret is in finding one proven to boost collagen production, and thereby elastin. Ahead, we delve a little deeper into stretch marks on the breasts, what to look for in stretch marks creams and serums, and finally...the BEST treatment options.
Stretch Marks, Explained
In case you're wondering what a stretch mark actually is, it's a type of scar that develops when the skin shrinks or stretches quickly. Usually red, pink, or purplish, early stretch marks (striae distensae or striae rubrae) tend to feel slightly raised, but the color fades over time.
Most women develop them during and after pregnancy. Due to the abrupt hormonal change, collagen and elastin ruptures, resulting in stretch marks.
Here are some of the factors that increase your likelihood of getting stretch marks.
Being pregnant

Having breast implants (due to increase in breast size, which stretches skin)
Rapid growth in adolescence

Rapidly weight loss or weight gain

Breastfeeding

High cortisol levels
Having a genetic disorder such as Cushing syndrome

 
What to Look for in Boob Stretch Mark Treatments
When it comes to treating stretch marks on your breasts, or anywhere for that matter, you should know that there's no magical lotion that will erase them. The best a treatment can do is reduce their appearance so they're a lot less visible.
Dermatologists suggest in-office treatments like laser therapy, radiofrequency, microdermabrasion, and microneedling if you're looking for more dramatic results.
As for stretch mark creams and other topical treatments, look out for hydrating, plumping ingredients like hyaluronic acid, vitamin A (retinoids), shea butter, cocoa butter, coconut oil, glycolic acid, almond oil, and vitamin E. These are all deeply nourishing ingredients that can improve skin tone and texture, while enhancing skin elasticity, reducing the visibility of stretch marks.
You'll find these ingredients in a range of skincare products, including moisturizers, serums, and masks. In addition to reducing their appearance, they can also help prevent stretch marks from forming in the first place.
How to Get Rid of Stretch Marks on Boobs
Technically, you can't "get rid" of stretch marks, but you can reduce their appearance. If you're not into home remedies and you don't feel like splashing out on laser treatments, you can try following a stretch mark fighting skincare routine in order to make them less visible.
Just like you would if you were following an acne treatment skincare regimen. It's not enough to use a product every now and then when you remember. It MUST be part of your routine if you want to see results.
The 3 Best Treatments
Here are three proven routines to treat those stretch marks on your boobs once and for all!
Dulce De Leches Kit
The most decedent routine you'll ever try. This dessert-inspired boob and belly firming line features three powerful body sculptors enriched with only the finest, elastin-boosting ingredients such as retinol, hyaluronic acid, and cocoa butter. Rely on this 3-step kit to get firmer - faster!
A just-baked, warm caramel fragrance is whipped into our fluffy polish, silky cream and melt-into-skin serum to serve your curves the most indulgent full body skincare experience.
Since it does contain retinol, there may be risk factors to using these treatments on pregnancy stretch marks (if you're pregnant or breastfeeding). If you're not, you can use these formulas without any side effects.
Boobie Bundle
A 4-step boob firming set that includes a polish, serum, butter, and bath bar enriched with elasticity restoring retinol and brightening antioxidants. Delivering circulation-boosting exfoliation and intense, collagen-enhancing treatments, this routine offers everything you need to smooth textured cleavage, firm sagging skin, and soften stretch marks for your perkiest pair. All skin types can benefit!
Again, these formulas are not suitable for use if you're pregnant due to the retinol content. But you can definitely consider using them later down the line when you're no longer pregnant or breastfeeding.
Anti-Cellulite Trio
While this kit is designed to tackle cellulite, its resurfacing and plumping abilities make it helpful for dealing with stretch marks on boobs.
This complete routine features a polish, mask, serum, and soap packed with a blend of lipolytic, decongesting, and collagen-boosting active ingredients to smooth out your skin and reduce the appearance of stretch marks and cellulite.
And another little bonus: we've packed up all these goodies into one super cute yellow and white bag – to remind you to check-in with your skin!
Tips for Making Your Treatments Work Harder
Start Early
The earlier, the better. In fact, studies show that stretch mark creams have little effect on mature stretch marks, so it's best to start as early as possible. Look for ingredients like vitamin E and retinol in skincare products, as these work best for banishing scars.
Use them Right
It doesn't matter how good the product is, if you're not using it right, you won't see the results you're seeking. Spend a good 2-3 minutes massaging the product into your skin to make it work more effectively. Also, the stimulation will help boost circulation, making your stretch marks less visible.
Apply Daily
It may take a few weeks to see results, but be patient. Make sure you apply your stretch mark lotions and serums every day in order to enjoy the benefits of smooth, scar-free skin. When it comes to maintaining healthy, beautiful skin, it's all about routine and habits. Trust us, it'll be worth the wait!
Can You Prevent Boob Stretch Marks?
As far as natural remedies go, researchers don't believe in them. However, there is evidence to suggest that the ingredients like hyaluronic acid and centella can help prevent stretch marks. Besides that, experts say you should pay attention to what you're putting in your body. Here are some tips to help you prevent stretch marks on boobs.
Drink Up!
Hydrated skin is less prone to developing stretch marks than dry skin. And the easiest way to keep your skin soft – stay hydrated! The Institute of Medicine recommends at least 104 ounces per day for men and 72 ounces for women. So keep your fluid intake up to keep stretch marks away.
Binge on Vitamins
Did you know that stretch marks can also occur as a result of lack of nutrition? Try adding more vitamins into your diet, such as vitamin C, D and E, as well as protein and zinc, to boost skin health.
Maintain Your Weight
The best way to prevent stretch marks is to maintain a healthy weight. Stretch marks happen when the skin expands rapidly, due to quick weight gain. At the same time, they can also appear when you experience rapid weight loss. That's why it's best to control your weight through a balanced diet and regular exercise.
Soak Up Some Sun
According to a study, there's a link between low levels of vitamin D and stretch marks. To prevent them, try upping your vitamin D levels through adequate sun exposure and diet.
Do Stretch Mark Procedures Really Work?
If you're serious about getting rid of stretch marks, and you want to see real results fast, we recommend trying an in-office treatment. Visit your dermatologist for a consultation beforehand, as they'll be able to advise you on the best treatment for your health, age, and stretch marks.
HERE ARE SOME EFFECTIVE STRETCH MARK TREATMENTS:
Laser therapy

Chemical peel

Radiofrequency

Microdermabrasion

Microneedling
Depending on your case, you may need more than one procedure. For instance, some people may require at least three sessions of laser therapy, while others may need a combination of chemical peel and radiofrequency. Speak to your dermatologist for the best recommendation.
Share
---