Sunshine Makes Your Skin Glow. Here's Our Fall Fix.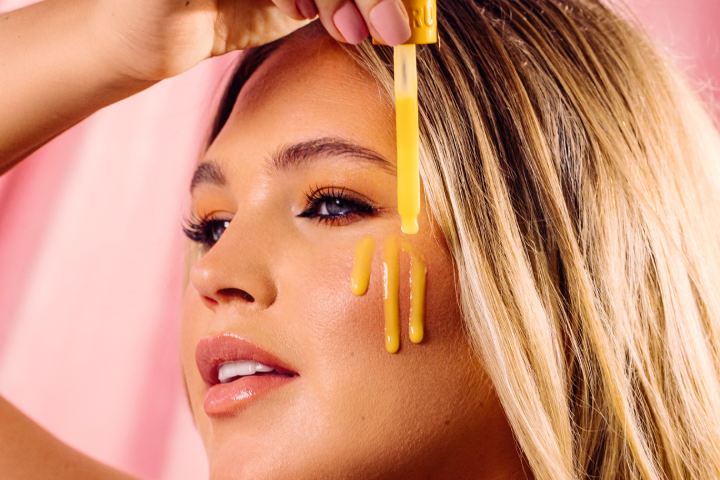 If there's one thing we miss like crazy in Autumn, it's sunshine.
Without sunshine, we can't chill out at the beach, binge on ice-cream, or get that summer glow. Fortunately, there are ways to reap the benefits of sunshine throughout the cooler months. 
Here's how you can up your levels of glow in spite of the lack of sunlight.
How Sunshine Makes Your Skin Glow
We know sun has a bad rap when it comes to skincare. However, you should know that small doses of sunshine can be really good for your skin.
While dermatologists recommend shielding your skin from UVA and UVB rays, some experts believe short but frequent bursts of sunshine can be a kind of medicine for certain skin conditions. According to research, UV rays can help the healing process of skin conditions like eczema. 
Even if you don't have specific skin issues, spending small amounts of time in the sun may give you a healthy glow. That's because sunlight triggers the synthesis of vitamin D within the body, transporting immune cells to the outer layers of the skin where they help protect and repair damage like that caused by sun exposure.
What's more, studies show sunshine lowers blood pressure and improves heart health. Since great skin tends to reflect good health, reaping the health benefits of the sun's rays can enhance your complexion. 
Health Benefits of Sunshine
It's not uncommon to have low vitamin D levels in the fall or winter months. 
The problem with low vitamin D levels is that it increases the risk for a host of cancers, as well as disorders such as rheumatoid arthritis, tuberculosis, type 1 diabetes, and multiple sclerosis.
In addition, the nutrient plays an important role in maintaining a healthy immune system and proper muscle function. In other words, those with an active lifestyle will quickly deteriorate when vitamin D levels drop.
While you can get vitamin D through certain types of food like egg yolks, cheese, salmon, tuna, and fortified milk, the majority of us don't get enough of this nutrient in our diets alone. Spending a little more time in the sun can top up your vitamin D levels nicely.
You should also know that soaking up some rays can brighten your mood. This is because sun exposure triggers a boost in serotonin (a feel good chemical). Research shows that those who spend more time in the sun have higher levels of serotonin. Since low serotonin levels play a significant role in depression, it may even help those suffering from mental illness.
So, whenever you're feeling blue, pop outside to maximize your serotonin levels!
How to Supplement
While we don't recommend neglecting vitamin D altogether, you can supplement your lack of it with vitamin C. Alongside taking vitamin D supplements and loading up on foods rich in the sunshine vitamin, experts recommend supplementing with vitamin C.
Vitamin C is an essential vitamin found in many fruits and vegetables, including oranges, strawberries, bell peppers, broccoli, and spinach.
As a powerful antioxidant, vitamin C can boost your immune system, protect cells from free radicals, and fight inflammation. According to research, vitamin C is shown to reduce your risk of chronic diseases, lower blood pressure, and improve heart health -- much like vitamin D.
In terms of what it can do for your skin, dermatologists say topical use of vitamin C can help fade fine lines, support sun protection from sunscreen, delete dryness, treat hyperpigmentation, and promote an even skin tone.
Fortunately, you'll find vitamin C in a slew of skincare products ranging from cleansers to moisturizers, exfoliators to SPF.
Skincare Products to Secure Your Summer Glow
Looking for the best vitamin C products to incorporate in your fall skincare routine? Here are Truly's top picks.
Vegan Collagen Facial Serum
Once you notice the signs of aging, start using a serum formulated with ingredients that restore skin's youth.
This Vegan Collagen Booster Facial Serum relies on the anti-aging powers of retinol, vegan collagen, and vitamin C to brighten, condition, and resurface skin.
Our serum helps strengthen the skin barrier, protect skin cells from sun damage, and promote collagen production to reduce fine lines, dark spots, and elasticity-loss. Use daily to gradually see an improvement in the appearance of your skin.
Anti-Cellulite Bundle
Delete dry skin, dimples, and dullness with our citrusy, cellulite-targeting body mask and serum duo. It's packed with a blend of multi-functional flavonoids and retinol to mobilize stored fats, fight inflammation, and manifest smoother, plumper skin.
Our Anti-Cellulite Bundle relies on resurfacing retinol and vitamin C-loaded bitter orange that works to neutralize free radicals, boost skin's natural regeneration process and aid in repairing damaged skin cells. It's also formulated with vitamin E, a deeply moisturizing ingredient that replaces dehydration with skin hydration. For best results, use daily.
Super Matcha Facial Cleanser
This aloe-based cleanser boosted with vitamin C and B12 is perfect for sensitive and acne-prone skin types. 
While matcha green tea clears breakouts, vitamin B12 soothes irritation, and vitamin C brightens and repairs for happy, healthy skin.
It's the perfect daily cleanser for sensitive skin types thanks to its natural blend of vitamins and botanicals. 
Starface Jelly Sleep Mask
Our Starface Jelly Sleep Mask is a two-in-one, overnight mask powered with AHAs, retinol, and vitamin C.
Glycolic acid is this mask's key exfoliating player, which helps remove the top layers of skin, stimulating new collagen growth and enhancing elastin. This makes it extremely effective for treating fine lines, acne, dullness, pigmentation, and uneven texture.  
Meanwhile, vitamin C lends its skin brightening superpowers.
Sunshine definitely spells a lot of good things for your complexion -- in small doses, that is. Since sunshine levels drop during the fall, it isn't long before your glow fades out. To prevent this from happening, load up on vitamin D supplements and vitamin C skincare to keep your skin glowing.
Combine your daily vitamin C serum with a broad-spectrum sun lotion to protect your skin from sunburn and damage even on dull days.  
Share
---