The Unusual Skincare Duo That Will Save Your Skin (And How to Layer Them)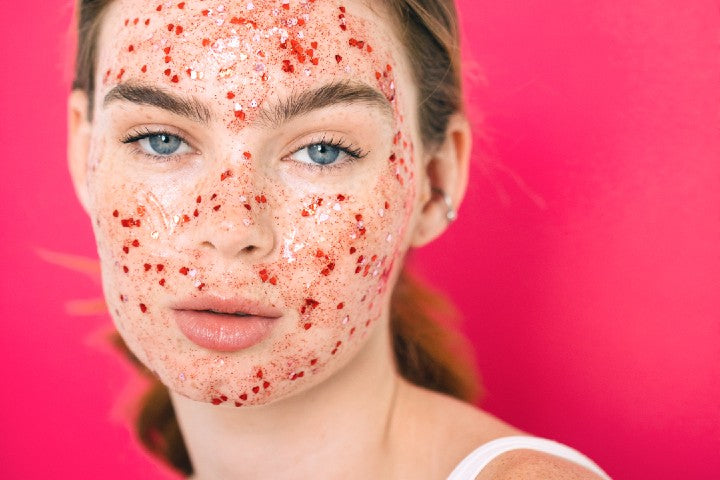 Like peanut butter and jelly, Mickey and Minnie, and Netflix and chill, some things just work better together.
Retinol and vitamin C are among the most powerful ingredients for your skin. Used simultaneously, this delightful duo can elevate your skincare routine.
Both are known for building collagen, lightening dark spots, and fighting wrinkles. When applied together, vitamin C and retinol are a dynamic duo that can offer endless anti-aging benefits. However, they do need to be applied properly in order to be effective.
Here's everything you need to know about using retinol and vitamin C together in your skincare routine.
RETINOL AND VITAMIN C, EXPLAINED
To begin, let's take a look at what each of these ingredients does separately.
While they both share a lot of similarities, they do have their differences.
"Vitamin C is an essential part of skin health. It's an antioxidant and a critical factor for collagen synthesis," explains Dr. Hadley King, a clinical instructor of dermatology at the Weill Medical College of Cornell University. "It also protects the skin from free radicals from sources like pollution."
With consistent and correct use, you'll see visible results like fading pigmentation and brighter skin.
Then there's retinol – a known anti-aging ingredient with a host of additional benefits, such as healing cystic acne and lightening dark spots.
"Retinols are vitamin A derivatives that are extremely effective at preventing and minimizing fine lines and wrinkles," says board-certified dermatologist Marnie Nussbaum.
She points out that retinols also "increase skin cell turnover and slough away dead skin cells," which results in "smoother, more even skin."
But what happens when you combine vitamin C with retinol?
HOW THEY WORK SIMULTANEOUSLY
Doctors once believed that the acidic pH needed for vitamin C absorption contributed to retinol degradation. Thus, it was not advised to use the two together. However, new studies show that combining retinol and vitamin C may actually stabilize it, extending its effectiveness.
When applied correctly together, these ingredients form a barrier that shields the skin from harmful environmental aggressors that cause skin aging and damage.
In some cases, layering the two directly after each other may cause issues like irritation and sensitivity. Especially if you have sensitive skin.
"I generally don't recommend layering these two products, but they work very well with alternating use," says Dr. Anna Guanche, M.D., FAAD., a board-certified dermatologist at the Bella Skin Institute.
Meanwhile, King also recommends alternating retinol and vitamin C between your morning and evening routines.
"At bedtime, I recommend applying a retinoid. Some retinoids are degraded by sunlight, so it is best to use them at night," she says.
However, if the two ingredients are combined in a formula, chances are it's less potent than using each one separately. Thus, always look for skincare products with both retinol and vitamin C in there.
BENEFITS OF RETINOL AND VITAMIN C COMBINED
Retinol and vitamin C are an amazing anti-aging duo.
While retinol stimulates collagen production – the protein responsible for giving skin its firmness and suppleness, vitamin C provides the glue that holds cells together when collagen is produced. 
When merged, retinol and vitamin C support collagen production to deliver youthful, radiant skin with minimal fine lines, wrinkles, pigmentation and blemishes.
"Vitamins A and C work incredibly well together," skincare biochemist Nausheen Qureshi explains. "Whilst vitamin A regenerates and keeps the cells alive, vitamin C protects them from free radical damage and brightens the surface of the skin. So not only do you get a better texture and more voluminous facial tissue, but you also get bright and radiant-looking skin. They are a great tag team."
Here are just a few of their benefits:
Tighter skin
Brighter skin
Even skin tone
Less acne and acne scars
Fewer dark spots
Less sagging
Consider Retinol pH
If you're going to maximize the effects of these ingredients, you must be aware of pH.
Retinol has a pH between 5.0 and 6.0, while vitamin C (L-ascorbic acid) needs to be at pH 3.5 or lower in order to penetrate the skin.
Thanks to new technologies and formulations, their pH gap isn't a problem.
"So much of it depends on the formulation. Retinol converts to its active all-trans retinoic acid form once it has already penetrated the skin, and therefore the pH is more physiologic when the reaction takes place," says dermatologist Dr. Jeanette Graf, M.D. "In today's formulations with newer delivery systems, which make for more efficient products without the need to irritate the outer layer, I would say they can both be used."
OUR FAVE PRODUCTS WITH VITAMIN C AND RETINOL TO TRY
Now you know how effective retinol used with vitamin C is, it's time to do some skincare shopping!
Dew You Love Me Jelly Face Mask
Loaded with retinol, vitamin C, and a ton of antioxidants, this resurfacing face mask speeds cell turnover and boosts collagen production for brighter, younger-looking skin.
Apply a thick layer on freshly cleansed skin. Leave it on for 10 minutes before rinsing with cool water. For a cool treatment, refrigerate the mask before using.
Vegan Collagen Skincare Bundle
It's the ultimate anti-aging skincare bundle for a brighter, fresher, tighter complexion. Inside you'll find a vegan collagen facial cleanser, face serum, face mask, and body cream, all formulated with retinol and vitamin C for improved texture and suppleness.
All products can be used twice daily, morning and night, for best results.
Anti-Cellulite Serum
This powerful toning moisturizer conceals the appearance of dimpled skin thanks to its blend of retinol, bitter orange (high in vitamin C), and vegan collagen.
Apply to affected areas (bum, thighs, belly etc.).
Clearly, there are a number of benefits to using retinol and vitamin C together. Once deemed a terrible idea, combining these powerful anti-aging ingredients is now considered a genius idea by dermatologists. Together, these two age-reversing powerhouses can brighten, tighten, hydrate, and plump your skin.
Share
---