Top 5 Mothers Day Gifts Your Mom Will Actually Use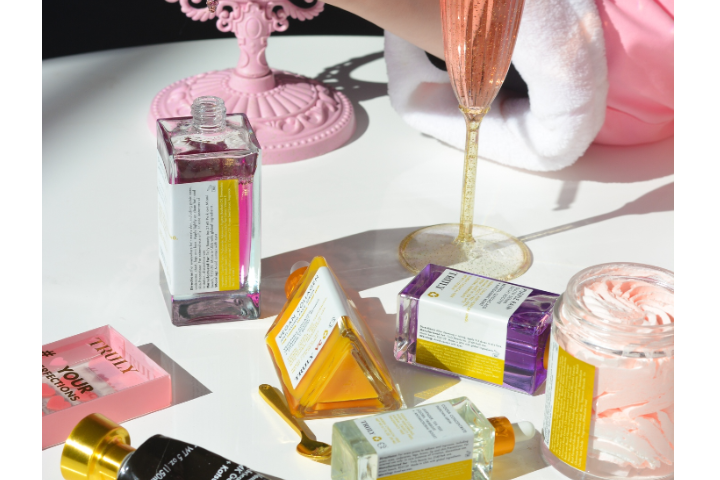 Looking for the perfect gift for mom? We've got you!
Over the years, we've realized that often the best Mother's Day gifts are the ones with a lot of thought and love. Instead of getting her flowers and chocolates just because it's traditional, focus on getting her a gift she'll use for many months or years to come.
Lucky for you, we've found some great gift ideas so you can give mom a Truly wonderful Mother's Day. Scroll down for the best Mother's Day gift ideas 2022 that your mom — or mother-in-law — will adore.
Truly's Luxury Pink Bathrobe
Comfy, luxe, and utterly plush, mom can do her self-care routine in style with this machine-washable pink bathrobe. Featuring a hood and pockets, and embroidered with an emerald Truly logo, this is a gift she'll use for many years to come. It's one of the best gifts you can buy if you're looking for something that'll last a lifetime — or at least, far longer than a bouquet.
It's a universal one size robe measuring 53.9 inches wide (fully opened up), 51.2 inches tall (excluding the hood), 20.9 inches arm length, and 6.7 in arm opening. Just in case you need the specifics.
Truly's Bonne Nuit Beaute Satin Sleep Set
Mom works so hard, she deserves a restful night's beauty sleep. Upgrade her sleep with this heavenly soft and luxurious Satin Sleep Set featuring a pillowcase, scrunchie, eye mask, and headband all made in soft, satin pink. Besides making sleep extra indulgent, research shows that sleeping on satin helps in preventing the formation of fine lines and wrinkles, as well as taming frizz. You'll be her favorite child with this thoughtful gift! No but seriously, she'll appreciate the effort, and certainly put it to good use!
Once again, this is a gift that'll bring her happiness and comfort for many years. And mom deserves that, right?
Truly's VIP Gift Set
A limited edition gift box featuring 11 full-sized Truly bestsellers + two gold spoons & a FREEBIE. Mom'll love this XXL bestseller bundle that's packed with skincare essentials that can be transformed into multiple routines to treat everything from fine lines and wrinkles to stretch marks, ingrown hairs, and chapped lips. Perfect for minimalists and maximalists!
As much as she'd love a handmade Etsy bracelet, colorful leggings, or a cute tote, we know she'll ADORE this luxurious gift set.
After a long day, she can indulge in a little well-deserved pampering with these firming serums, brightening scrubs, and hydrating moisturizers.
Ultimate Coco Cloud Shave Set
Help mom achieve a dreamy smooth shave with this 4-step shaving kit featuring a shave cream, serum, moisturizer, razor + fuzzy blue bag. Made with nourishing ingredients like coconut milk, shea butter, argan oil, and vitamin E, this gift box guarantees the smoothest, closest shave without shaving nasties such as ingrown hairs and razor bumps.
Shaving is one of those beauty tasks that can often be a little tedious. This kit transforms the shaving experience, making it a self-care moment she'll thoroughly enjoy. You could even go one step further and make an even larger gift basket from this set by adding in a diffuser and essential oils for a truly tranquil shaving session.
Moms, mother-in-laws, and new moms will LOVE!
Truly

Gift Card
So you've of everything from gadgets to Dutch ovens, hairdryers to air fryers...but you can't seem to find something that'll truly light up her day. The problem with very practical gifts like cardigans, cutting boards, re-usable water bottles, stainless steel goods, and Bluetooth gadgets is that they don't give off those "I love you, and appreciate you so much" vibes. Sure, you'll see them featured in a ton of gift guides, but if you want to get something mom loves, pick a gift that prioritizes her wellness. Something to add extra love to every day.
If you haven't found anything on this list yet, consider getting her a Truly Gift Card. It's the perfect way to say "I love you." With this gift card, she can enjoy a shopping splurge and pick anything her heart desires. And send a special message...
Or, Treat Mom to a Subscription Box
If you really want to get mom something that lasts eternally, subscribe to her favorite Truly bundle — and we'll deliver it straight to her door every month, two months, or three months. You choose! It's the best buy for mom's who deserve the world!
Besides the convenience of getting her beauty essentials delivered straight to her, you'll save 10% on every order when you subscribe. Because big hearts deserve big savings!
To subscribe, head over to your desired bundle and click "Subscribe and save 10%." From there, you can select your desired frequency, and we'll send you reminders a few days prior to delivery.
OTHER CUTE WAYS TO EXPRESS YOUR LOVE
Now that you've found the perfect Mother's Day present, don't stop there. You can also show mom just how much she means to you by baking her a homemade apple pie, treating her to brunch, or creating a DIY card. Or spend the day whipping up her fave meals (i.e. French toast for breakfast and casserole for dinner). Does mom love gardening? Offer to lend your green thumb this Sunday so you can enjoy her hobby together.
You don't need to splurge on an iPhone or lavish birthstone necklace to show mom how much you adore her. And you also don't need to stay traditional with flowers and chocolates. This Mother's Day, get mom a gift she'll treasure for months or years to come. Because she deserves it, beauty babes!
Truly products are available for purchase on our website. You'll also find them sold by other retailers, including Amazon, Sephora, Ulta, Target, and Walmart.
Share
---