We Got the HOTS for Truly's Defrost Summer Bod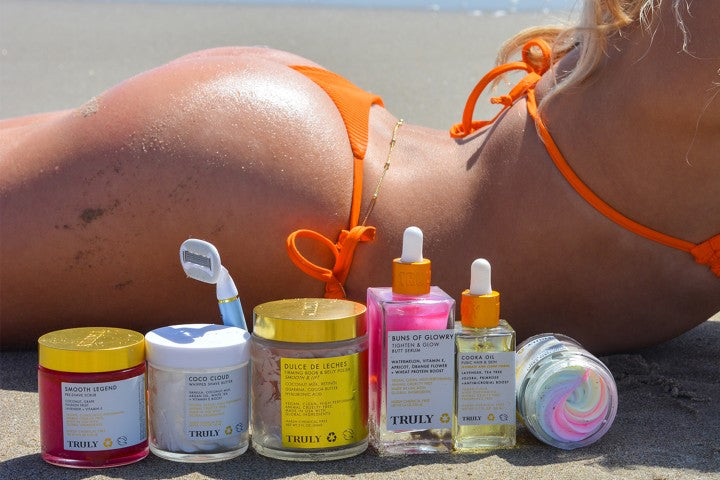 Summer is on its way, beauty babes!
To help you get your body extra smooth, soft, and glowing for the sunny season ahead, we've created a kit featuring a line-up of summer skincare staples so you can make your beach body debut — beaming!
Besides upping your bod's glow, this skincare kit battles summer nasties like body blemishes, ingrown hairs, and hyperpigmentation.
Here's everything you need to know about Truly's HOT new bundle.
INTRODUCING OUR JUST DROPPED: DEFROST SUMMER BOD
In a Nutshell
A multi-step skincare routine to brighten, tighten, shave, and smooth + eliminate breakouts, ingrowns, razor burn, and discoloration. Complete with a FREE vegan leather mint-hued skincare pouch!
Like all Truly products, all skincare products featured in this bundle are vegan, cruelty-free, and made with only the cleanest, most high-performing ingredients.
SHOP NOW
WHAT'S INSIDE?
Here's what you'll find in our Defrost Summer Bod Bundle:
#1: Smooth Legend Pre-Shave Scrub
An invigorating, grape-scented body exfoliator to buff away dead skin cells and pore-clogging products to keep skin smooth, bright, and prepped for maximum active ingredient retention — and secure the closest, smoothest shave.
Exfoliation should be the first step in your shaving routine to prevent your razor from getting clogged with dead skin and hair. It also offers instant skin brightening effects to deliver head to toe glow.
#2: Coco Cloud Whipped Shaving Butter
A luxuriously rich and buttery shaving cream that you can lather on your prickly areas for the smoothest, dreamiest shave sans irritation and ingrowns. A Truly bestseller, Coco Cloud softens coarse hair and skin, providing seamless slip for your razor.
Shave cream is an essential for achieving an ultra-close shave. It provides a barrier between your skin and razor, preventing bumps, burns, and ingrown hairs. Plus, it hydrates skin to avoid that post-shave dryness so commonly experienced with dry shaves.
#3: Truly Blue Razor
A 4-bladed razor featuring a flex grip handle and gel bars infused with aloe vera and shea butter for a smooth and effortless razor glide — and zero ingrowns or razor burn.
A quality razor makes all the difference to the outcome of your shave. Truly Blue is suitable for all skin types, especially sensitive skin.
#4: Dulce De Leches Boob and Belly Tightening Polish
Tone your tum, tighten your tatas with this uber-firming boob and belly polish. This caramel-scented scrub sweeps away dead skin and dirt while injecting skin with powerhouse skin tighteners to soften stretch marks, blur out fine lines and wrinkles, diminish dark spots, and leave skin feeling smooth and supple.
Truly is the leader in boob sculpting skincare formulations, and Dulce de Leches is the newest addition to the firming fam.
#5: Buns of Glowry Butt Serum
A silky, antioxidant-rich serum developed especially for your butt, it tackles everything from stretch marks to cellulite and sagging skin. And it can even clear buttne.
Moisturizing, firming, and clearing, this butt serum is your post-shower buddie for a bikini-ready booty. Just remember to layer over sunscreen to keep that peach protected from damaging UV rays!
#6: Cooka Oil
A super soothing pubic hair and skin serum to spot treat freshly shaved skin, soften coarse hairs, and swerve shaving nasties like ingrowns, dryness, and razor burn. This nourishing formula can be applied anywhere hair meets skin for speedy post-shave irritation relief.
Pubic oils are pretty new, but they can be invaluable for securing a smooth, irritation-free kitty. Keeping things bushy? This fab formula will instantly soften hair and make things extra glowier down there.
#7: Unicorn Fruit Whipped Body Butter
The cult-favorite multicolored swirl to moisturize your entire body at the end of your routine to plump, soothe, seal in active ingredients, and leave skin smelling extra sweet and fruity.
This buttery body lotion deeply conditions skin, bolstering skin barrier function to keep skin smooth, firm, and protected.
PLUS: FREEBIE 
#8: Vegan Leather Skincare Pouch
A cute, easy-to-clean skincare bag for storing all your summer skincare staples in style — in summery fresh mint. Use it for travel, overnight stays, or keeping your skincare essentials all in one place.
SUPERCHARGED INGREDIENTS
The effects of these beauty products would not be possible without a few high-performing actives, such as:
Retinol
An anti-aging powerhouse, retinol is able to increase collagen production, boost elasticity, and speed cell turnover. Research shows its effectiveness in reducing fine lines and wrinkles, improving skin tone and texture, minimizing stretch marks and cellulite, and banishing breakouts, all while firming up sagging skin.
Coconut Milk
Amino-rich coconut milk boasts antimicrobial and anti-inflammatory properties to enhance your skin's moisture, soothe irritation, and prevent the formation of ingrowns. It's also high in antioxidants and vitamin C, helping to support skin barrier function and ward off free radicals.
 Hyaluronic Acid
A powerhouse hydrator to tackle dry skin, plump out creases, and deliver smooth, supple, glowing skin. You'll find HA in everything from facial cleansers to eye creams, face masks to serums and toners. It's the No #1 skin hydrator guaranteed to make skin look and feel exceptionally smoother and softer.
Wheat Protein
Ceramide-packed wheat protein attracts and retains moisture to plump out lines and dimples. It's particularly effective for treating cellulite and stretch marks.
Lavender 
Loaded with anti-inflammatory, anti-fungal, and antimicrobial benefits, lavender helps to combat shave-related irritation, infections, and blemishes, while shielding skin from free radicals. 
Other key ingredients in this skincare kit include vitamin E, argan oil, guarana, apricot, vegan collagen, and rose, to name a few.
How to Use it
To get the most out of this skincare kit, begin using it as soon as possible so you can achieve a radiant summer glow as soon as June comes around.
We also recommend always following up with SPF, a protective lip balm, and limiting sun tanning sessions to keep protected from UV rays and pollution, which can quickly dim your summer glow.
It's the perfect way to practice self-care while prepping your body ready for the beach season.
Consult your dermatologist if you have a skin condition and it's your first time using these products to prevent any unwanted side effects. This kit is suitable for all skin types, ranging from dry to combo to oily skin. However, it's worth being on the safe side if you have any concerns.
Share
---