What Products to Avoid Using Pre-UV Rays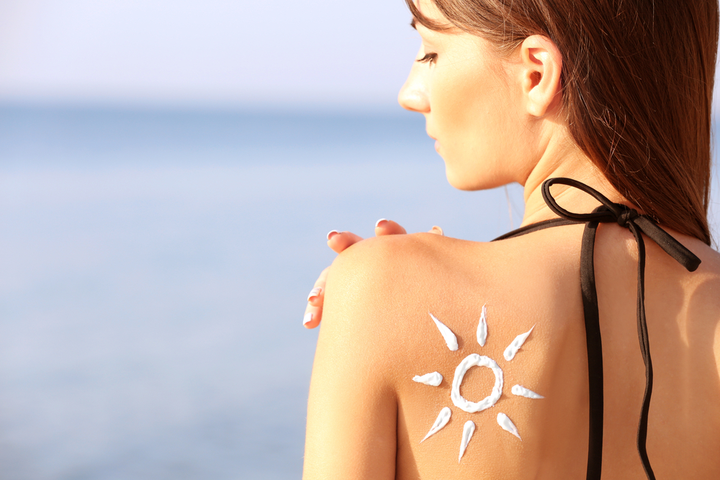 We all love to lather up with sunscreen and go out on a sunny day, but some beauty products can increase your chances of getting sun sensitivity. Tons of face washes, soaps and scrubs contain ingredients that are bad for the skin if exposed to sunlight! And these skincare products may be one of the top reasons why your skin burns after a short time in the sun.
We recommend you check out the list of skincare ingredients below to see if they are in your favorite beauty products. We'll also show you which ingredients can boost UV protection.
WHAT SKINCARE INGREDIENTS TO AVOID BEFORE SUN EXPOSURE
Active ingredients may not be the best choice before going out in the sun.
Here's a list of common culprits: Retinol, Vitamin C, Salicylic Acid, and Glycolic Acid.
To be on the safe side, we suggest avoiding these and other ingredients that can increase your chances of getting sun sensitivity during peak hours from noon until three in the afternoon.
Retinol
Do not use retinol in the daytime.
Retinol is a type of vitamin A that can cause sun sensitivity. It's important to be careful with retinols in the daytime and not use them at all during peak hours from noon until three in the afternoon when they are most likely to irritate your skin.
"Retinol makes your skin more sensitive to UV rays and sunlight decreases the efficacy of the product," says New York City dermatologist Whitney Bowe, MD.
Vitamin C 
Stay away from products containing vitamin C, as this skincare antioxidant may also react poorly when exposed to sunlight. Use these types of products after sunset or before sunrise instead so you don't have any irritation on your face! This will help prevent early signs of aging too.
Saying that, in small doses vitamin C can actually offer protective abilities from the sun.
Salicylic Acid
Salicylic acid is a type of ingredient that can cause sun sensitivity. To avoid this, you'll have to apply your product at night or before sunrise so that it doesn't react with the UV rays in daylight. It's important to use sunscreen and other products containing SPF 30 or higher in order to protect your skin from damage due to UV rays.
When using skincare products formulated with salicylic acid, you should take the time to follow the appropriate sun protection methods as this beta hydroxy acid can make the skin more prone to burning when exposed to sunlight.
Glycolic Acid
The sun can also cause skin sensitivity when you use products with glycolic acid. If not applied at night or before sunrise, the product will react to UV rays from daylight and it could irritate your skin.
Like all alpha hydroxy acids, glycolic acid makes your skin more susceptible to burning when you wear it outdoors on a sunny day. Stick to use it in the evenings instead to avoid nasty sunburn.
WHAT SKINCARE INGREDIENTS BOOST SUN PROTECTION?
Shea Butter 
In addition to providing elasticity and hydration to dry skin, shea butter improves the efficacy of UVB filters. Studies have shown that it can boost SPF as much as 20-30%.
Smother your skin in Truly's Unicorn Fruit Whipped Body Butter to keep your skin healthy, hydrated, and protected.
Mango Butter 
The natural vitamins A, C and E found in mango butter make this a very powerful antioxidant. Mango butter also offers sun protection due to the high antioxidants present in its composition. Studies suggest that a person applying topical sunscreen with 15% of these butters will achieve about 38% higher UVB protection than without them!
Both shea butter and mango butter are naturally moisturizing so they provide excellent hydration for dry skin; when used topically on your face, body or hands they act like an invisible shield against harsh weather conditions such as extreme heat or cold temperatures - plus you get added sun protection!
Relieve dry skin and offer it added protection by slathering it in Truly's Mango-Formulated Pineapple Skin Salve.
Blueberries 
Blueberries protect the skin from blue light and UV rays. Studies show that blueberry extract is the ultimate protector from skin cancer. This fruit strengthens collagen and elastin, giving you a youthful glow to your face.
Blueberries are rich in vitamins A, C and E as well as zinc which can help with light sensitivity due to overexposure of sunlight. These berries also promote regeneration of new cells for vibrant looking skin!
There are tons of benefits from eating healthy foods such as blueberries; be sure to incorporate them into your diet on a regular basis! And look for them in your skincare products.
The antioxidants found in blueberries protect against cancers, boost collagen production, regenerate new cells resulting in more youthful looking skin and provide protection from UV rays and blue light - so eat and apply these fruits often!
Try Truly's Blueberry Kush Bundle to reap the benefits of this powerhouse berry.
Aloe Vera 
Besides soothing the skin, aloe vera applied 24 hours before sun exposure can boost the skin's immune system.
Aloe vera also has been shown to decrease inflammation of the skin, making it less sensitive to certain irritants.
The aloe plant is a natural sunburn remedy that can be applied as a topical treatment for minor burns and blisters from overexposure to sunlight. It's best used in conjunction with chamomile lotion.
Aloe vera can also be consumed as a beverage for internal healing and sunburn relief - but beware, it tastes terrible! There are many different natural remedies that help protect your skin from the damaging rays of the sun. To enjoy the sun-protecting and healing benefits of aloe vera, give Truly's Super Matcha Facial Cleanser a try.
So if you want to keep your skin free from burns and irritation in the sun, steer clear of the above ingredients and wear them only at night.
In the meantime, always wear sunscreen outside. Your sunscreen should contain an SPF 30 or higher for optimal protection against UV rays—even if cloudy skies pose no risk for burning, skin damage still occurs with sunlight exposure!
Share
---