Why Pineapple Haze Means No Meh Skin Days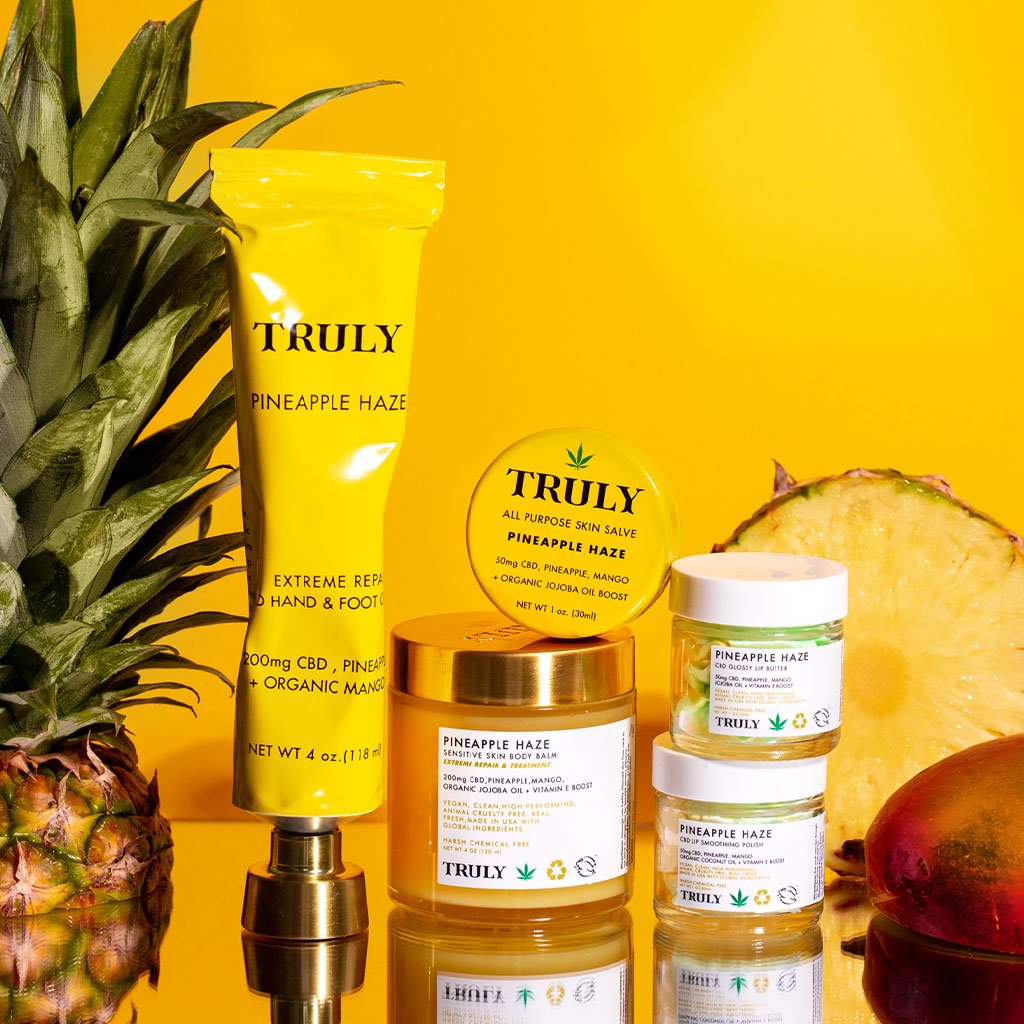 Meh skin is fixable.
Thanks to the overachiever of an ingredient that is pineapple, you can replace dull and depressed skin with a bright, smooth, and glowing complexion. You know, the kind you see on practically ever Instagram selfie – only, without the filters.
Believe it or not, the humble pineapple offers quite an arsenal of skincare benefits.
According to dermatologist, Dr. Stefanie Williams, "Pineapple extracts contain bromelain, a mix of enzymes, and are used in skincare as bromelain helps to gently exfoliate the skin. Bromelain also has anti-inflammatory and antimicrobial benefits."
The fruit is also rich in vitamins C and E – the ultimate skin-brightening vitamins that even out skin tone and protect skin from pollution damage during the day.
Being the natural anti-inflammatory that it is, pineapple also helps to reduce redness, itching, and swelling. It can even ease eczema.
Truly's Pineapple Haze Skincare Collection
Already sold on pineapple's plethora of skin-beautifying benefits?
Then you'll just love Truly's Pineapple Haze range. Scroll down to see our five pineapple-enriched skincare products specifically targeted at dry and distressed skin.
Pineapple Haze Sensitive Skin Body Balm
Struggling to find a body balm that moisturizes without overpowering your skin?
Pineapple Haze repairing body balm provides instant relief and long-term hydration for dry, itchy, and sensitive skin. Formulated with 200mg of CBD – a notable anti-inflammatory and natural healer – this head-to-toe plant-based moisturizer is perfect for daily use to keep your skin looking hydrated and healthy.
Pineapple Haze All Purpose Skin Salve
For those particularly dry areas on your body, swipe a thin layer of Pineapple Haze Skin Salve over affected areas to soothe and heal. You can also use it to treat muscle aches after a long day hunched over your laptop.
Enriched with CBD, a natural pain-reliever, you'll notice a reduction in pain and swelling with regular use of this vegan skin salve.
Pineapple Haze CBD Lip Smoothing Polish
To keep your pout looking healthy and kissable, apply Pineapple Haze Smoothing Polish throughout the day.
Especially in cooler temperatures, the skin on your lips is prone to dryness and flaking.
Truly's vegan lip formula is packed with pineapple, CBD, mango, jojoba oil, and vitamin E, to hydrate, smooth, and plump up your pout.
Pineapple Haze CBD Glossy Lip Butter
For a beautiful glossy finish, try Pineapple Haze Lip Butter.
It's exactly what your lips need to look the part. Whether you wear it alone or under lipstick, this lip butter will rejuvenate, heal, and nourish while simultaneously making your pout look sensational.
Pineapple Haze Extreme Repair CBD Hand and Foot Cream
Restore your skin's moisture levels with Pineapple Haze CBD hand and foot cream.
According to the American Academy of Dermatology, topical use of CBD products can ease everything from acne to eczema to psoriasis.
So, if you have severely dry hands of feet, this CBD-infused two-in-one can help soothe dryness, cracking, and any form of inflammation that may be present.
As for its hydrating effects – you can thank jojoba oil and vitamin E for that! This stuff is packed with it!
Share
---