Youthful Skin Comes with Beetroot Extract. That's a Fact.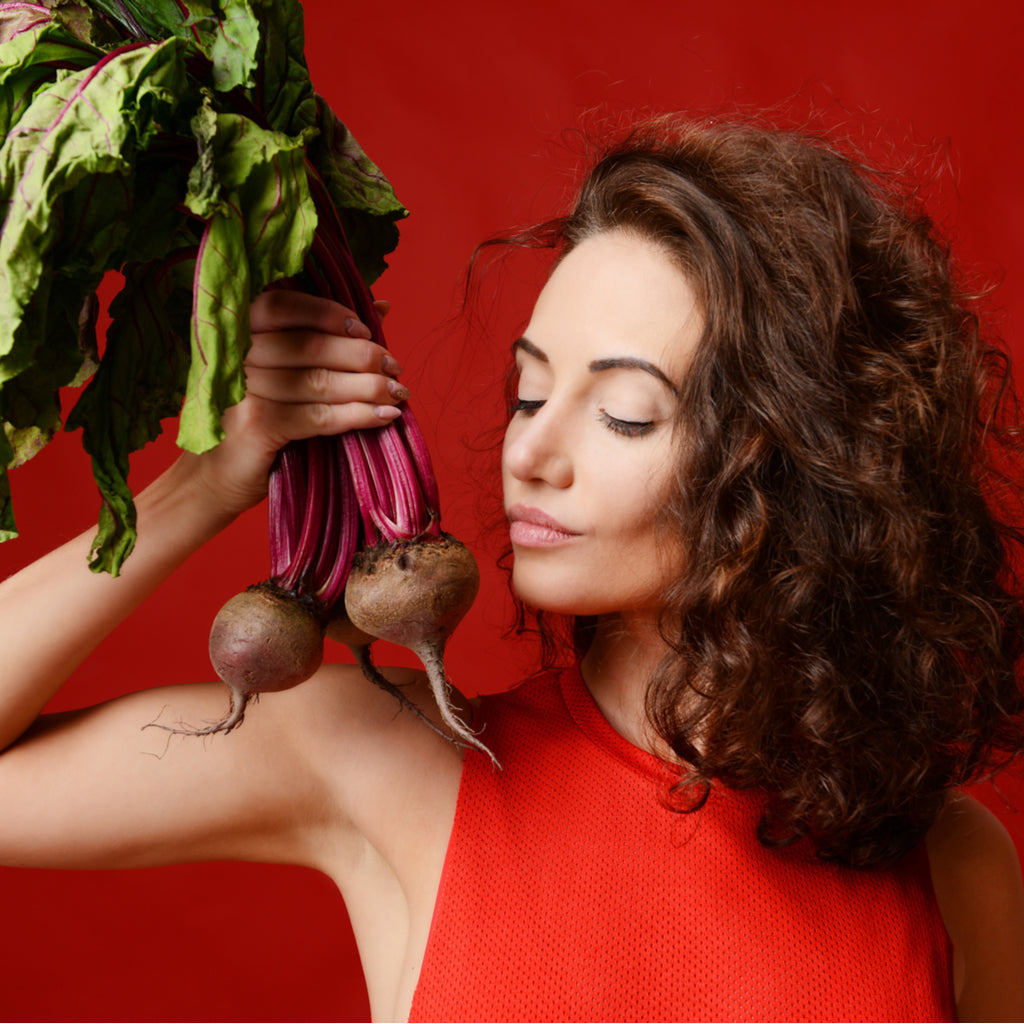 Beets boast a plethora of health benefits. As a powerhouse of vitamin C, fiber, potassium, folate, nitric oxide, and iron, beetroot doesn't just purify the blood, but it also stimulates blood flow. As a result, it can help lower blood pressure, prevent heart disease, and even improve exercise performance.
Besides having numerous health care benefits, beetroot extract can provide a lot of beauty benefits as well. It's an excellent wellness formula for fighting against bacteria, replenishing dead skin cells, and fighting free radicals in the body. Thanks to its anti-inflammatory properties, beetroot is also a skincare superfood for chronic skin conditions like acne and eczema.
So, let's dig deeper into the humble red beetroot and its profile for easing skin concerns.
WHAT IS BEETROOT EXTRACT?
Beets (Beta vulgaris) are a popular root vegetable that possess numerous properties that support good health. According to The Ohio State University, beetroot is rich in minerals and vitamins that help promote a healthy body and healthy skin.
Beetroot extract, like beetroot juice, is derived from beets and used directly to treat everything from high blood pressure to heart disease. Its beneficial properties for the skin include anti-aging, skin brightening, and anti-inflammatory among other things.
While beet juice is effective in treating health problems and some skin issues, beetroot extract is more powerful in its skin-transforming abilities. 
Whether you take beetroot supplements or apply beet root powder extract topically, both ways offer positive effects. In this article, we're going to focus more on the topical use of fresh beetroot extract. 
BENEFITS OF BEETROOT
 

FOR SKIN

 

Wrinkle-Free Skin

Rich in vitamin C, beetroot powder extract can protect the skin from signs of aging, such as fine lines and wrinkles. Researchers at the Oregon State University found that both topical and dietary supplement use of vitamin C have beneficial effects on skin cells. That's because this vitamin is found in both the epidermis and the dermis (the outer and under layers of your skin).

What's more, beetroot extract contains nitric oxide, betanin, and betalains, three antioxidant powerhouses that slow down the aging process.

To sum up, beetroot juice extract can maintain a youthful complexion, while preventing future signs of skin aging. 

 

Hyperpigmentation Fading

Hyperpigmentation is characterized by small blood vessel dilatation or absence of pigment. Most of the time, the condition is caused by prolonged sun exposure. Owing to its nitrate content and slew of vitamins, beetroot extract can be used in treating hyperpigmentation. 

This means beetroot can help in lightening pesky dark circles. Take 1 teaspoon of beetroot extract and add in a few drops of almond oil to it. Massage it gently under your eyes and let it sit for 15 minutes before rinsing off with cool water. 

 

No More Acne

Because of vitamin C's anti-inflammatory properties, beet root extract is an excellent treatment for acne. As per a 2018 study, beet root extract is most powerful for treating acne when it is used alongside other ingredients such as zinc, magnesium stearate, and antibiotics. 

If you have severe acne, you may benefit both from topical application and oral use of garden beet extract. Speak to a healthcare professional before taking beetroot juice supplementation to ensure it is right for you. 

 

A Glowing Complexion

Both the normal beet and the sugar beet are effective in providing skin brightening effects. This is mainly down to the extract's betalain pigments and vitamin C content. 

You can either purchase the beet extract within a product or alone. Either way, it can be applied directly for instant brightening effects. Best of all, it doesn't contain any preservatives and it's gluten-free, so you don't need to worry about it initiating irritation. 

 

Soft and Smooth Skin

If you have a skin medical condition like eczema, beetroot extract may be able to help in lessening your symptoms. Customer ratings of this extract show that it is very effective in easing dryness and soothing eczema.

 
IS BEET ROOT EXTRACT SAFE TO USE?
Fortunately, there are no side effects of beetroot extract. Approved by the Food and Drug Administration, it is a safe ingredient that rarely yields adverse effects. 
If you plan on taking beet root supplementation, we recommend running it past your healthcare provider first. It is always important to get medical advice prior to using a new supplement - especially if you have allergies. 
For best results, choose non-gmo beetroot extract. 
THE BOTTOM LINE ON BEET ROOT EXTRACT ...
Overall, beetroot extract is a safe and effective skincare ingredient that can promote youthful, hydrated, and glowing skin. You can use it either topically or orally to receive its benefits. What's more, beets are known for improving blood pressure levels and athletic performance. Therefore, you can expect some impressive results with regular use of beet extract. 
In the United States, it is becoming an increasingly popular ingredient both in skincare products and oral supplements.
RECOMMENDED BEET ROOT EXTRACT SKINCARE PRODUCT
Purple Rain Glow Serum
A potent, skin resurfacing facial booster that targets visible signs of aging and promotes a smoother, clearer complexion. Truly's Purple Rain Glow Serum was made for you.
Packed with retinol, glycolic acid, and beetroot extract, this fast acting vegan facial serum smooths the look of wrinkles while delivering a gorgeous, glowing complexion. No greasy residue included!
By gently removing the outer layer of dead skin cells from your complexion, this medicated oil treats scarring, signs of aging, and discoloration. And, in spite of glycolic acid's drying effects, Purple Rain has rosehip oil and marula oil to nourish the skin and replenish lost moisture.
It's the kind of serum that fixes all your skincare nightmares. 
How to Use:
Apply two to five drops of Truly's Purple Rain Serum to cleansed and toned skin. Massage into skin and let it absorb for one to three minutes before applying moisturizer. For best results, use daily, both day and night. If you wear it during the day, remember to follow up with a high SPF sunscreen, too! 
Get your Purple Rain Serum today for only $35!
Share
---