5 Magical Mud Mask Benefits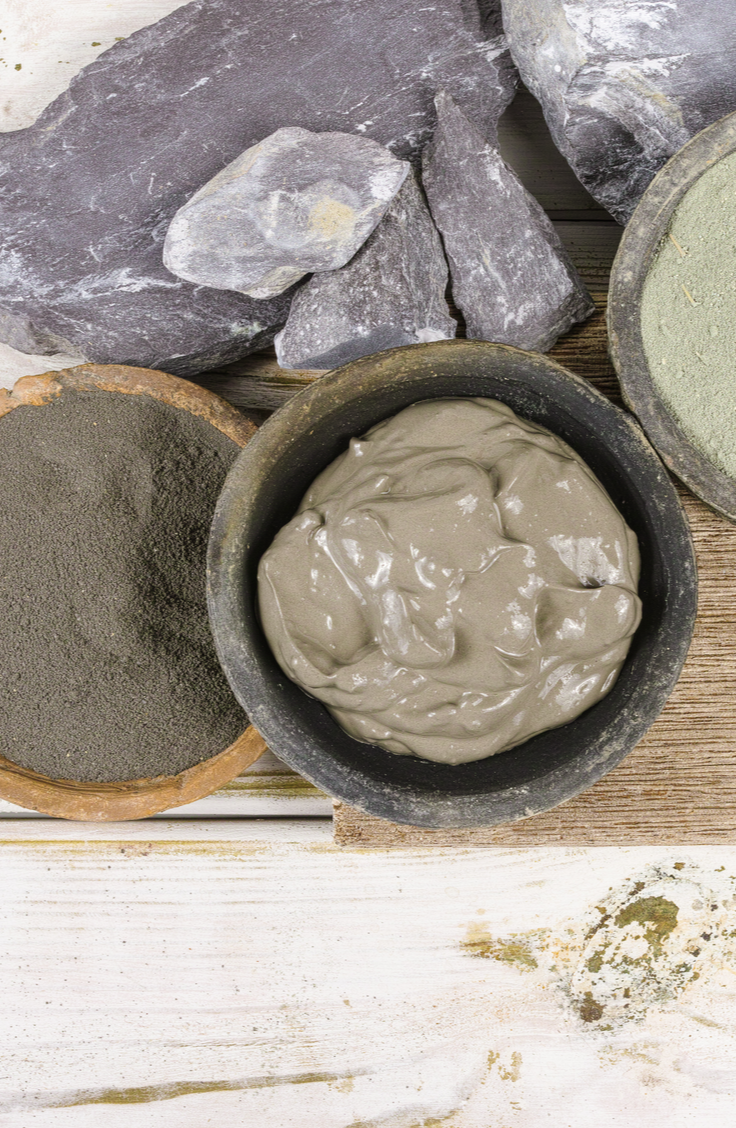 Mud masks may be messy, but they're definitely worth getting in a mess for. Cleansing, purifying and moisturizing, making mud masks part of your skin care routine can transform your complexion. From banishing blemishes to reducing fine lines, a good old mud mask can work wonders for all skin types and leave your skin feeling great. 
There's nothing more enjoyable and relaxing on a Sunday afternoon than slipping into your silk bathrobe and slathering on a nice face mask. Admittedly, mud masks look a lot less appealing than your ordinary peaches and cream masks. But the detoxifying effects they have on your skin make them much more attractive in terms of their results. 
Let's take a look at how the mud facial mask may help you.
WHAT'S THE DIFFERENCE BETWEEN A CLAY MASK AND A MUD MASK?
A lot of people get mixed up between mud masks, clay masks, and even charcoal masks. Each one, however, is very different. Mud masks often contain minerals from the dead sea and are known for purifying, exfoliating and hydrating the skin, as well as improving blood circulation. Clay masks, on the other hand, are made with different types of clay such as kaolin and bentonite. And unlike mud which is a skin-healing agent, clay is a drying skin agent. That means clay may be better as a spot treatment, whereas mud may be better for someone with dry skin. 
Still, that doesn't mean mud can't tackle blemishes and breakouts. It certainly can. The only difference is that it's more hydrating than the clay. In some ways, this is actually better because too harsh drying effects can skyrocket oil production and lead to more pesky pimples emerging on your face. 
WHY USE A MUD MASK?
For breakouts
Mud masks are great for eliminating toxins, oils, and dirt from the skin. So, if you have acne prone skin, you should definitely try using a purifying mud mask. They'll clean your skin of oiliness by absorbing all that excess oil - a culprit for breakouts - and detoxifying your pores so you can prevent future blemishes. Those with oily skin will greatly benefit from this type of face mask, as it helps balance oils and prevents the pores from getting clogged. 
For best results, try using a dead sea mud facial mask twice a week. It's a fantastic natural cleanser that isn't too drying, so it won't encourage oil production. Using a dead sea mud mask regularly can also help clear blackheads. Follow up with a toner and light moisturizer after every use.
For fine lines and wrinkles
The mud mask is a natural exfoliator that sloughs away dead skin cells and provides the skin with essential minerals such as sodium, potassium, calcium and magnesium. This results in smooth, youthful skin. Mud masks are commonly used in anti-aging treatments because they work well in reducing the appearance of wrinkles as well as improving the skin's elasticity. Combined with their hydrating properties, these face masks help rejuvenate and renew the skin. 
Of course, to attain noticeable results you will need to apply this face mask at least twice a week to get the most benefits from it. With regular use, you will notice those fine lines and wrinkles fading away. Always remember to apply a rich moisturizer after every face masking session. 
For dry skin
As great as shea butter and jojoba oil work in relieving dry skin, to maximise the results, try incorporating a mud mask into your skin care routine every now and then. Mud masks are packed with minerals, salts and nutrients that hydrate the skin and leave it looking soft and healthy. If you suffer from eczema or dermatitis, moor mud can work most effectively as a mask thanks to its low clay content. It can also reduce inflammation and offer healing properties for the skin. 
For best results, apply the mask to damp skin, massage it into the skin for ultimate exfoliation, and leave it to sit for 10 minutes. Wash off with warm water and follow up with a moisturizer infused with hyaluronic acid. Regular moisturization is key in keeping dry skin away. 
For dullness
Forget microbeads. They're the planet's worst nightmare. Opt for a good old dead sea mud mask instead. They actually work better because they moisturize at the same time as they exfoliate the skin. And because they dissolve your dead skin cells, dirt and oiliness, they remove all toxins from the skin and leave you with a beautiful glow. By stimulating blood circulation and accelerating the production of antioxidants, this mud masque will detoxify the skin and leave your skin completely refreshed. No more dullness! 
For roughness
Even if you have sensitive skin, mud masks exfoliate the skin in the gentlest way possible. Unlike microbeads which can often be way too harsh for this skin type, a dead sea mud mask can cleanse your skin without irritating it and leave it looking and feeling soft and radiant. Avoid going too close to the eye area as this may be too heavy for that part of your skin. 
To keep your skin feeling soft and silky, try to use a mask 2 or 3 times per week. And always use a rich moisturizer afterwards. You can also find mud products infused with aloe vera which is also highly beneficial for softening and nourishing the skin. 
Next time you set yourself a home spa day, make mud masks part of the mix. Sure, it may be a little messy and not as pretty to look at on your complexion than others you've used, but you seriously won't care once you see what they can do for your skin. Choose a mud mask that is vegan and paraben-free. Also try to choose the most natural product you can find without a slew of chemicals filling up the back side of the face pack. There are so many products claiming to offer mud benefits, but where exactly is the mud? By the time they've filled it with all those preservatives, there really isn't much mud left. Here's a word of advice: the more natural, the better.
Share
---