What You'll Find in Truly's Labor Day MYSTERY BAGS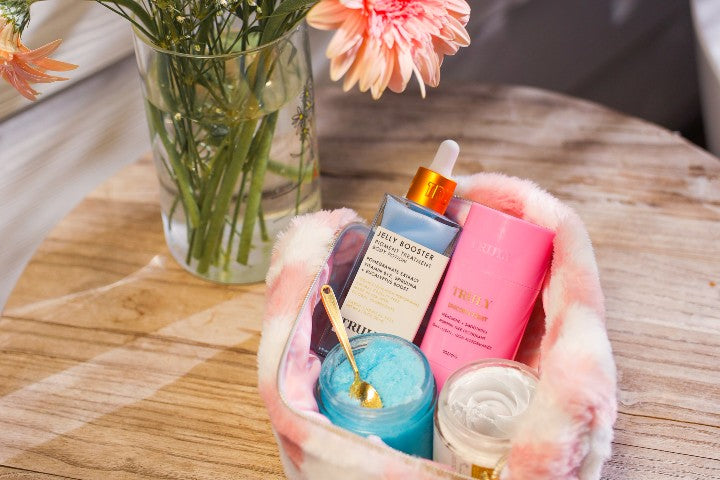 MYSTERY BAG WEEKEND is HERE! To celebrate Labor Day, we're giving away a MYSTERY BAG packed full of Truly Beauty products every day from Friday to Monday. For the first time ever, we're dishing out never seen before skincare pouches and toiletry bags. Be the first to snag these limited edition specials!
4 days, 4 bags, 4 different assortments of full size skincare products! From Friday through to Monday, you can collect a new bag every day.
Here's what to expect from Truly's Labor Day Mystery Bags...
Labor Day Weekend Wins
Friday, Saturday, and Sunday: spend $175 and receive $75 worth of FULL size products and a never seen before cosmetic bag. Beauty lovers are going to LOVE what's inside our weekend Mystery Bags! Sadly, we're unable to reveal what's actually inside the bags. But that's the fun part, right? The surprise!
One thing's for sure, our mystery bags will be packed full of Truly bestsellers and maybe even some new arrivals. Could it be body butter, cleanser, toner, hair care products, or our new travel size treats? You'll be able to find out as soon as you snag a mystery bag!
For three days running, enjoy $75 worth of Truly FREEBIES when you shop $175. Plus, you can look forward to receiving a never seen before cosmetics bag.
Monday Mystery Bag
On Monday, September 5: spend $200 and get $100 worth of FULL size product plus a never seen before skincare pouch. While we can't disclose the items inside Monday's bag, you can expect a range of Truly faves. From moisturizers to deluxe serums and new products, anything could be hiding in our Labor Day Mystery Bag.
For the final day of our Mystery Bag promo, enjoy $100 worth of Truly FREEBIES when you shop $200. Plus, you can look forward to receiving a never seen before skincare bag.
Since this offer is a limited time only, be sure to enjoy every day of the promo to create your own full Truly-inspired beauty routine.
Only Available on the Website
While Truly products are available on retailers such as Ulta, Sephora EU, and Walmart, this Labor Day Mystery Bag promo is exclusive to Trulybeauty.com. Remember, limited quantities are available so shop and checkout ASAP to get your FREE mystery bag. Make sure you shop on the right dates (September 2-5, 12am PST Friday - 12pm PST Monday) to enjoy this special offer.
WHAT TO SHOP ON LABOR DAY MYSTERY BAG WEEKEND
In order to get one of these surprise bags, you'll need to spend at least $175 on our website on the dates and times specified above. But what to buy? If you don't have a Truly wishlist already, here are some trending treats and bestselling bundles you might want to buy on your Labor Day shopping spree.
Ultimate Unicorn Bundle
Our 7-step Unicorn Fruit set featuring a few faves (Unicorn Locks Repair Hair Mask, Unicorn Fruit Lip Balm, Unicorn Fruit Body Butter, Unicorn Fruit Whipped Body Polish, Unicorn Fruit Eau De Parfum) + our NEW Unicorn Fruit Deodorant and Unicorn Bath Bar. Comes with a Pink Fuzzy Bag!
Pit Perfecting Kit
Everything you need for smooth, fresh, and glowing underarms! This underarm care routine features our BRAND NEW Unicorn Fruit Deodorant, Coco Cloud Shave Butter, Moon Rocks Scrub, Jelly Booster Pigment Treatment, plus our award-winning PPG Razor + a Checkered Fuzzy Bag.
Ultimate Coco Cloud Shave Kit
Gentle on all skin types, this intensely moisturizing shave kit features a shaving cream, serum, lotion, and a reusable five bladed razor to secure to smoothest shave of your dreams. Made with coconut, vanilla, and argan oil, these shaving treats hydrate, soothe, and smooth for irresistibly soft skin. And like all Truly products, it's cruelty-free and 100% vegan using clean beauty ingredients! Shaving literally got a hundred times more glam!
Defrost Your Summer Bod
Get to the $175 swiftly with this summery body care routine. Included: FREE Mint Skincare Travel Pouch, Smooth Legend Pre Shave Scrub, Coco Cloud Whipped Luxury Shave Butter, Truly Blue Razor, Dulce de Leches Firming Boob & Belly Polish, Buns Of Glowry Glow & Tighten Butt Serum, Cooka Oil, and Unicorn Fruit Whipped Body Butter. It's the set that sculpts your summer bod! Just remember to follow up with sunscreen when you're done!
Full Body TREATment
A dessert-inspired full body skincare routine featuring polishes, creams, and serums designed to firm, tighten, and brighten your skin. These products can treat everything from cellulite to stretch marks to uneven skin tone, and more. You can even use our shimmery serum as a highlighter to draw attention to your gorgeous gams!
Mykonos Luxury Robe
One of our newest arrivals...the Mykonos Luxury Robe is a full-length bathrobe in an all-new iconic powder blue and white striped colorway. It's the perfect accessory for taking on your beauty routine in style. Featuring an ultra-soft sherpa lining, tie waist, and the signature Truly logo, wear your Truly love with pride!
Labor Day Mystery Bag COMING SOON...
One of the perks of being a Truly fan is that you get the chance to swipe SO MANY freebies. We give away freebies and coupons all the time — like every day, multiple times. We're one of those beauty brands that love giving our loyal fans free stuff — because quite honestly, you deserve it!
Since we know how much you've digged our mystery boxes before, we aim to bring out a new mystery bag promo for every special occasion. This way, you can enjoy a bag full of freebies every couple of months or so. Trust us, there's never a dull moment here.
To refresh your memory, our Labor Day Mystery Bag deal runs from September 2-5: 4 days, 4 bags, 4 different assortments of full size skincare products! Featuring NEVER SEEN BEFORE bags!
Share
---