A 5 Step "Better than Laser" Shave Routine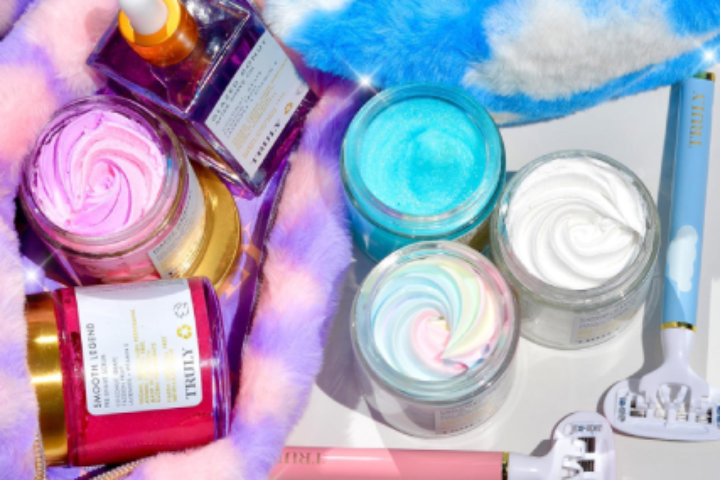 If you're contemplating zapping off your body hair, you might be wondering what laser hair removal involves -- and just how painful it really is. 
Laser treatment is a popular semi-permanent option that damages hair follicles to minimize hair growth. It focuses on the melanin (pigment) in hair follicles, burning the hair all the way down to the root. As a result, this causes damage that discourages future growth, keeping your gams smoother -- for longer. 
While it may be an effective treatment for slowing down the growth cycle, it isn't as miraculous as it sounds First off, certain types of lasers and IPL may not be compatible with certain skin tones and hair colors. Second, it can be highly irritating to sensitive skin types. And third, it is pretty painful. People often compare it to a rubber band snapping against your skin. Ouch! Oh yeah, and not forgetting the fourth point: it's supeeeer expensive. Like $400 a time expensive. Ouch again! For my dear wallet!
Looking for an alternative to laser hair removal treatment that delivers similar results without the pain, expense, or uncertainty? 
Introducing---our bomb shave routine that gives you better than laser results in just five steps. Yes, really. 
#1: Wash Your Legs with Cherry Jelly Cleanser 
Before razing off your unwanted hair, you'll need to prep your skin first. Good prep equals good results.
Wash your legs with Truly's Anti-Bacterial Cherry Jelly Cleanser to remove oil, dirt, dead skin cells and grime, and prep skin for shaving. Made with bacteria-zapping BHAs, soothing niacinamide and cherry, and hydrating allantoin, this cleanser helps to remove redness, hyperpigmentation, and irritation for a smooth and satisfying shave.
While this routine is designed for your legs, you can also apply it to other areas of the body like your underarms, bikini line, and upper lip. 
#2: Minimize Pores with Matcha Scrub
Exfoliating always comes before shaving. If you haven't been doing it already, start doing it now. Make it part of your skincare routine to buff away dead skin cells and dirt from the skin's surface, and leave you with that poreless, laser-looking finish.
Besides giving you glassy smooth skin, exfoliation can help you achieve a silkier shave and reduce your risk of razor burn, bumps, and ingrown hairs.
Buff your legs (or full body if you like!) with our Matcha Scrub. Natural sugar and Dead Sea salt granules intertwine with antioxidant-packed green tea and collagen-boosting vitamin A for an invigorating scrub. This formula can help reduce inflammation, breakouts, and discoloration and wrinkles.
#3: Lather Up Your Legs with Coco Cloud Whipped Shaving Butter
In order to go hair-free, always start by lathering up your legs with a moisturizing shaving cream or butter. It provides a slip so your razor can glide along easily, without any snags. And it's especially important on sensitive areas where you're most prone to ingrowns and bumps, aka your armpits and bikini area. 
That said, it should also be used on your legs since the skin there is delicate too. As a rule of thumb, always use shaving butter on any part of the body you shave. This way, you'll prevent burns, burns, and irritation, and encourage healthy hair regrowth. 
Coco Cloud Luxury Shave Butter is a coconut-y blend of argan oil, vanilla, and vitamin E. Applying this to your legs prior to shaving will soften and soak into the skin to combat ingrowns and leave you with the silkiest shave of your dreams.
#4: Shave Away the Prickles 
Now it's time to grab your razor, and get shaving!
Our personal fave is Truly's Life Shaver Starter Razor. Featuring double blades and a pink, flex-grip handle, this razor offers adaptability and ensures an ultra-close shave. 
You don't need painful waxing, threading, electrolysis, or laser light therapy to get smooth legs and long-lasting results. All you need are the right tools, and this is one of them!
#5: Moisturize with Coco Rose Body Butter
Finish with a rich, conditioning lotion like Truly's Coco Rose Fudge Body Butter for that velvety softness you'd only expect from several laser treatment sessions. 
With a nourishing blend of coconut, rose, and shea butter, this luxe body butter will brighten and hydrate dull skin to give it a glowing youthful appearance. It's also made with vegan collagen to plump out skin and smooth out stretch marks.
Moisturizing is essential after shaving to encourage skin rejuvenation, prevent dryness, and ward off ingrowns, bumps, and irritation. Whether you're shaving off your leg, underarm, or facial hair, always finish with a thin layer of lotion -- and a generous amount of sunscreen.
Is Shaving Really Better than Laser Hair Removal?
Laser hair removal or intense pulsed light therapy is a permanent hair removal treatment that damages the hair follicle to hinder hair growth. But there are a few side effects to this treatment, not to mention it's not actually permanent. 
For starters, it simply does not work on blondes since there's too less of a contrast between hair and skin color. Second, it may not be the best treatment for sensitive skin types since it's quite easy for the treatment area to experience an inflammatory response and as a result, you may feel some discomfort. 
If you have a skin condition, it's best to consult your dermatologist before you undergo permanent hair reduction processes as it may be irritating to your skin. 
As for whether it's better than shaving, if you think the potential side effects of LT aren't worth it, shaving is probably the best path for you. 
Much like Botox, Filler, and radio frequency, it's safe and effective, but not the right choice for everyone.
This 5-step shave routine is cheaper, easier, and better than laser. So, if you're aiming for super smooth legs, try optimizing your shaving routine using these five essential products. They're nourishing, hydrating, soothing -- and exactly what your skin needs to thrive.
Get ready for the smoothest, closest, silkiest shave of your life! No zaps necessary! Only satin-soft naps!  
Share
---