How to Choose The Best Butt Care Routine For You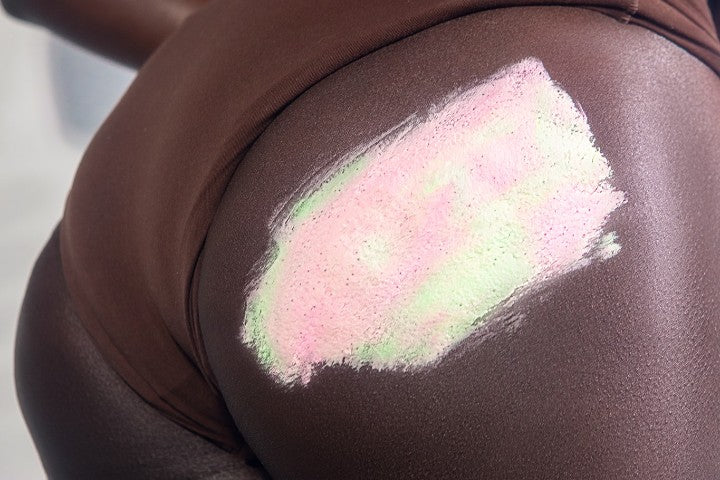 Whatever your backside issue...there's a butt skincare bundle available to take care of all your needs.
Today, it's easier than ever to take care of your derriere thanks to all the butt-specific skincare products dropping on shelves. From sheet masks to cellulite creams, butt-toning lotions to buttne-clearing formulas, you don't need to stay hush about those issues with your tush. You have plenty of butt skincare products to choose from...
Truly Beauty now has not one, but two butt skincare routine bundles.
Which one to choose? It all comes down to what issues you're trying to fix. Let us help you navigate which butt trio line might be best for you and butt-related needs.
BERRY CHEEKY LINE
Berry Cheeky is our brand-new limited-edition butt beauty kit that's literally just landed. 
What it is: A three-step kit featuring a clearing butt scrub, serum, and butter.
Choose it if: You're dealing with butt acne, discoloration, or dryness; you love the smell of berries; and you've got dry skin, sensitive skin, or acne-prone skin. 
Why? Berry Cheeky is formulated with a nourishing, breakout-banishing blend of strawberry, blueberry, beta glucan, allantoin, and tons of antioxidants. 
Strawberries are brimming with alpha hydroxy acids, which serve as a natural cleanser to get rid of oil and grime while sloughing off dead skin cells to clear pores and prevent pimples. Rich in vitamin C and folic acid, this power-packed berry fights off free radicals and evens out your complexion.
Beta glucan is a humectant moisturizer derived from yeast or oats. It quells redness, prevents moisture loss, and fights against the formation of fine lines. 
Allantoin and blueberry soothe, protect, and speed up the skin's natural healing process, helping to restore acne-prone skin.
Unlike some acne body washes and treatments, this formula doesn't contain salicylic acid or glycolic acid. As awesome as these ingredients are for tackling breakouts, they can be too aggressive for sensitive skin types. This is a great alternative.
The butt polish removes dead skin, oil, and grime for a clarified booty. The serum targets blemishes and discoloration for a clarified derriere. As for the butter, that's entire focus is on moisturizing and firming the butt. For best results, use these products daily.
Berry Cheeky is the three-step formula for a clearer, brighter, softer butt. 
Get your Berry Cheeky Bundle today.
BUNS OF GLOWRY BUNDLE
Buns of Glowry is a Truly cult favorite with whole lot to offer.
What it is: A three-step kit featuring a softening butt polish, serum, and butter.
Choose it if: You're dealing with cellulite, dryness, or dullness; you dig the smell of watermelon; and you've got cellulite, dry skin, or sensitive skin. 
Why? Buns of Glowry is formulated with a moisturizing, skin-tightening blend of watermelon, vitamin E, and wheat protein.
Watermelon is loaded with vitamin C, amino acids, and lycopene, making it extremely effective at hydrating, exfoliating, and regenerating the skin. It also plumps the skin and offers brightening effects for a derriere that glows!
Wheat protein contains ceramides, a lipid that collects and retains moisture to plump skin from within. When wheat protein enters the skin, it fills in those dips, dimples, and stretch marks for a super smooth booty. 
As for vitamin E, that hydrates, heals, and strengthens the skin barrier.
The butt polish offers exfoliation for your butt, removing the buildup of dead skin cells, stimulating circulation and blood flow, and delivering smoother skin. The butt serum addresses cellulite and discoloration. While the butter seals in moisture for hours of booty softness. For best results, use these products daily.
Buns of Glowry is the three-step formula for a brighter, tighter, silky-smooth butt.
Get your Buns of Glowry Bundle today.
HOW ARE THEY DIFFERENT?
These two booty bundles both contain the same beauty products: a polish, serum, and butter. However, in terms of their formulation, they do differ somewhat.
For starters, Berry Cheeky focuses on targeting acne and hyperpigmentation, utilizing berries, beta glucan, and allantoin to clear away blemishes. Whereas Buns of Glowry zooms in on cellulite, dryness, and dullness, optimizing the powers of watermelon and wheat protein to deliver a rounder, firmer booty.
Both polishes share glycerin as an ingredient. That's because glycerin is a powerful humectant and emollient that increases hydration, retains moisture, and softens the skin.
Both serums contain vitamin E to moisturize and heal the skin. 
And both butters use shea butter, coconut oil, and jojoba oil to hydrate, nourish, and soften the skin. Because these really are the gold standards for skin hydration. 
WHICH ONE TO CHOOSE?
In the world of dermatology, more and more people are asking for butt skincare treatments in the quest for a baby-soft, bikini-ready booty. It's nothing to be ashamed about. In fact, you should see it as a form of empowerment that you want to maximize your butt's potential. 
Depending on your specific skincare needs, we have two excellent kits to choose from... 
Berry Cheeky is the newest one, best for anyone dealing with butt breakouts or discoloration. 
Buns of Glowry has been around much longer and is best suited to those seeking a tighter, smoother, more sculpted butt. 
You can either select one or try them both. Whichever you decide, you're definitely going to dig the results - provided you stay consistent that is! 
Of course, you really don't have to address these issues if you don't want to. As dermatologist Stacy Chimento, M.D. says, "Beauty is being comfortable in your own skin and being thankful for what you have, including all of the things we nitpick at on a daily basis including our cellulite and stretch marks that we can't stand."
It's your booty tho, and if you'd like to start addressing your skin concerns in that area of your body, feel free to choose one of our butt skincare kits to get the ball rolling. 
In between your routine, why not treat yourself to an in-office butt facial? It's basically a butt mask used to clear your pores, soften your skin, and tighten your booty.
Share
---