How to Use a Bikini Trimmer in 3 Steps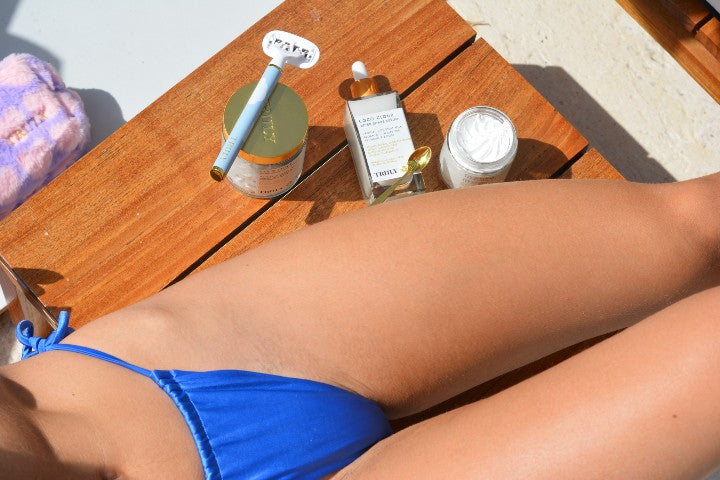 Learning how to use a bikini trimmer makes the shaving process a whole lot smoother. With any kind of hair removal method, there's always room for error. You can end up with cuts, razor burn, and irritation if you're not careful.
Bikini trimmers are less likely to cause these problems because they cut surface hair without the blades scraping against your skin. Even so, it's worth knowing how to use a bikini trimmer correctly and all the benefits of doing so.
What is a Bikini Trimmer Used for?
Bikini trimmers are used to trim hair on the pubic area. They cut hair anywhere from two to eight millimeters in length without touching or scraping the skin. 
If you have sensitive skin or you're looking for an alternative to waxing, shaving, or chemical depilatory agents, using a bikini trimmer is a great way to groom your bikini region without any pain, discomfort, or pesky bumps.
One of the biggest benefits of bikini trimmers is that they're so convenient. You can pretty much trim wherever and whenever you like. 
How to Use a Bikini Trimmer in 3 Steps
To get the smoothest bikini line, here's exactly how to use a bikini trimmer in just three steps.
Step 1: Cleanse + Exfoliate
Before you whip out your bikini trimmer, take a few moments to prep your skin to minimize the potential for skin irritation. Start by hopping in the shower and letting the warm water soften hair and open the pores. 
Next, cleanse and exfoliate the area to remove dead cells, product buildup, and impurities which can clog (and dull!) your bikini trimmer. If you're prone to ingrown hairs, exfoliating is a great way to smooth the skin and prevent ingrown formation.
Starting with a clean, fresh canvas will make it much easier for your bikini trimmer to cut through hair while preventing future ingrown flareups.
Step 2: Trim in the Direction of Hair Growth
The next step in our how to use a bikini trimmer guide: trim right. Going against the growth of hair may make for a closer shave but it also raises your risk of redness and irritation.
Dermatologists recommend trimming bikini hair in the direction of hair growth instead of against the grain to avoid painful razor bumps. What's more, stick to shaving in the same direction instead of multiple directions which can also irritate the skin.
Step 3: Apply a Post-Shave Product
Wash your skin after trimming and pat dry. Then follow up with a post-shave topical treatment to soothe and prevent irritation. Look for hydrating, anti-inflammatory ingredients such as lavender, tea tree oil, jojoba oil, aloe, and vitamin E. 
Post-shave formulas help to restore the skin barrier and keep skin hydrated. If you have sensitive skin, they'll keep your skin smooth and soothed.
Choosing the Right Bikini Trimmer
Now that you know how to use a bikini trimmer, here's some advice on the best bikini trimmer to choose. 
The tools you use to remove body hair can have a huge impact on the end result of your shave. The experts recommend looking for a bikini trimmer with a guard that protects skin from irritation and ingrown hairs. Instead of choosing just any body hair trimmer, pick one that's specifically designed for the bikini area and the sensitive skin of the pubic area.
If you don't have much space or travel a lot, find one that's compact and cordless. That way, you can easily store it and take it anywhere you go for effortless pube grooming. Some are even waterproof, meaning you can use it in the shower.
Always Clean Your Bikini Trimmer
A common mistake when it comes to how to use a bikini trimmer is not keeping the trimmer clean. To get the best results from your bikini trimmer, always clean it immediately after each use. You can also change the blade if needed.
If you don't clean your trimmer or replace the blades, it can impact its overall efficacy. And when it's not working its best, you're more likely to end up with irritation or infections.
To make things easier for yourself, be sure to choose a bikini trimmer that's easy to clean.
Can You Shave with a Bikini Trimmer?
A bikini trimmer can be used before shaving to allow for a smoother, closer shave. In fact, the experts recommend using a bikini trimmer before shaving with a razor to prevent your razor from getting clogged with hair. Especially if you have thick, coarse hair, a trim can make a huge difference to the end result.
If you like your regular wet shave, start things off with your bikini trimmer then follow up with an exfoliator, shaving butter, and after shave product. 
You can also use a bikini trimmer between shaves to keep your pubic area neat and tidy without the irritation caused by daily shaving.
Bikini Trimmer FAQ
Here are the answers to all your burning questions about how to use a bikini trimmer.
Can You Use a Bikini Trimmer on Pubic Hair?
Yes, a bikini trimmer is designed to cut hair at the surface. It won't give you the level of smoothness a razor would, but it's definitely convenient for keeping the area well groomed. 
Is it Better to Shave or Use a Bikini Trimmer?
Trimmers are an excellent choice for people with sensitive skin because no contact is made with the skin. The guard on a trimmer is designed to prevent nicks and cuts because it stops the blades from coming in contact with your skin.
Do You Use a Bikini Trimmer Wet or Dry?
With regards to how to use a bikini trimmer and whether it should be used wet or dry, it depends largely on the trimmer itself. Most trimmers allow for both wet and dry trimming. However, it's worth seeing what works best for you. Just make sure you clean the trimming head with running water during use and after use. Let all parts dry fully before storing.
Does a Bikini Trimmer Remove All Hair?
A bikini trimmer won't fully remove hair but it's the perfect tool for shortening hair. If you're looking for a smooth finish, it's best to use the trimmer to get rid of excess hair and continue with a regular razor. A bikini trimmer only cuts the surface hair.
Is it Safe to Use Bikini Trimmer?
Yes, it's safe to use a bikini trimmer. As long as you follow the instructions for your bikini trimmer, you shouldn't experience any unpleasant side effects. 
Do You Use Shaving Cream with a Bikini Trimmer? 
Some trimmers can be used with a shaving cream, gel, or butter. However, you should check the instructions before using to avoid damaging the tool. In the case that you can, apply the cream before use to minimize friction and irritation. 
How Close Do Bikini Trimmers Get?
The way bikini trimmers are designed, they will leave a small amount of length or stubble. Usually, they'll leave between one and five millimeters. While this means you won't get a silky smooth finish, you will be less prone to razor bumps, cuts, and irritation.
After Using Your Bikini Trimmer, Get Smooth with these Bestselling Shave Bundles
Now you know how to use a bikini trimmer, shop one of these bestselling bundles to get your bikini area satin-y smooth.
Glazed Donut Shave Set
Ultimate Smooth Legend Shave Set
Ultimate Coco Cloud Shave Set
Knowing how to use a bikini trimmer can make all the difference when it comes to getting a smoother shave or simply saving time when you're looking to neaten things up between shave days. And with our how to use a bikini trimmer for beginners guide, it couldn't get easier!
Share
---