How to Wash Your Braids Right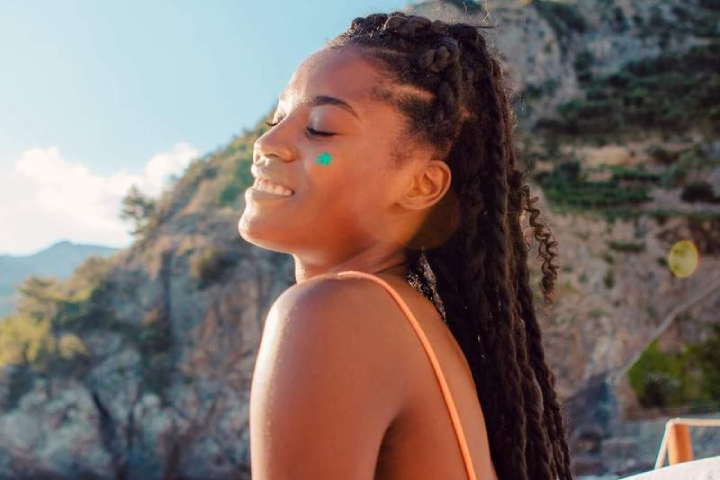 Box braids are a stylish, low-maintenance and protective hairstyle -- perfect for rocking in the wintertime when strands are prone to dryness and breakage. 
The biggest misconception about braids? You don't need to wash them. You absolutely do!
To maintain the benefits of this protective style and keep them looking fierce as ever, you'll need to follow a braid-friendly haircare routine -- that includes washing.
Here's how to wash box braids -- the right way.
#1: Soak, Shampoo & Rinse
Before shampooing, soak your braids with water so they can easily absorb product. Then go in with a clarifying shampoo to get rid of any product buildup. There are two ways to do this.
The first way: Pour your favorite shampoo into your hand and apply to your scalp using your fingers. Massage it in until your scalp is fully saturated, then rinse with lukewarm water. We like Truly's Super Fruit Shampoo. 
The second: New York City-based hairstylist T. Cooper recommends diluting your shampoo with water and using a squeeze bottle with a nozzle for application. 
"Sometimes when the shampoo is thick, it's hard to reach certain parts of the scalp," says Cooper. "Adding a bit of water helps it get into those tricky areas, and a squeeze bottle gives you more control over where the shampoo goes." 
Massage it thoroughly into your scalp, focusing on the roots, then slide the product downward toward the tips of your braids. Make sure you're gently massaging the scalp and not rubbing to reduce frizziness. Rinse thoroughly to ensure there's no leftover shampoo residue. 
According to the pros, you should wash your braids every two weeks. If you work out, you may want to wash your hair weekly. 
#2: Condition
Now it's time to move on to conditioning. To add some moisture back into your strands and keep your hair healthy, use a hydrating conditioner like Truly's Super Fruit Conditioner. This formula will penetrate your braids, infusing them with moisture and nutrients for improved texture and shine. 
Before applying, squeeze out the excess water from your braided hair. If your hair is too wet, conditioner won't absorb as effectively. You still want wet hair -- just not soaking wet hair.
You can also try a deep conditioning treatment like Truly's Unicorn Locks Hair Repair Mask to alleviate dryness and frizz, and promote hair growth.
Leave the treatment on for 3-5 minutes before rinsing well. For an intensive conditioning treatment, leave it on a little longer. Just don't fall asleep in it. Braids and lingering moisture are a no-no!
#3: Let Them Dry
Damp braids can lead to some very unpleasant scalp issues like dandruff, mildew, and itchiness. The best way to avoid these issues is by properly drying your braids.
"It's best to sit under a hooded dryer for at least 30 minutes," explains trichologist Kari Williams. "If you don't have a hooded dryer, you can let your braids air dry for a full day. Do not pull the braids up into a style until they are completely dry."
Alternatively, place your braids in a microfiber towel to soak up a majority of the water. From there, use a blow dryer to complete the drying process.
#4: Apply Product
To finish your look, use some gel on your edges and mousse on your braids just to polish things up and keep your braids looking fresh. For optimum braid care, run a pea-sized amount of serum or oil through your braids to tame frizz and flyaways while infusing hair with nutrients.
#5: Consider Astringents
No time to shower? For a quick hair-washing fix, try witch hazel to quickly remove dirt and buildup from your scalp without washing. It'll break down dirt and oil, increasing the longevity of your hairstyle.
Box Braids Haircare Tips
To keep your braids looking beautiful, here are some tips to keep in mind.
Don't Use Dry Shampoo
Avoid reaching for the dry shampoo. While it's typically used for resolving oily roots and giving hair a refresh, dry shampoo on braids only increases visible residue and buildup.
"Plus, dry shampoo is meant to dry up any oil in the hair," says Illeisha Lussiano, founder of The Way, a salon on New York City's Lower East Side. "When wearing box braids, oil is essential for maintaining a hydrated and moisturized scalp and lasting style."
Never Style Wet Braids
Like we just mentioned, leaving braids damp can lead to a slew of unpleasant effects such as fungus, mildew, and dandruff. To prevent this from happening, avoid styling your braids when they're wet. Make sure they are fully dry before putting them into a ponytail or whatever your chosen style may be. 
Limit Your Use of Hot Tools
Besides looking mega fierce, box braids are a protective hairstyle that keep strands strong and healthy -- especially during the colder months. To keep your braids healthy, shiny, and strong, limit the use of hot tools. If you're going to blow dry your strands, make sure the heat setting is low. 
If it's Itchy, It's Dirty
Once you start experiencing itchy scalp, that's a sign to bring wash day forward. Of course, there may be other reasons why your scalp is dry and itchy. If washing doesn't help, visit your hairstylist or dermatologist for advice.
Avoid the Apple Cider Vinegar Cleanse
Mixing water and apple cider vinegar into a spray bottle and applying it to hair is supposed to be extremely cleansing and beneficial to the scalp. Unfortunately, it can also be severely drying, too. If you've got your hair in braids, stick to your regular shampoo. 
To preserve the health of your natural hair, avoid keeping your braids in for too long. Doing this can add extra stress to your own hair, which can lead to knots, damage, and breakage. The experts recommend keeping them in no longer than six weeks. However, your scalp will show you when it's had enough. Once your scalp starts getting dry, itchy, or feeling heavy, that's when your braids need to come out.
Share
---