Is Olaplex Your Only Option? Try this Hair-Strengthening Routine Instead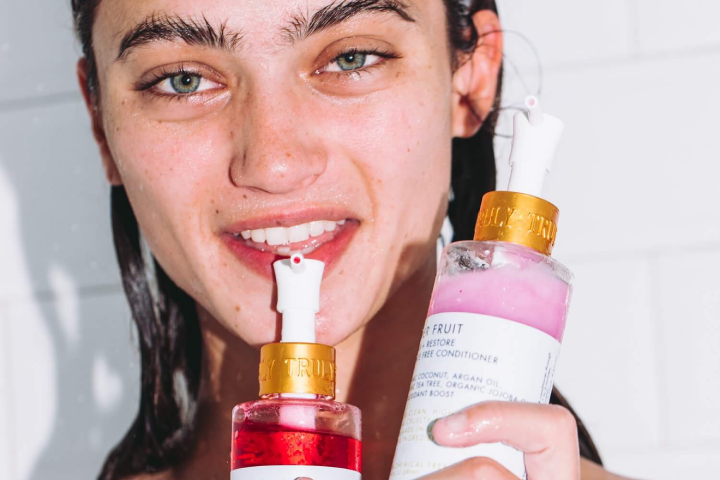 Olaplex has become a household name in recent years, with hair stylists and salon-goers deeming it a miracle hair treatment. 
You can use Olaplex products to restore compromised hair and prevent breakage. It's particularly effective for bleached or severely damaged hair, as it helps to strengthen hair bonds that are damaged by hair color and chemical treatments.
Over the weekend, however, rumors have surfaced and circulated across social media that the product would be banned due to fertility risks. It got us wondering, what are the alternatives to Olaplex hair products? 
As much as we love the hair perfector system, it is possible to get similar results from other hair care products -- without any potential safety issues.
In this article, we explore Olaplex as a product, just how effective it is, and other options if you're looking for something safer and more affordable.
How Does Olaplex Work?
Olaplex is a multi-step system that re-builds disulfide bonds within the hair that are damaged by coloring the hair, chemically treating it, or heat styling it. And it's all thanks to a superstar ingredient known as bis-aminopropyl diglycol dimaleate. By rebuilding those broken bonds, users can enjoy stronger, smoother, shinier strands.
The products include: Olaplex No.0 Intensive Bond Building Treatment, Olaplex No.1 Bond Multiplier, Olaplex No.2 Bond Perfector, Olaplex No.3 Hair Perfector, Olaplex No.4 Bond Maintenance Shampoo, Olaplex No.5 Bond Maintenance Conditioner, Olaplex No.6 Bond Smoother, Olaplex No.7 Bonding Oil, and Olaplex No.8 Bond Intense Moisture Mask. 
Steps 0 through to 8 are all available as home treatments, while steps 1 and 2 are in-salon services only. 
Olaplex treatments can be helpful to all hair types, but especially those who bleach, heat style, or perm their tresses.
Olaplex Alternatives
If you're looking to hydrate, strengthen, and add shine to dull, damaged hair, here are some of our fave reparative hair care products for achieving healthy hair.
Super Fruit Repair + Restore Shampoo & Conditioner
The kind of shampoo and conditioner you use can make all the difference to hair health. Choose hydrating and repairing formulas that are free of sulfates, parabens, and phthalates, which are known for weakening and drying out hair.
Repair and restore your locks with Truly's Super Fruit Shampoo + Conditioner duo. Formulated with coconut, argan, tea tree, and jojoba oil, these products nourish the hair and restore their naturally strong, smooth, silky form.
The shampoo will cleanse away greasy roots and product build-up without drying out the strands or scalp. And the deep conditioning treatment will transform damaged, dry hair into a smooth, manageable, and shiny mane.
Use these products whenever you wash your hair to maintain its integrity and ward off dryness, frizz, and breakage. 
Unicorn Locks Repair Hair Mask 
Inject moisture and nourishment into your tresses with this keratin-packed hair mask. This magical formula will leave your hair soft, healthy, and bouncy like a unicorn's mane -- thanks to its hair-saving blend of keratin amino acids, avocado, and coconut oil, which work together to moisturize hair and scalp, smooth frizziness, and prompt hair growth.
Keratin treatments are a popular in-salon treatment for taming frizz and promoting smooth, straight hair. This repairing treatment won't leave your hair straighter, but it will smooth the cuticle and repair any damage to leave hair feeling and looking soft and shiny as a Unicorn's mane. 
For an intensive moisturizing treatment, use this hair mask as a leave-in treatment or wear overnight. The longer it stays on, the better the results will be. 
Coco Rose Milk Hair Mask
Are you someone who goes heavy on the flat iron or lightening sessions? Your hair is probably in need of some major TLC. 
While Olaplex is definitely an excellent option for rebuilding the hair bonds, and helping repair damage, you don't need it to achieve silky, strong strands.
Instead, try Truly's Coco Rose Milk Hair Mask, which contains a restoring blend of hydrating coconut, balancing rose, and strengthening keratin amino acids. It'll leave your hair feeling instantly smoother and smelling florally and coconut-y. 
For best results, use it as a leave-in smoothing treatment after showering. 
Rainbow in Mirrors Split End Treatment
Visible split ends and brittleness? Sounds like your hair needs a dollop or two of Truly's Rainbow in Mirrors Split End Treatment. 
Made with avocado, argan oil, and vitamin F, this hair repairing treatment mends and seals frayed, brittle ends, while restoring the color and vibrancy of fragile hair. While it's not a bond builder like Olaplex products, it deeply nourishes and hydrates the hair for strands that instantly appear stronger and shinier. 
Avocado works on moisturizing the hair, while argan oil brings illumination to dull hair, and vitamin E offers its healing powers. 
Apply it over affected areas, and leave on for a minimum of 20 minutes. 
Star Fruit Hydrate & Shine Hair Mask
Help your dry, stressed out strands recover by slathering on this hydrating hair mask. Star Fruit Hydrate & Shine hair mask restores essential hydration and vibrancy to dry, damaged hair while preventing future breakage.
Enriched with ultra-moisturizing coconut oil, protective vitamin E, and hair growth stimulating chamomile, this formula can help you achieve those shiny, strong strands of your dreams.
Leave it on overnight for an intensive conditioning treatment.
By all means, keep going with Olaplex if you're seeing success from it. Just keep an eye on its safety records, as you don't want to continue using a product that's putting your health at risk.
However, if you're looking for an alternative treatment that's less expensive and without any health concerns, you should definitely try Truly's range of hair-strengthening products. Whether you've got dry hair, damaged hair, or frizz, we've got a product to suit all hair types and concerns. We're with you every step of the way to give you daily great hair days!
In the meantime, try adopting some hair-friendly habits like limiting your use of coloring and heat styling to keep your mane in peak shape. 
Share
---