Look Dewy without Dripping: How to Get Wet-Look Hair at Home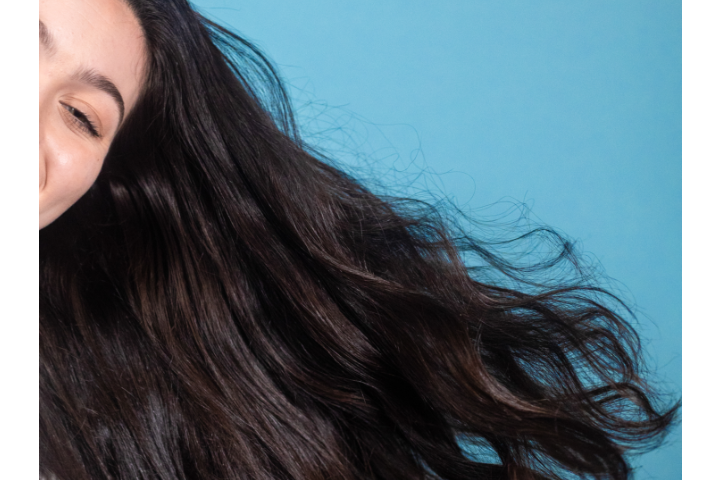 You've seen it on everyone from Kim Kardashian to Bella Hadid, and now you want in on the wet-look hair trend.
The wet hair look is definitely bold, but it's incredibly chic and surprisingly wearable. In other words, it's not just celebs and runway models that can pull it off. You can too with the right hair products and a little know-how ready to be dished out to you in just a few moments.
If you've been wondering how the stars achieve that high-shine, slicked back look without literally dripping, we're here to show you how you can achieve wet-look hair at home.
WHAT YOU'LL NEED
Ready to do the DIY wet hair look? All you need are a handful of tools.
Shampoo +

Conditioner

: To prep hair for the wet-look

hairstyle

.
A

Wide Tooth Comb

: To define your part and distribute products evenly.

Hair Gel

: A base ingredient for long-lasting definition and hold.
Hair Cream: To create a smooth sheen while adding moisture and taming

frizz

.
Hair Oil or Serum: To enhance your wet look's shine while taming flyaways.

Hairspray

: To hold everything in place.
HOW TO GET THE WET HAIR LOOK
Achieving wet look hair is as easy as five steps. Just make sure you take your time and don't rush things to secure the sleekest, shiniest finish! Scroll down to hear our easy wet hair look tutorial.
Step #1: Wash + Blot
The wet look hair starts in the shower. Wash your hair using a shampoo and conditioner formulated for your hair type. Whether you've got dry hair, curly hair, or fine hair, it's always a good idea to use products that meet your hair's personal needs. Alternatively, reach for an all-round nourishing duo like Truly's Super Flower Bundle.
The secret to achieving wet-looking texture is starting the process when your hair is halfway dry. You want damp hair, not sopping wet hair. When the hair's dripping wet, it won't absorb the hair styling products you need to create definition and secure hold.
After washing your hair, towel dry your tresses using a clean, dry towel. And remember to blot, don't rub. Once you're done, you can leave your hair to air dry until it's around 60% dry. Next use your wide-tooth comb to detangle and smooth down your baby hairs.
Step #2: Combine + Apply
According to hair expert Nunzio Saviano, the secret sauce to achieving flawless wet hair is combining two hair styling products together and distributing it through your strands.
"Mix together a gel and a cream," says Saviano. "If you just use a gel, it will leave the hair crunchy, and if you just use a cream, it will make the hair look greasy. However, the combo of the two works really well."
If you've got fine hair, start with a dime-size amount, and those with thicker hair should go up to a quarter-size amount. Just be careful not to use too much, as this can lead to clumping. Start with less and use more if you need to.
Step #3: Comb + Spritz With Oil
Now that your gel is in, comb your hair with a wide-tooth comb and spritz your strands with a shine-inducing hair oil or serum, focusing on the mid-lengths and ends. Keep your paws off your roots as you want to keep it sleek and slicked back.
For an extra sleek look, switch to a fine-tooth comb to smooth down your roots and flyaways.
Step #4: Experiment With Different Styles
Red carpet wet hair looks are typically down and dewy. However, you can switch things up a bit by creating different styles from your wet look locks — including a glam updo.
"The wet look is surprisingly versatile. You can wear it pushed straight back or over to one side, knot it in an effortless-feeling low bun, or tie it back in a sleek pony," says hairstylist Cyndia Harvey. You can even try curling the ends of your strands for a laid-back, beachy look. You'll find plenty of inspiration on social media!
This is your beauty look, so have fun with it! Obviously, you can just leave it down if you want a more casual look, but if you want your wet look a little more dramatic, play around with different styles until you find your signature one.
Step #5: Spray + Set
Finished styling your wet hair look? Great! Now mist your head lightly with hairspray before the products dry fully to keep you looking dewy all day long.
You can also complete the look by applying a little eyeshadow, mascara, and eyeliner just to add a little glam. Or go with a bold red lip to make things even more dramatic.
HOW TO REMOVE WET LOOK HAIR
You'll probably want to rinse away your wet hair look at the end of the day, unless you want all that gunk contaminating your pillow. Before you rush to the bathroom to wash it off, you should know that there is a right and a wrong way to get rid of wet look hair.
To remove buildup and make the cleansing process easier, start by rinsing your hair thoroughly prior to lathering up with shampoo. Rinse with warm water until you feel like the gel, cream, and oil are fully washed away. Then suds up with your shampoo, and follow up with a hydrating hair mask like Truly's Unicorn Locks Repair Hair Mask.
Good hair care is essential when you regularly style it. Since all those products can be drying on your strands, use a weekly hair mask like our keratin-packed one to keep your mane smooth, glossy, and strong.
The wet look hair rose to fame in 2021, but it seems like it's going to have another successful year according to hair stylists. It's especially perfect during the Spring and Summer months when you want to scrape back your hair without enduring the tugging (and damaging!) effects of your hairband. Plus, it's super versatile, so you can dress it up or down depending on the occasion! And one thing's for sure...you can always guarantee the wow factor with this wet and wonderful hairstyle.
Share
---