The Best Keratin Hair Treatment Alternatives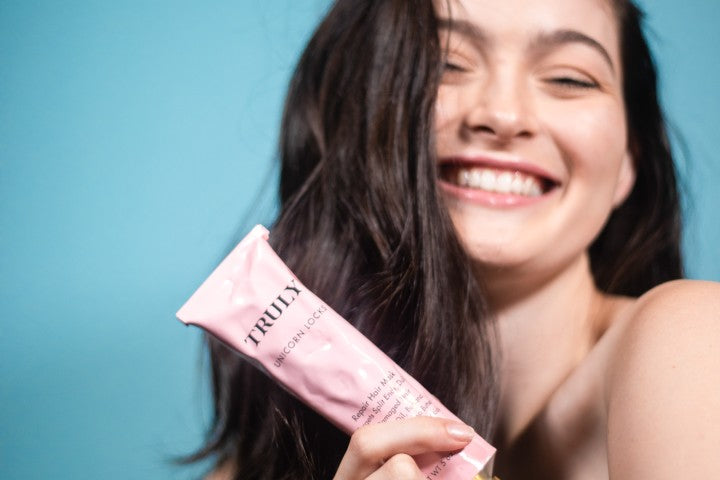 All your gal pals off to the salon for one of those buzzing keratin treatments you're always hearing about?
Keratin treatments, often known as a Brazilian blowout or Brazilian keratin hair treatment, are a semi-permanent hair straightening treatment that smooth, straighten, and add shine to frizzy hair.
Interestingly, keratin isn't part of the smoothing or straightening procedure. To smooth hair, a solution comprised of a formaldehyde derivative is worked through the hair using a flat iron to straighten out your hair texture and eliminate frizz for up to three months
While this treatment works well on most hair types and is ideal for anyone wanting to boost shine, reduce frizz, and cut down on styling time, there are a few downsides to the keratin smoothing treatment.
Here, we show you the not so pretty sides of keratin salon treatments and the best alternatives you can try at home for shiny, sleek, straight hair.
THE PROBLEM WITH KERATIN TREATMENTS
Keratin protein is essential for helping strengthen hair, reduce frizz, prevent breakage, and repair damaged hair.
Keratin straightening, however, is something completely different. For starters, keratin itself isn't part of the straightening procedure. The treatment revolves around a formula known as formaldehyde, a colorless, strong-smelling gas that's responsible for sealing the hair into that new straight position for months. It's also a known carcinogen.
"According to the EPA, formaldehyde is a carcinogen that could possibly cause respiratory problems if exposure is frequent," says colorist specialist Brenda Kamt. 
According to Eva NYC hairstylist T. Cooper, "Some stylists refuse to do keratin treatments, because there is research that shows that continued use of formaldehyde overtime can have some serious consequences."
She adds, "The risks can be as minor as watery eyes and skin irritation, to as serious as cancer and respiratory illness."
A little worrying, no?
Luckily, you've got options -- better, safer options!
OPT FOR NATURAL CONDITIONING TREATMENTS INSTEAD
We've got the best keratin treatment alternatives so you don't need to put your health at risk!
Try these hair smoothing products instead...
Super Fruit Repair + Restore Shampoo & Conditioner
Forget exposing your hair to dangerous chemicals. You can achieve keratin smooth hair by prepping your mane with this clarifying shampoo & conditioner that repairs damaged hair.
Formulated with organic coconut oil, argan oil, tea tree oil, and jojoba oil, these fruit based hair care products coat your locks and restore their naturally smooth, silky form.
Like all of our hair products, they're sulfate-free and formaldehyde-free.
Use it like you would your daily shampoo and conditioner, making sure you leave the conditioner in for at least three minutes.
Keratin-Packed Unicorn Hair Repair Mask
This hydrating, cuticle-smoothing hair mask promises to leave your hair silky like a unicorn's mane. 
It's made with keratin amino acids to feed the scalp and prompt hair growth, and avocado to moisturize hair. Dry hair will be a distant memory!
"Keratin helps to rebuild the protein structure of your damaged hair. Over time, it should leave your hair silky and smooth," says celebrity hairstylist Clayton Hawkins.
But don't expect immediate results.
"While it won't fully straighten your locks the way a chemical treatment would, it will definitely smooth your hair over time."
Either way, regular use of this natural keratin treatment still guarantees smooth, frizz-free hair.
For best results, apply it to washed and rinsed damp hair, leave it in for 5-10 minutes, then rinse. Wear overnight for a more intensive treatment.
Coco Rose Milk Hair Mask
Done too much heat styling over the years? From blow drying to straightening, regular contact with heat can cause your mane to become dry, brittle, and dull. Instead of relying on your straightener for sleek, smooth tresses, try this strengthening and smooth hair mask instead.
Its two main ingredients -- coconut oil and rose -- hydrate and nourish dry, frizzy hair for a head full of healthy locks.
In the meantime, keep your blow dry sessions to a minimum. 
Add it to the ends of your hair, leave it in for 5-10 minutes, then rinse. 
Rainbows in Mirrors
Repairing, moisturizing, and restoring, this hydration powerhouse hair mask is perfect for curly hair types dealing with dryness, fizziness, and split ends. 
The Rainbows in Mirrors Split End treatment mends and seals frayed, brittle ends, restores hair color and vibrancy, and hydrates dry tresses.
That's thanks to its combination of avocado and argan oil which help soften, smooth, and restore shine to dull and lifeless hair. 
Slather it all over your strands, leave it in for 5-10 minutes, then rinse with warm water. You can also leave it in overnight for a more intensive treatment.
Star Fruit Hydrate & Shine Hair Mask
Add some smoothness and shine to your strands with this shine-inducing, hydrating hair mask.
If you're dealing with lackluster hair, this product is an excellent diy treatment for adding shine, strength, and smoothness without needing a keratin complex smoothing treatment.
Rich in vitamin E and collagen, this hair mask is everything you need for gorgeous, flawless tresses.
Simply apply it to washed and rinsed damp hair, leave it in for 5-10 minutes, then rinse. You can also keep it in overnight for a more intensive treatment.
Vegan Collagen Serum
To smooth the ends of your hair, run some of this Vegan Collagen Serum through your strands. 
It will provide instant smoothing and softening effects thanks to its formulation of collagen, coconut oil, and jojoba oil.
You can also use a small amount of it to tame flyaways for a more polished appearance. Just be sure not to use too much -- otherwise your mane could end up looking greasy.
Keratin hair treatments do work, there's no doubt about that. However, they can be risky if you're getting them done often. To minimize those health risks completely, try our recommended hair smoothing products above for a super sleek and shiny mane. They're the best keratin hair treatment alternatives we know of!
Share
---