How the Truly Beauty Social Stars Get Ready to Go on Camera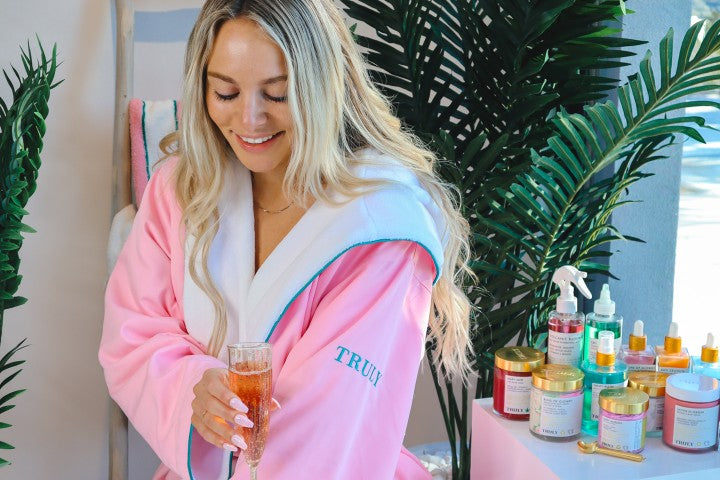 Watch Tyler spill the tea on the hottest new product hacks, tune in to Trivia Tuesday with Anna (and win something special!), or catch up on Zara's latest body care tutorials. There's always something juicy going on at the Truly palace!
Ever wondered how those familiar faces always manage to look impeccable on screen? To give you a glimpse of backstage Truly life, we asked Truly's social media sweethearts to share their pre-live products and rituals for acing livestreams and skincare tutorials.
Tyler, Zara, and Anna reveal how they prepare to go on camera — and their go-to Truly Beauty products...
Refresh with a Spritz of Volcanic Rosewater
According to Zara, a spritz of Truly's Volcanic Rosewater Hydrating Mist is key for getting fresh and dewy camera-ready skin.
Facial mists are fabulous for refreshing and hydrating the skin. They're especially helpful for those who have dry or sensitive skin, travel frequently, or live/work in dry climates. And the Truly trio tick all the boxes!
Truly's Volcanic Rosewater All-Over Hydrating Mist is a balancing face and body mist designed to replenish moisture, reduce inflammation, and bolster skin barrier function. Made with a soothing blend of rosewater, aloe, and vitamin C, this formula instantly brightens and refreshes skin for a dreamy, dewy glow all over.
The Truly trio swear by it for getting that camera-ready glow.
Highlight Cheekbones with Unicorn Fruit
Livestream queen Anna has a fun little hack for securing her on-screen sparkle: a swipe of Unicorn Fruit on her cheekbones in place of her regular highlighter.
Truly's Unicorn Fruit Whipped Body Butter is a deeply conditioning body moisturizer made with shea butter, rose, matcha, and vegan collagen to firm, smooth, and plump out the top layer of skin. It's one of our regularly trending formulas with a cult-following over on TikTok. Bloggers, celebs, makeup artists, and beauty gurus all dig this dreamy swirl of skincare sweetness. In the past year alone, vids featuring this formula have racked up a million plus likes and shares on TikTok.
Unicorn Fruit is a multi-tasking miracle worker that can be used as a body moisturizer, split end treatment, lip balm, shaving cream, or highlighter.
Apply a Lip Plumper
Tyler's trusty Star Kisser Lip Plumping Mask has a long-lasting home in the skin wizard's pre-live skincare routine. He says he'll start with the mask, which is left on for several minutes, followed by GLOAT Lip Butter to seal in moisture for the softest, smoothest, and juiciest pout.
Truly's Star Kisser Jelly Lip Plumping Mask is a glittery, hyaluronic acid packed treatment infused with aloe and peppermint to hydrate, minimize lines, and temporarily plump up the pout. GLOAT Luscious Lip Butter is a butter based lip plumping balm formulated with high end ingredients like hyaluronic acid and peppermint. This minty lip butter leaves lips pillowy soft and juicy all day long. We're talking red carpet levels of hotness!
Tyler swears his lips look twice the size when pairing these two products!
Vamp up those Malibu Vibes with a Mask
Malibu-blonde beach babe Zara keeps her bombshell locks looking LIT with a thin layer of Coco Rose Milk Mask, applied only to the ends.
Truly's Coco Rose Milk Strengthen & Shine Hair Mask is an ultra-nourishing, shine-inducing formula of coconut oil, rosewater, and keratin amino acids to feed hair and scalp, encourage hair growth, and light up locks. First time users and seasoned maskers have nothing to dislike about this strand-strengthening potion.
Mirror Check
Naturally, the trio do a mirror check or two before going live.
Unlike a podcast, where nobody's going to see you, all eyes are on Zara, Tyler, and Anna. In other words: there's no room for Unicorn Fruit smears, gloopy lips, or blotchy foundation.
Who spends the most time in front of the mirror, I ask? Tyler confesses.
Ensure All Three Phones are Charged
According to Tyler, "The biggest struggle is making sure we have three phones with a full battery beforehand."
Since the pandemic, the Truly crew have been upping their lives to twice a week, and have been posting more vids than ever before. With the beauty brand growing at a speedy pace, new faces are popping up here and there on behalf of Truly's product lines.
Like a seasoned Netflix star, the team knows how to win the crowd. Personally, we think they deserve an Oscar for their crowd-pleasing, energetic pieces. Seriously, I'm hooked...
Boil Up a Beverage
Between those lengthy morning skincare chats with Anna and Zara's zesty in-shower shaving routines, these booty-busting babes are bound to get thirsty. The two reveal they stay hydrated by always having a beverage on hand. Sometimes it's tea, sometimes it's coffee, and most often it's water. Gotta stay hydrated!
Stow Along the Truly Skincare Essentials
No Truly vid would be complete without the other stars of the show: the Truly treats! Zara, Anna, and Tyler always make sure they have all their Truly goodies set up before going live.
Plus, if you haven't noticed already, most of the vids contain Easter eggs in the background or on products, like our newest Silicone Koozie, Luxury Pink Bathrobe, and many more goodies. Be sure to hunt them out next time you tune in!
Stay updated on Truly's latest product drops and tutorials — and follow us on Instagram, TikTok, Snapchat, and all our other social media channels. And remember to stay tuned for next week's Truly lives! See you there?
Truly products are available on our official site (Trulybeauty.com), as well as at retailers such as Amazon, Ulta, and Sephora EU.
Share
---