The Top 5 Beauty Trends of 2021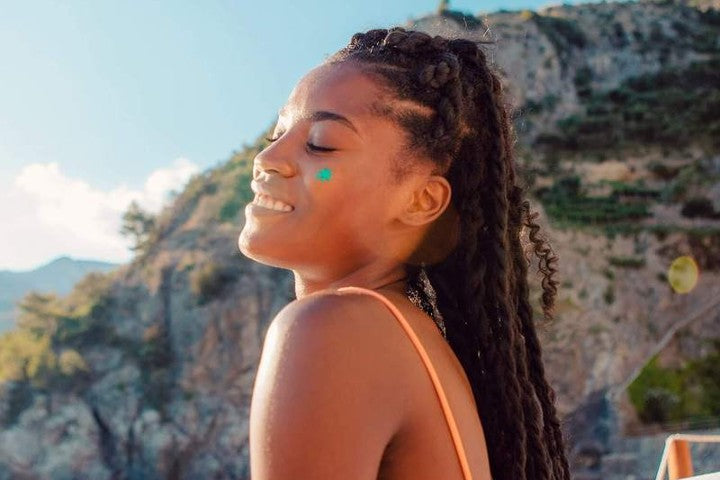 It's been an exciting year for beauty. In case you missed the highlights -- or want us to refresh your memory -- we've rounded up 2021's most prominent beauty trends that you'll want to try out for yourself (if you haven't already, of course!).
From rice water hair treatments to skinimalism, here are the five beauty trends that have dominated 2021.
A ROUNDUP OF 2021'S BIGGEST BEAUTY TRENDS
Glass Skin
Yep, this trend is going nowhere. Sorry, matte. 
Luminous, dewy skin -- or glass skin, as it's technically known -- is a skincare trend derived from Korea. If you've haven't heard about it from beauty blogs and magazines, you've no doubt seen it over on TikTok or other social media platforms. Think fresh-out-the-water skin for days! Yup, it's pretty neat. Best of all, it's inclusive of all skin types. Dry skin, oily skin, acne-prone skin -- you name it, glass skin works for it.
To achieve it, dermatologists recommend exfoliating intensively using alpha hydroxy acids such as glycolic acid and lactic acid. These exfoliating acids are important for skin tone and texture, helping to shed dead skin cells and leave skin feeling and looking smooth and glowing. Beta hydroxy acid, such as salicylic acid, is best for blemish-prone skin as it helps decongest the pores to reduce breakouts while sloughing away dead skin for smooth, acne-free skin. We recommend our CBD Jelly Toning Solution to clear and clarify your complexion.
Next, apply a serum like Truly's Glass Skin Serum to hydrate, brighten, and blur the complexion. Follow up with a lightweight facial moisturizer like Cream Skin Face Cream to seal all that moisture in for hours of radiant dewiness. Finish with a generous layer of broad spectrum SPF. You can also enhance your glass skin look by applying a few key makeup products, such as a dewy foundation, highlighter, and creamy blush. 
Rice Water for Hair
Since the pandemic, more and more of us have been experimenting with at-home beauty treatments. Once of 2021's biggest haircare trends was dousing the hair in rice water for added shine and strength.
The trend, which derives from East and Southeast Asia, originally took off on social media last year, but has continued to rise in popularity in 2021. Even hairstylists love it!
"Rice water for hair growth" was ranked as one of the top 10 TikTok hair trends on Lookfantastic's April 2021 TikTok Beauty Index report. Beauty brands all over have introduced rice water beauty products into their collections to save customers the time-consuming process of making rice water at home. 
Skinimalism
Pinterest's 2021 Trend Predictions Report stated that 2021 would mark the end of heavy, caked-on makeup. And indeed, it was right. The past year, we've definitely embraced natural beauty, adopting a more effortlessly chic beauty routine to let our own skin shine through.
 Instead of extensive makeup routines featuring heavy concealer, foundation, and even mascara, eyeliner, and eyeshadow, most of us are now keeping things simple and streamlined. Makeup looks are now much cleaner and far less obvious.
For many of us, skinimalism also extends to our skincare routines. We're dropping those lengthy regimens in favor of more stripped back routines. In a way, you could say we've become more low-maintenance since lockdowns left us living in our pj's and our faces bare.
Looking for a streamlined anti-aging skincare routine? Try our retinol and vitamin C-loaded Vegan Collagen Bundle to fade fine lines and restore youthful skin. Got acne or maskne? Try our Super Hemp Bundle to clear, soothe, and hydrate your complexion. Dealing with dullness? Give our hydrating and brightening hyaluronic acid-infused Glowing Skin Bundle a go. 
Body Treatments
Skincare products aren't just for the face. In fact, the beauty industry is going big on body treatments this year. Just because your body might be hiding beneath layers of clothing doesn't mean your bod doesn't deserve a little self-care session every now and then. 
In addition to typical creams and lotions, skincare brands are introducing products designed for certain areas of the body and to treat specific skincare concerns like acne and clogged pores. Truly is one of those brands.
Take our Ultimate Body Bundle, which features six formulas targeted at the butt and boobs. Tightening, exfoliating, and brightening, this six-step wellness pack is the ultimate pampering session for your lumps and bumps. Utilizing ingredients like retinol, watermelon, and wheat protein, these products target sagging, cellulite, and dryness. 
Then there's our Bodne Bundle, a 4-step acne set that contains everything you need for a zit-free body: a clarifying body cleanser, body lotion, body mist, and extra large pimple patches. Active ingredients like glycolic, mandelic, and salicylic acid work together to minimize excess sebum production while blackberry, blue tansy, and allantoin smooth and brighten.
At-Home Facials
While salons and spas have re-opened in most areas, people are still pretty smitten with doing DIY facials. Besides having plenty of practice now thanks to the last two years in and out of lockdowns, it's also way more wallet-friendly. Plus, it's a great way to practice self-care.
To perform an at-home facial, start by cleansing your face using a gentle facial cleanser like Truly's Matcha Facial Cleanser. Next, buff away dead skin and product buildup with a gentle exfoliator like Truly's Matcha Face Scrub. Follow up with a targeted face mask, like Dew You Love Me Jelly Face Mask. Leave the mask on for 10-15 minutes, then rinse with lukewarm water. Finish with a hydrating serum like Hemp Oil Serum and a nourishing moisturizer. Done!
With the new year just around the corner, we wanted to do a roundup of 2021's best and biggest beauty trends. Clearly, there were many good ones! In fact, we're confident many of them will continue to be big throughout next year.
Other trends that are continuing to make their mark in the beauty world include clean beauty, microbiome skincare products, and celebrity skincare. 
What trends have you enjoyed in 2021? Let us know!
Share
---