7 Best Products for Sensitive Skin Under $40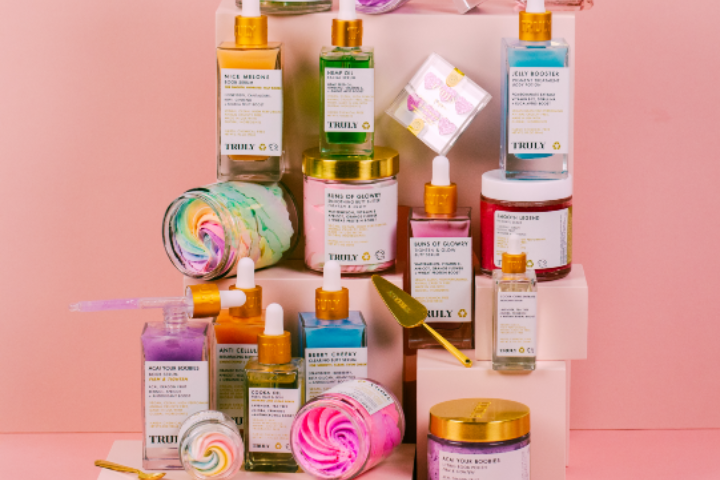 One of the most challenging skin types is sensitive skin. It doesn't seem to matter what you put on your skin, everything leaves it red, dry, and irritated. On the plus side, more beauty brands are catering for delicate skin types, offering gentle formulas that deliver results without leaving skin feeling uncomfortable.
We know the challenges of sensitive skin all too well, which is why we have a slew of ultra-gentle, plant-powered skincare products to meet all your skin's needs.
Here are seven best products for sensitive skin under $40.
#1: Cream Skin Face Moisturizer
A lightweight, super gentle face cream enriched with hydrating hyaluronic acid and sea kelp to seal in long-lasting moisture. Cream Skin Face Moisturizer hydrates, plumps out fine lines and wrinkles, and smooths skin leaving it with a glowing dewy finish.
Moisturizing is important for all skin types. Especially with sensitive skin, as moisturizing helps to strengthen the skin barrier, allowing skin to better retain moisture and prevent external aggressors from causing more harm. Include this facial moisturizer in your daily skincare routine to keep skin soft, smooth, and protected. To protect your skin even further, make sure you layer this daily moisturizer under a broad-spectrum sunscreen with SPF 30+.
#2: Moon Jelly Adaptogenic Body Cleanser
Sensitive skin doesn't stop at your face. If your face gets red and reactive after using certain products, the rest of your body probably will too. Keep skin calm with our Moon Jelly Adaptogenic Body Wash. Infused with a blend of super herbs like ashwagandha, chamomile, and lavender, this cleanser will help to de-stress skin and allow it to cope with environmental stressors like pollution, UV rays, lack and daily stress.
While ashwagandha calms the senses, lavender soothes irritation, and chamomile gently cleanses the skin, removing dirt, oil, and impurities for fresh, chilled out skin.
#3: Matcha Facial Scrub
Exfoliation is important for all skin types. However, those with sensitive skin need to be especially careful what they use as it can quickly irritate the skin. Matcha Facial Scrub is a gentle, sugar-based formula of soothing matcha, resurfacing glycolic acid, collagen-boosting vitamin A, and a host of antioxidants.
Antioxidant-rich matcha works to nourish and soften skin, while glycolic acid gently buffs away dead skin cells to brighten skin, diminish dark spots and discoloration, and prevent breakouts.
Aim to use it 1-2 times a week. If your skin is super sensitive, you can also get away with using it just once a week.
#4: Jelly Booster Pigment Body Potion
A discoloration-correcting serum powered by pomegranate extract and vitamin B12 to boost collagen production, encourage cell regeneration, and minimize the appearance of dark spots, redness, and acne scars.
Jelly Booster Pigment Body Potion offers a quick fix for red, irritated skin. It's also extremely hydrating, so you won't have to worry about it leaving your skin parched. For best results, include it in your daily routine to keep discoloration away. It'll also swiftly soothe redness and irritation.
#5: Unicorn Soothe & Glow Whipped Body Butter
An intense body lotion fortified with a cooling blend of hemp, matcha, acai, vitamin E, and shea butter. It diminishes dry skin in an instant while nourishing and nurturing red, reactive skin. This moisturizing lotion is a daily essential for bolstering the skin barrier and preventing future irritation.
It's the same formula as our bestselling Unicorn Fruit Whipped Body Butter — only with added hemp for calming inflammation and reducing redness. It's one of the best moisturizers for leaving skin smooth, healthy, and glowing! From dryness to flaking and irritation, this buttery formula alleviates all your skincare woes. For best results, apply every day after showering.
#6: Cooka Concentrate
Cooka Concentrate is a topical formula designed to relieve and prevent ingrown formation caused by shaving. However, it can also be an effective treatment for red, irritated skin. If you've got sensitive skin and your skin freaks out at the slightest thing, try applying a few drops of this soothing serum to the affected areas for quick relief.
Lavender's soothing antimicrobial effects work together hydrating jojoba and primrose to relieve inflammation and promote an even skin tone.
#7: Pineapple Haze Sensitive Skin Body Balm
Pineapple Haze Sensitive Skin Body Balm is a head-to-toe moisturizer that provides quick relief for dry, distressed skin. It's made with hemp, which has powerful anti-inflammatory, moisturizing, and healing benefits for your skin! Plus, it contains pineapple extract that gently exfoliates away dryness. Meanwhile, jojoba oil, mango, and vitamin E join forces to nourish, hydrate, and soothe skin.
Apply this all over your body after showering to alleviate dryness and irritation. For best results, use daily. Your skin will feel immediately softer after one single use. It's gentle enough for the most sensitive skin while still being effective for oily skin, acne-prone skin, and dry skin.
HOW TO SHOP FOR SKINCARE WITH SENSITIVE SKIN
When you have sensitive skin, you need to be careful about ingredients. Some of the best ingredients for sensitive skin include aloe, niacinamide, ceramides, lavender, squalane, glycerin, and hyaluronic acid. Some ingredients you might want to avoid include retinol and vitamin C. While these are great anti-aging ingredients that you'll commonly find in serums and night creams, they can be too harsh for delicate skin. It's also best to look for formulas that are fragrance-free, sulfate-free, paraben-free, oil-free, and non-comedogenic.
If you're sensitive skin continues to react to the products above, consult a board-certified dermatologist. A derm will be able to suggest the best drugstore skincare products and prescribe certain products to ease your irritation.
You can purchase Truly products on Ulta, Sephora EU, Walmart, and on our official website. You'll find everything from cleansers to serums to eye creams and body butters!
Share
---