Give Your Loved Ones the Gift of Great Skin this Christmas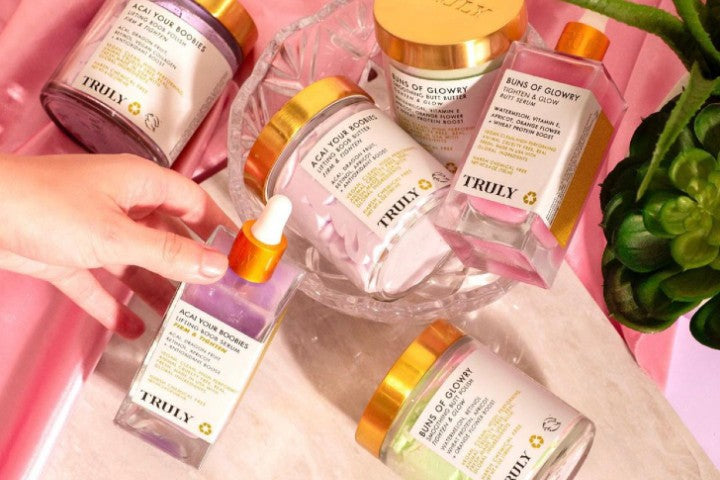 It's almost that time of the year again, Truly babes! Have you been nice...or have you been naughty?! Either way, we have some skin-sational products that would make your holiday wishes come true. We are going to recommend some of our favorite products and bundles that we think would make a fantastic gift for a family member, a friend, a lover...or the best person: YOU!
BOOTY & BOOBIES BUNDLE
Of course, we are going to recommend this iconic duo--The Booty & Boobies Bundle. Featuring our best sellers: Acai Your Boobies Lifting Boob Polish & Buns of Glowry Smoothing Butt Polish. Now I know what you're thinking…"is it appropriate to gift a boob & butt polish to someone on my holiday?!"...we say YES babe. These products have the perfect holiday aesthetic--whipped colorful swirls with catchy names, they'll be the talk of the entire unwrapping ceremonies amongst your peers. But the best part? You'll be giving the gift of:
Tighter booties

Smoother tits!
Fading stretch marks
Blemish deleter
Discoloration remover
Dryness diminisher 
These products are a great gift for anyone who wants to feel and smell good (oh, did we not mention the heavenly scents?!). While you're at it, treat yourself too!
PLUMP YOUR LIPS BUNDLE
The perfect little stocking stuffer--our Plump Your Lips Bundle! Featuring our Unicorn Lip Plumping Balm, which is like a cup of minty frosting for your kissers and our Heartbreaker Lip Plumping Mask, a glitter lip mask that begs for your selfies. These products gently plump your lips--the Heartbreaker is a temporary mask that's perfect at the start of your routine and the Unicorn Lip Plumping Balm is an extra hydrating butter. Perfect for on the go, this bundle would pair excellently with your nieces stocking, your mom's stocking, or just your bag! 
RAINBOW IN MIRRORS HAIR MASK/STARFRUIT HAIR MASK
Another stocking stuffer recommendation, these hair masks are perfect for anyone with some thirsty locks. You can purchase multiples of each at this price--and even some for yourself! Anyone with long locks can benefit from these hair masks, plus they are safe on color-treated hair. Don't let your friends end 2020 with dry hair! 
BLUEBERRY KUSH BUNDLE
From our newest product collection, our Blueberry Kush Bundle is a great set if you're looking to really make someone smile. We went the whole mile with this set: body scrub, body lotion, face oil, and body oil. Each product shares the same key ingredients: the oil of 1,000 blueberries, 300MG of CBD, and vegan collagen. The lotion and the body scrub smell like divine blueberry jolly ranchers--we aren't even kidding! Plus the effectiveness of these products are something that anyone can benefit from: they help protect your skin from environmental and photo aging. The blueberries act as a shield against pollutants and blue light. I'm like "yes please!". Having CBD is always a mood booster, and the vegan collagen is extra plumping. Let's add some blueberries to the mistletoe this year!
BUY BLUEBERRY KUSH BUNDLE, $127.00
BONNE NUIT BEAUTE SATIN SLEEP SET
Make anyone feel like a pretty princess with our Bonne Nuit Beaute Satin Sleep Set. Yes, we coined in some French for this iconically branded merchandise. The pink sleep set includes:
a pillowcase that keeps sleep-induced wrinkles at bay

the pinkest scrunchie that won't tear those pretty hairs
a plushy sleep mask that keeps the daylight out
the cutest headband to keep your hair back as you #skincare
The ideal gift for the doll in your life (or in yourself!). Our Bonne Nuit Beaute Satin Sleep Set will have anyone saying "merci beaucoup!" 
BUY BONNE NUIT SATIN SLEEP SET, $49.00
Well Truly babes, that's all we have for this holiday season. Don't be shy to scroll our shop, any Truly gift is a gift that will ~truly~ melt anyone's heart. Yes, we had to end this blog in a pun.
Be sure to watch Team Truly's very own Liz and her holiday gift guide. She mentions some of the products we listed here and some others. Watch it here. 
Share
---