Hailee Steinfeld Skincare Routine and Beauty Secrets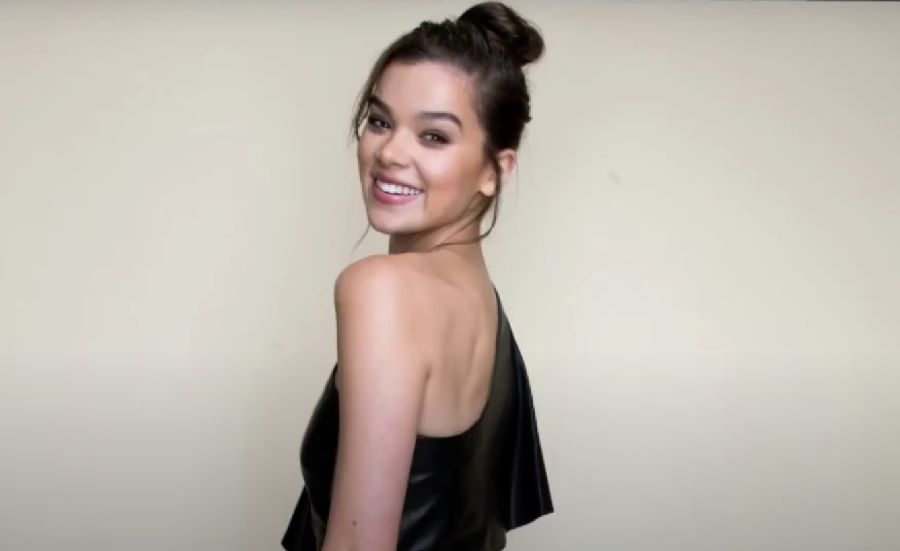 Discover the Hailee Steinfeld skincare routine and achieve her "popping'" skin from the comfort of your own home. The 26-year-old Dickinson actress isn't shy to reveal what she uses on her skin—and believe it or not, it's surprisingly simple. She prefers to keep things simple since she has such sensitive skin and breaks out easily.
Ahead, we reveal Hailee Steinfeld's beauty secrets and how she gets her skin so fresh and dewy.
Hailee Steinfeld Skincare Routine
What skincare does Hailee Steinfeld use? Here's her step-by-step skincare regimen that you can easily replicate at home.
Step 1: Cleanse
First things first, the singer and actress starts by cleansing her face—a step she includes in both her morning and evening routine. Cleansing is one of those steps that shouldn't be missed. It helps to remove the buildup of dead cells, excess sebum, and impurities, in turn preventing clogged pores and ultimately breakouts.
Hailee Steinfeld has revealed in multiple interviews that she deals with sensitive skin, so she sticks to ultra-gentle skincare products. That means avoiding harsh soaps and cleansers that strip the skin of natural oils in favor of gentle, hydrating cleansers that remove dirt while injecting moisture into the skin.
Step 2: Face Mask
After cleansing, Steinfeld applies the Kora Organics Noni Glow Sleeping Mask, leaving it on for around 10 minutes while chugging down plenty of h20 from her supersized water jug. This lightweight gel mask boosts hydration to deliver plumper, smoother skin. It's formulated with coconut milk, salicylic acid, caviar lime, and organic silver ear mushroom to ensure you wake up with soft, glowing skin.
The salicylic acid in this mask works to gently exfoliate the skin and buff away dead cells, prepping skin for the next products to come. Exfoliation helps other skincare products absorb better, maximizing their effects.
Step 3: Moisturizer
Next up in the Hailee Steinfeld skincare routine is moisturizer.
"I break out really easily if I use anything too heavy, so if I can [hydrate] from the inside out, then even better, because I can minimize what I'm putting on top of my skin," Steinfeld told InStyle Magazine. What moisturizer does Hailee Steinfeld use? That would have to be the famous La Mer Soft Moisturizing Cream. She loves it because it sits well under her makeup and she can always layer it if she needs extra moisture.
La Mer Crème De La Mer is a celeb-fave formula as it provides core hydration to the skin without clogging pores or irritating the skin. With its lightweight formula, it's perfect for applying under your foundation, concealer, and other beauty products.
Step 4: Sunscreen
Hailee's number-one beauty tip? Sunscreen! The one she swears by is EltaMD UV Clear Broad-Spectrum SPF which glides on easily without leaving the skin feeling heavy or greasy. She uses it every day to protect her skin from harmful UV rays which are known for causing premature signs of aging—as well as skin cancer.
Applying sunscreen is an easy everyday step you can take to keep your skin healthy and youthful. And most formulas, like Hailee's favorite, work well under your everyday makeup. So you can still look glam without compromising your skin's health.
Step 5: Water
Another key step in the Hailee Steinfeld skincare routine is drinking plenty of water. She says her skin is always "popping" when she's hydrated.
We know you've heard it before but increasing your water intake really can have a positive impact on your skin as well as your energy levels. Besides removing toxins, staying hydrated keeps the skin plump and fresh.
Get the Hailee Steinfeld Look with These Skincare Sets
Steal Hailee's "popping" skin with these transformative skincare sets. Whether you're looking to treat acne, minimize pores, or glow up, there's something for everyone right here.
Reduce Pore Size with
Truly's Glass Skin Set
Want to see the back of breakouts and large pores? The Glass Skin Set comes with a cleansing balm and serum to melt away impurities, refine pores, and leave skin glistening. Think: better than filter results!
Get Luminous Skin with
Truly's Glazed Donut Skin Set
Achieve a red carpet-worthy glow at home with the Glazed Donut Skin Set. You get: a face serum and cream infused with passion fruit, grapeseed oil, and vitamin E to lock in moisture while softening fine lines for the most luminous complexion.
Plump up with
Truly's Deluxe Unicorn Set
Luscious locks? Plump pout? The softest, plumpest skin? Treat yourself to our Deluxe Unicorn Set. It features skin, hair, and lip formulas full of the most nourishing, nurturing ingredients to leave you fresh, plump, and glowing from head to toe. With the most delicious cotton candy scent!
Hailee Steinfeld Beauty Routine
It's not just her skincare routine that's simple. Hailee also likes to keep her makeup routine down to just a few steps. She shared her exact makeup tutorial and guide to glowing skin with Vogue.
To get her glow, Steinfeld mixes two of Giorgio Armani's Luminous Silk Foundations together for a bespoke match, then uses NARS Creamy Concealer to cover up any blemishes. After that, it's contour time. To add some warmth to her complexion, the actress colors her cheeks with a creamy rose blush before swiping on Victoria Beckham Beauty's rosy Lip Tint.
Next, she runs a spoolie through her arches, curls her lashes, and wiggles on lashings of mascara. To complete her routine, she spritzes on her favorite fragrance—YSL's Floral Libre—and she's good to go!
Hailee Steinfeld Self-Care Routine
For Steinfeld, skincare is an essential part of her self-care routine.
"I'm very much a skincare girl," she told Marie Claire. "I love a good morning and nighttime routine. It is such a calming and serene sort of experience where you feel like you're pampering yourself."
Just as the Hailee Steinfeld skincare routines helps her find her zen, the star also finds a moment for makeup. Whether she's using Kosas Concealer or Armani Mascara, she has a lot of fun playing around with makeup and experimenting with new looks.
As for the self-care ritual she swears by, Steinfeld revealed that calling a friend always helps—especially if she hasn't caught up with them in a while. "Sometimes I'll put my phone away completely and light a candle and take a bath; other times I'll just listen to some soft music and fall asleep to it," she added.
As you can see, the Hailee Steinfeld skincare routine only consists of five easy steps. Give it a try at home to steal her iconic glow.
Photos by CL, YouTube and CelebVibes, YouTube
Share
---