Hot Mama Skincare: Chafed Nipples + Stretch Marks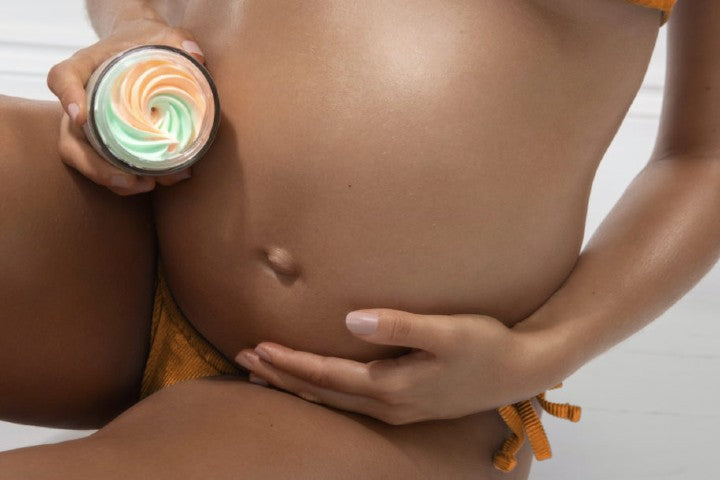 Let's not beat around the bush here. Pregnancy changes your skin. 
Even once you've given birth and your hormones calm down, motherhood as a whole can wreak havoc on your skin.
Whether you're experiencing hormonal acne, stretch marks, or nipple chafing from breastfeeding, new moms and moms-to-be can experience many alterations in their skin.
Luckily for you, we've got the best skincare products to counteract all those new mama skin issues.
First pregnancy? Third? Just given birth? Every mom can benefit from these hot mama skincare tips.
Dry Skin
Now that you're sharing your body with another human, you're going to need extra hydration to your skin's largest organ - your skin.
If you're pregnant and you're noticing your skin feeling a little drier than normal, relax. It's nothing to worry about. All you need are some hydrating beauty products to lend their moisture-infusing powers.
To help diminish dryness in both your face and body, opt for butters, lotions, and serums that contain moisturizing ingredients like avocado oil, coconut oil, cocoa butter, and shea butter. 
Try Truly's New & Limited Edition Nice Melons Boob Butter. It's a nourishing moisturizer you can use on your boobs and the rest of your body. This buttery blend of melon, kiwi, and ginseng made with a shea butter base offers deep conditioning and softening effects on the skin. It's also loaded with vitamin C and vitamin E to hydrate, brighten, and lighten dark spots. Think of it as a luxurious version of your daily body lotion - only without the greasy residue and with many more positive effects!
Chapped Nipples
Poor latch, yeast infection, and numerous other factors could be behind your chapped nipples. 
If you suspect you have an infection, visit your doctor straight away to get the appropriate medication. 
To address nipple dryness and pain, invest in a hydrating nipple balm or oil to ease your discomfort. 
Try Truly's Acai Your Nippies Butter, formulated with acai, dragon fruit, mango butter and apricot, and made exclusively for your nips! This nipple cream uses natural ingredients to smooth, soothe, and seal in moisture on chapped, cracked, or inflamed nipples.
Stretch Marks
Stretch marks are a common issue during pregnancy. If you're noticing that trimester by trimester, your stretch marks are getting worse, it's time to start using a belly oil to decrease the crease.
Once that pregnancy test comes back positive, start moisturizing your belly and breasts with a hydrating body oil or serum to maintain the skin's elasticity and prevent stretch marks in their tracks.
Every morning, slather on a tightening, smoothing oil that provides lasting hydration. 
Try Truly's Nice Melons Boob Serum, a boob brightening and tightening potion. This fruity, melon-scented body serum utilizes aloe vera, honeydew, and kigelia to condition, tighten, and prevent fine line formation on the chest, belly, and hips.
Aloe vera lends its anti-inflammatory, antimicrobial, antioxidant and humectant properties as well as its folic acid content to successfully reduce scars, hydrate, and soothe irritation. 
Honeydew melon is loaded with vitamin C, supporting the production of collagen and promoting skin radiance. 
Kigelia, a tropical African fruit, is a skin-firming and elasticity-restoring ingredient that's been used for centuries for those very effects.
Together, these ingredients will fade away stretch marks in a flash.
According to Purvisha Patel, board-certified dermatologist and founder of Visha Skincare, the best time to moisturize your belly and boobs is straight after showering. 
"Bellies especially tend to get itchy as the skin is stretching. Moisturizing after bathing is important as is using products formulated to prevent stretch marks and eczema on both mommy and baby," she says.
Melasma
With elevated levels of estrogen and progesterone trigger melanocytes, dark spots can appear on the skin of pregnant women and first time moms. 
To prevent it, try staying out of the sun.
"Exposure - even driving in a car or sitting with an open shade on an airplane - can darken existing freckles or stimulate hyperpigmentation," explains Manhattan-based skin guru Lisa Airan, M.D. 
The sun's UV rays cause melanocytes to produce the pigment melanin, which often causes melasma to develop. The solution? Wearing sunscreen every day or staying out the sun as much as you can. 
Another good trick to preventing and treating melasma - exfoliation. Exfoliating the skin once or twice a week helps resurface the skin and lighten dark areas.
Try Truly's Nice Melons Boob Polish, which uses jojoba beads to gently slough away dead skin cells and promote brighter, smoother, even-colored skin. It's suitable for sensitive skin, too!
Acne 
During pregnancy, elevated progesterone levels produced by the body to maintain a healthy uterine lining can cause excess oil production and clogged pores. This can translate to breakout-plagued skin.
"To treat the common skin problems of pregnancy -- like acne and hypersensitivity -- women must use calming products with plant-based ingredients such as chamomile and lavender," says aesthetician Sonya Dakar. 
Try Truly's 24k Gold Black Soap Impurity Cleanser. It's made with natural and organic ingredients like chamomile, neem seed oil, and turmeric to erase blemishes and promote a healthy, clarified complexion.
Dry, Chapped Lips
You may experience chapped lips while pregnant. This is because your body needs additional hydration during this time.
To give your pout the hydration it's thirsting for, invest in a hydrating lip balm or salve made with nourishing essential oils to infuse your lips with moisture.
Try Truly's Bestseller GLOAT Big Juicy Lip Oil to soothe your dry lips. It's made with hyaluronic acid and peppermint to provide intense hydration and plumping effects. You can re-apply it throughout the day whenever your lips need a little moisture boost!
Get Our BRAND-NEW Nice Melons Kit
This limited edition boob trio features a boob polish, butter, and serum formulated with a blend of kiwi, ginseng, kigelia, and honeydew for firm, hydrated, dewy melons.
New and expecting moms will love this self-care boob kit. It's also completely safe, containing natural ingredients and zero retinol. 
You can use these products every day with peace of mind that they won't harm you or your baby. 
Share
---