Quick Tips for Big Lips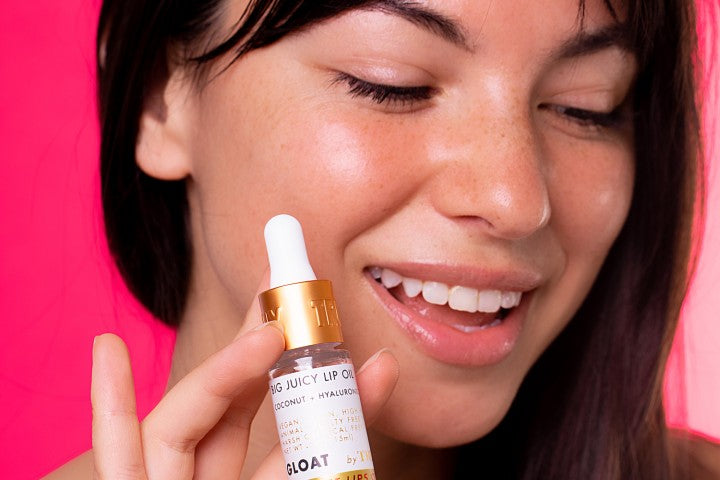 In the age of Instagram, everybody's lusting after large, pillowlike lips.
But how do you get a plump pout, sans needles? Is it even possible???
Lucky for you, we live in a time where we have access to exceptional skincare and makeup products that can help you achieve fuller lips.
With the right products and tools, you can get those Kylie Jenner-esque plump lips you dream of without succumbing to invasive procedures like fillers.
Want to know the shortcut to big lips? Try out these quick tips for a bigger, plumper, juicier pout.
Exfoliate
Exfoliation is a fundamental in achieving bigger lips. Before trying other hacks, exfoliate your lips using a hydrating, plumping lip scrub that smooths and stimulates blood flow for a nice rosy lip glow.
Flaky lips struggle to reflect light, leaving you with a dry pucker that may make your lips appear smaller than they are. To remove flakes, you can either use a lip exfoliating product or brush them lightly with a toothbrush for similar effects.
Using small circles on the lips, apply Truly's GLOAT Sexy Soft Lip Scrub, then wipe clean. 
This lip scrub uses hyaluronic acid, peppermint, and neem seed oil to remove dead skin, hydrate the lips, and plump them all at the same time for a smooth, plumped finish. It also creates the perfect surface for lip balms and serums. In love? So are we!
No scrub? No problem. You can also make your own DIY scrub with sugar, honey, and olive oil. Yup, totally easy!
Apply a Hyaluronic Acid Serum
When your lips are dehydrated, they pretty much shrivel up and disappear. 
Unveil your most luscious lippies naturally by slathering them with a hyaluronic acid serum.
HA is a highly moisturizing ingredient that can attract up to 1,000 times its weight in water. It's basically an essential if you want to amp up your skin's hydration levels.
Just remember, whenever you use a HA lip treatment, make sure you top it off with an occlusive lip oil or lip balm. HA is a humectant, which means that while it's great for pulling in water, it's not so great at holding it. 
That's why you'll need to lock it in with a thicker product to keep your lips soft and smooth all day long.
Try Truly's GLOAT Lip Plumping Serum. It's formulated with HA and coconut to soften, hydrate, and plump. That means you have both a humectant (the HA) and an emollient (the coconut oil) for hours of hydration.
Overline Your Lips
Before your lip color, prime your lips with a concealer to blur your natural lip line and create a base layer on which you can overline your lips.
Using a lip liner, trace slightly outside your natural lip line to create the appearance of larger lips. You can also apply concealer around the corners of your top and bottom lip to neaten the lines and make the color pop. 
If you need help, watch a tutorial on YouTube. There are plenty of makeup artists and enthusiasts that can show you how it's done.
Contour Your Lips
Contouring is an ingenious makeup hack we can't get enough of!
You can use it to make your forehead look smaller, your cheekbones more defined, and your lips more volumized.
Best of all, it's really easy -- you don't need to be a makeup pro to nail this technique.
Simply add either a dusting of ashy colored contour or a matte cream contour underneath the center of your bottom lip and above the tops of your upper lip, then blend -- really well!
You'll get this beautiful added dimension that'll instantly make your lips look twice the size!
See why we love this trick?
Highlight Your Cupid's Bow
Grab your fave highlighter or lip gloss -- whatever you prefer -- and apply it onto the middle of your lips, and then along the cupid's bow. This'll make your lips look waaaay more voluptuous. 
And the best part? It only takes two seconds!
Dab a little of Truly's GLOAT Big Juicy Lip Oil onto your middle of both your lips and then on your CB. Feel free to apply it all over too! This shimmery product contains a nourishing blend of oils that hydrate and smooth your pout.
You can also apply it as an intensive treatment before you go to bed to wake up with deliciously soft and sweet lips. 
Try a Lip Plumper
The Truly GLOAT Luscious Lip Butter is a plumping lip treatment that fits nicely in your purse -- so you can apply it anytime, anywhere.
It contains hydrating ingredients like hyaluronic acid, shea butter, and coconut oil as well as lip plumping ingredients like peppermint to enhance volume.
The peppermint stimulates the circulation under the lips, creating a "swelling" effect and making your lips appear fuller.
You really don't need lip injections when you have one of these babies in your purse!
Another great choice is Truly's Unicorn Fruit Lip Plumping Balm which relies on both peppermint and vegan collagen to give your puckers an extra oomph!
Apply a Lip Mask
Another quick way to add volume to your lips: wear a lip mask designed to plump.
Truly's Star Kisser Jelly Lip Plumping Mask infuses hyaluronic acid, peppermint, and aloe vera to perk up your pout in minutes. 
You'll also love our Heartbreaker Jelly Lip Plumping Mask for a safe, lip filler-free way to soft, plumped lips. This formulation combines ceramides with aloe and vitamin E for a smooth, kissable pout.
The next time you're dressing up for a big night out or first date, give these quick lip plumping makeup tips a try. Apply your eyeshadow, eyeliner, and bronzer. Then finish with one of our many vegan lip volumizing products. 
Big lips don't equate to beautiful lips. Seriously, size doesn't matter at all. But if you'd like to give your pout a little push without having to go under the needle, these quick tips for big lips will help A LOT!
Share
---